Features
A classic coach jacket with distinctive materials on its front and back sides.
Highly versatile garment that can be worn comfortably in a variety of scenarios.
The front side is made with PERTEX® UNLIMITED, which has a soft, natural-feeling texture.
The back side is made with DOT AIR, a lightweight and supple mesh-like material that prevents heat from getting trapped at the wearer's back.
Two pockets at the hips.
Easy-open dot buttons at the top of the placket.
Lining features a striking gun club check pattern.
Material
Fabric:100%nylon
Lining:100%Polyester
Shipping Policy
Goldwin orders are shipped Monday-Friday (excluding holidays).
Shipping options:
Ground Shipping (5-7 business days)
Free for orders of $100 or more
$8 for orders of less than $100
Standard Shipping (3-4 business days)
$12 for all orders
Express Shipping (2-3 business days)
$20 for all orders
Store Pick Up
Free
For further information, please visit our shipping policy.
*Due to the current status of Covid-19, please bear with us as delivery times may be slightly longer than normal.
Coach Jacket
Model: Height 6'0" | Wearing: BLAACK / M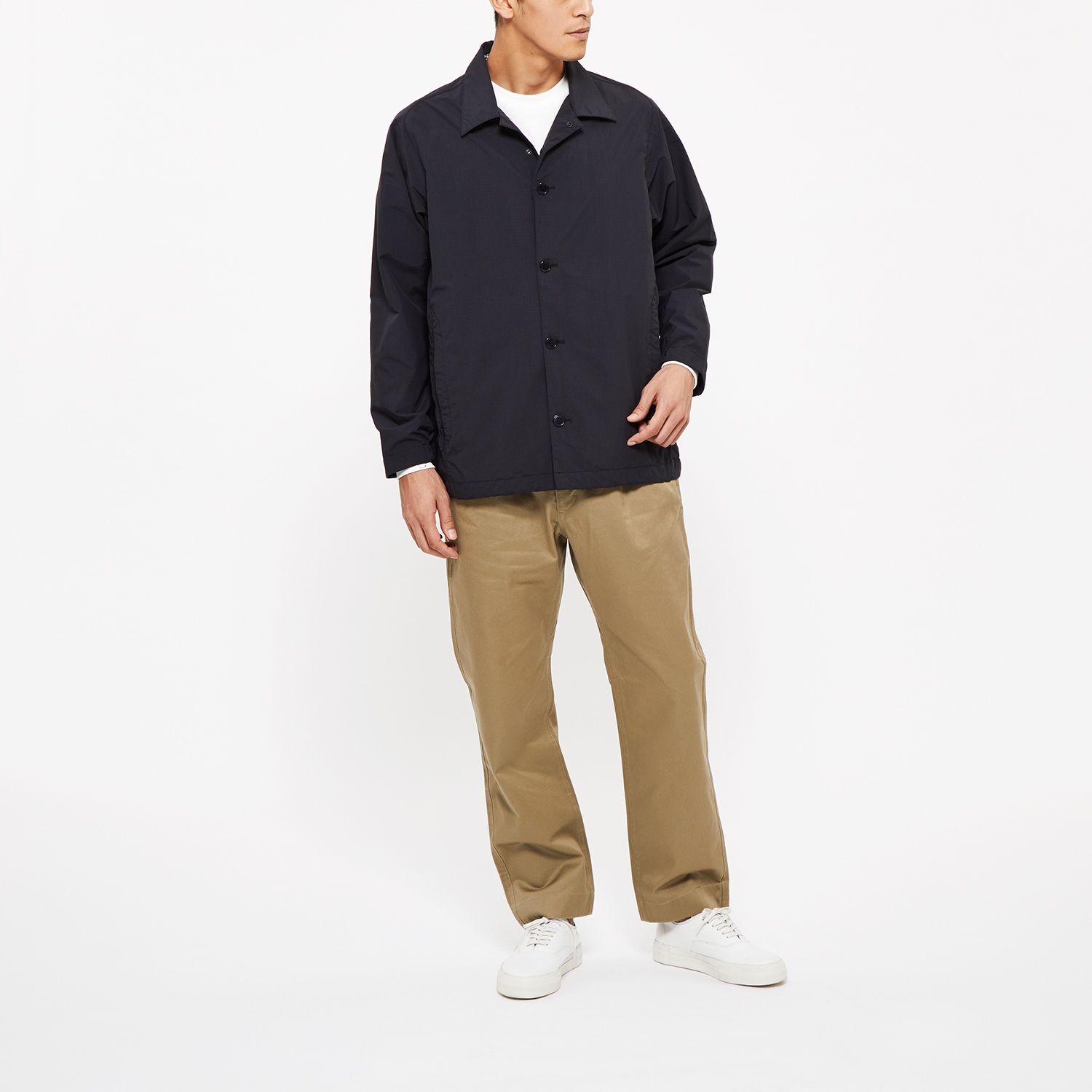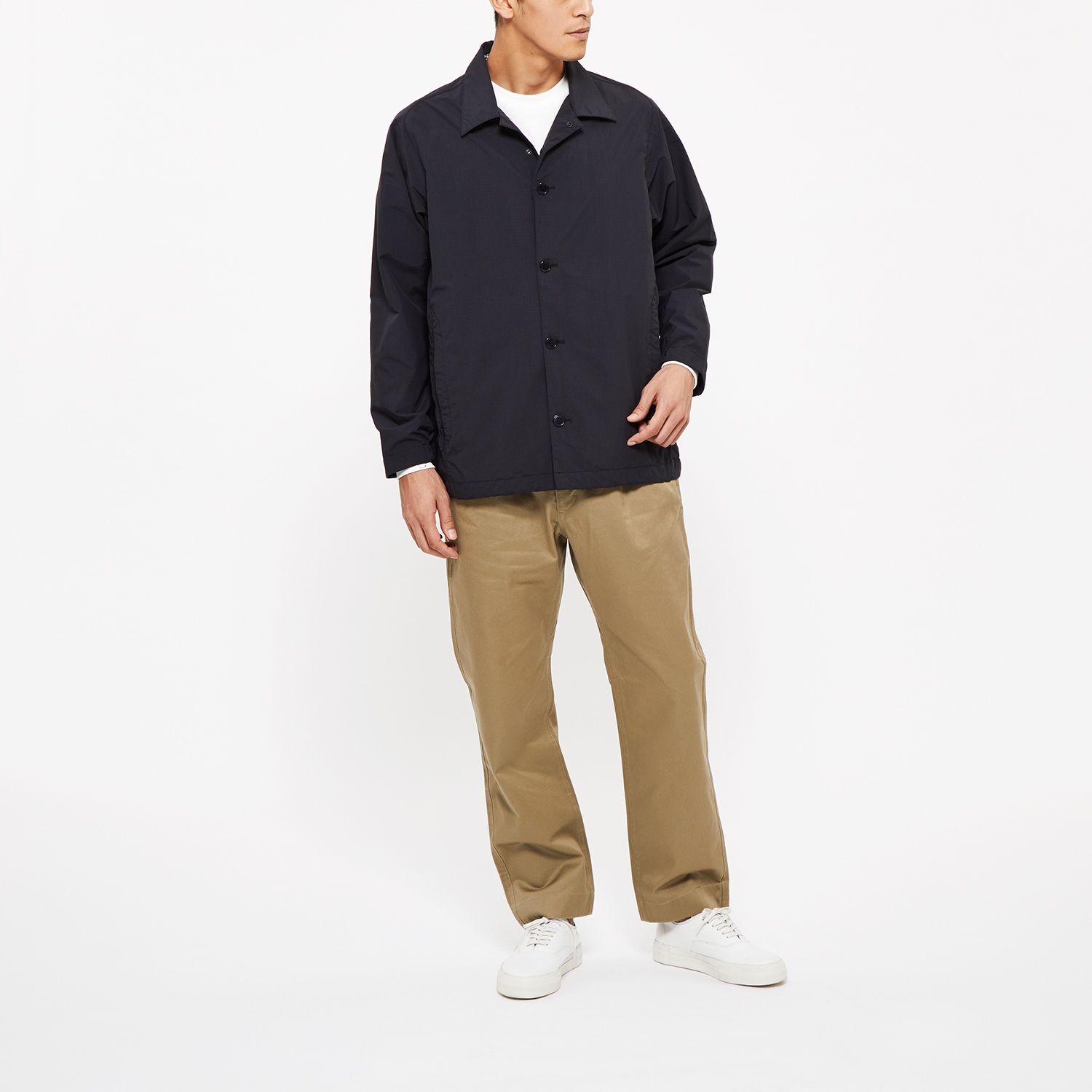 ["
Model: Height 6'0" | Wearing: BLAACK / M
"]
{"id":4423843479614,"title":"Coach Jacket","handle":"gl10107","description":"\u003ch4 class=\"subtitileDt\"\u003eFeatures\u003c\/h4\u003e\n\u003cul\u003e\n\u003cli\u003eA classic coach jacket with distinctive materials on its front and back sides.\u003c\/li\u003e\n\u003cli\u003eHighly versatile garment that can be worn comfortably in a variety of scenarios.\u003c\/li\u003e\n\u003cli\u003eThe front side is made with PERTEX® UNLIMITED, which has a soft, natural-feeling texture.\u003c\/li\u003e\n\u003cli\u003eThe back side is made with DOT AIR, a lightweight and supple mesh-like material that prevents heat from getting trapped at the wearer's back.\u003c\/li\u003e\n\u003cli\u003eTwo pockets at the hips.\u003c\/li\u003e\n\u003cli\u003eEasy-open dot buttons at the top of the placket.\u003c\/li\u003e\n\u003cli\u003eLining features a striking gun club check pattern.\u003c\/li\u003e\n\u003c\/ul\u003e\u003cbr\u003e\u003ch4 class=\"subtitileDt\"\u003eMaterial\u003c\/h4\u003e\n\u003cp\u003eFabric:100%nylon\u003c\/p\u003e\n\u003cp\u003eLining:100%Polyester\u003c\/p\u003e","published_at":"2020-03-10T23:28:13-07:00","created_at":"2020-01-16T22:21:43-08:00","vendor":"Goldwin","type":"outer","tags":["2703-F20","9\/3","bfsale","coat","lifestyle","men","new","outer","proper","secretsale"],"price":31500,"price_min":31500,"price_max":31500,"available":true,"price_varies":false,"compare_at_price":45000,"compare_at_price_min":45000,"compare_at_price_max":45000,"compare_at_price_varies":false,"variants":[{"id":32395817320510,"title":"GL10107 \/ OLIVE \/ S","option1":"GL10107","option2":"OLIVE","option3":"S","sku":"GL10107-O-S","requires_shipping":true,"taxable":true,"featured_image":{"id":16193508933694,"product_id":4423843479614,"position":1,"created_at":"2020-08-30T22:46:22-07:00","updated_at":"2020-09-02T05:43:36-07:00","alt":null,"width":1500,"height":1500,"src":"https:\/\/cdn.shopify.com\/s\/files\/1\/1645\/3613\/products\/GL10107_O.jpg?v=1599050616","variant_ids":[32395817320510,32395817353278,32395817386046,32395822268478]},"available":true,"name":"Coach Jacket - GL10107 \/ OLIVE \/ S","public_title":"GL10107 \/ OLIVE \/ S","options":["GL10107","OLIVE","S"],"price":31500,"weight":0,"compare_at_price":45000,"inventory_quantity":1,"inventory_management":"shopify","inventory_policy":"deny","barcode":"4550207027578","featured_media":{"alt":null,"id":8363709857854,"position":1,"preview_image":{"aspect_ratio":1.0,"height":1500,"width":1500,"src":"https:\/\/cdn.shopify.com\/s\/files\/1\/1645\/3613\/products\/GL10107_O.jpg?v=1598852782"}}},{"id":32395817353278,"title":"GL10107 \/ OLIVE \/ M","option1":"GL10107","option2":"OLIVE","option3":"M","sku":"GL10107-O-M","requires_shipping":true,"taxable":true,"featured_image":{"id":16193508933694,"product_id":4423843479614,"position":1,"created_at":"2020-08-30T22:46:22-07:00","updated_at":"2020-09-02T05:43:36-07:00","alt":null,"width":1500,"height":1500,"src":"https:\/\/cdn.shopify.com\/s\/files\/1\/1645\/3613\/products\/GL10107_O.jpg?v=1599050616","variant_ids":[32395817320510,32395817353278,32395817386046,32395822268478]},"available":true,"name":"Coach Jacket - GL10107 \/ OLIVE \/ M","public_title":"GL10107 \/ OLIVE \/ M","options":["GL10107","OLIVE","M"],"price":31500,"weight":0,"compare_at_price":45000,"inventory_quantity":1,"inventory_management":"shopify","inventory_policy":"deny","barcode":"4550207027585","featured_media":{"alt":null,"id":8363709857854,"position":1,"preview_image":{"aspect_ratio":1.0,"height":1500,"width":1500,"src":"https:\/\/cdn.shopify.com\/s\/files\/1\/1645\/3613\/products\/GL10107_O.jpg?v=1598852782"}}},{"id":32395822268478,"title":"GL10107 \/ OLIVE \/ L","option1":"GL10107","option2":"OLIVE","option3":"L","sku":"GL10107-O-L","requires_shipping":true,"taxable":true,"featured_image":{"id":16193508933694,"product_id":4423843479614,"position":1,"created_at":"2020-08-30T22:46:22-07:00","updated_at":"2020-09-02T05:43:36-07:00","alt":null,"width":1500,"height":1500,"src":"https:\/\/cdn.shopify.com\/s\/files\/1\/1645\/3613\/products\/GL10107_O.jpg?v=1599050616","variant_ids":[32395817320510,32395817353278,32395817386046,32395822268478]},"available":false,"name":"Coach Jacket - GL10107 \/ OLIVE \/ L","public_title":"GL10107 \/ OLIVE \/ L","options":["GL10107","OLIVE","L"],"price":31500,"weight":0,"compare_at_price":45000,"inventory_quantity":0,"inventory_management":"shopify","inventory_policy":"deny","barcode":"4550207027592","featured_media":{"alt":null,"id":8363709857854,"position":1,"preview_image":{"aspect_ratio":1.0,"height":1500,"width":1500,"src":"https:\/\/cdn.shopify.com\/s\/files\/1\/1645\/3613\/products\/GL10107_O.jpg?v=1598852782"}}},{"id":32395817386046,"title":"GL10107 \/ OLIVE \/ XL","option1":"GL10107","option2":"OLIVE","option3":"XL","sku":"GL10107-O-XL","requires_shipping":true,"taxable":true,"featured_image":{"id":16193508933694,"product_id":4423843479614,"position":1,"created_at":"2020-08-30T22:46:22-07:00","updated_at":"2020-09-02T05:43:36-07:00","alt":null,"width":1500,"height":1500,"src":"https:\/\/cdn.shopify.com\/s\/files\/1\/1645\/3613\/products\/GL10107_O.jpg?v=1599050616","variant_ids":[32395817320510,32395817353278,32395817386046,32395822268478]},"available":true,"name":"Coach Jacket - GL10107 \/ OLIVE \/ XL","public_title":"GL10107 \/ OLIVE \/ XL","options":["GL10107","OLIVE","XL"],"price":31500,"weight":0,"compare_at_price":45000,"inventory_quantity":1,"inventory_management":"shopify","inventory_policy":"deny","barcode":"4550207027608","featured_media":{"alt":null,"id":8363709857854,"position":1,"preview_image":{"aspect_ratio":1.0,"height":1500,"width":1500,"src":"https:\/\/cdn.shopify.com\/s\/files\/1\/1645\/3613\/products\/GL10107_O.jpg?v=1598852782"}}},{"id":31776950681662,"title":"GL10107 \/ BLACK \/ S","option1":"GL10107","option2":"BLACK","option3":"S","sku":"GL10107-BK-S","requires_shipping":true,"taxable":true,"featured_image":{"id":14032176807998,"product_id":4423843479614,"position":5,"created_at":"2020-01-21T17:56:02-08:00","updated_at":"2020-08-30T22:46:32-07:00","alt":"COACH JACKET BLACK","width":1500,"height":1500,"src":"https:\/\/cdn.shopify.com\/s\/files\/1\/1645\/3613\/products\/GL10107_BK.jpg?v=1598852792","variant_ids":[31776950681662,31776950714430,31776950747198,31776950779966]},"available":true,"name":"Coach Jacket - GL10107 \/ BLACK \/ S","public_title":"GL10107 \/ BLACK \/ S","options":["GL10107","BLACK","S"],"price":31500,"weight":0,"compare_at_price":45000,"inventory_quantity":1,"inventory_management":"shopify","inventory_policy":"deny","barcode":"4550207027677","featured_media":{"alt":"COACH JACKET BLACK","id":6201903251518,"position":5,"preview_image":{"aspect_ratio":1.0,"height":1500,"width":1500,"src":"https:\/\/cdn.shopify.com\/s\/files\/1\/1645\/3613\/products\/GL10107_BK.jpg?v=1579658162"}}},{"id":31776950714430,"title":"GL10107 \/ BLACK \/ M","option1":"GL10107","option2":"BLACK","option3":"M","sku":"GL10107-BK-M","requires_shipping":true,"taxable":true,"featured_image":{"id":14032176807998,"product_id":4423843479614,"position":5,"created_at":"2020-01-21T17:56:02-08:00","updated_at":"2020-08-30T22:46:32-07:00","alt":"COACH JACKET BLACK","width":1500,"height":1500,"src":"https:\/\/cdn.shopify.com\/s\/files\/1\/1645\/3613\/products\/GL10107_BK.jpg?v=1598852792","variant_ids":[31776950681662,31776950714430,31776950747198,31776950779966]},"available":true,"name":"Coach Jacket - GL10107 \/ BLACK \/ M","public_title":"GL10107 \/ BLACK \/ M","options":["GL10107","BLACK","M"],"price":31500,"weight":0,"compare_at_price":45000,"inventory_quantity":1,"inventory_management":"shopify","inventory_policy":"deny","barcode":"4550207027684","featured_media":{"alt":"COACH JACKET BLACK","id":6201903251518,"position":5,"preview_image":{"aspect_ratio":1.0,"height":1500,"width":1500,"src":"https:\/\/cdn.shopify.com\/s\/files\/1\/1645\/3613\/products\/GL10107_BK.jpg?v=1579658162"}}},{"id":31776950747198,"title":"GL10107 \/ BLACK \/ L","option1":"GL10107","option2":"BLACK","option3":"L","sku":"GL10107-BK-L","requires_shipping":true,"taxable":true,"featured_image":{"id":14032176807998,"product_id":4423843479614,"position":5,"created_at":"2020-01-21T17:56:02-08:00","updated_at":"2020-08-30T22:46:32-07:00","alt":"COACH JACKET BLACK","width":1500,"height":1500,"src":"https:\/\/cdn.shopify.com\/s\/files\/1\/1645\/3613\/products\/GL10107_BK.jpg?v=1598852792","variant_ids":[31776950681662,31776950714430,31776950747198,31776950779966]},"available":false,"name":"Coach Jacket - GL10107 \/ BLACK \/ L","public_title":"GL10107 \/ BLACK \/ L","options":["GL10107","BLACK","L"],"price":31500,"weight":0,"compare_at_price":45000,"inventory_quantity":0,"inventory_management":"shopify","inventory_policy":"deny","barcode":"4550207027691","featured_media":{"alt":"COACH JACKET BLACK","id":6201903251518,"position":5,"preview_image":{"aspect_ratio":1.0,"height":1500,"width":1500,"src":"https:\/\/cdn.shopify.com\/s\/files\/1\/1645\/3613\/products\/GL10107_BK.jpg?v=1579658162"}}},{"id":31776950779966,"title":"GL10107 \/ BLACK \/ XL","option1":"GL10107","option2":"BLACK","option3":"XL","sku":"GL10107-BK-XL","requires_shipping":true,"taxable":true,"featured_image":{"id":14032176807998,"product_id":4423843479614,"position":5,"created_at":"2020-01-21T17:56:02-08:00","updated_at":"2020-08-30T22:46:32-07:00","alt":"COACH JACKET BLACK","width":1500,"height":1500,"src":"https:\/\/cdn.shopify.com\/s\/files\/1\/1645\/3613\/products\/GL10107_BK.jpg?v=1598852792","variant_ids":[31776950681662,31776950714430,31776950747198,31776950779966]},"available":true,"name":"Coach Jacket - GL10107 \/ BLACK \/ XL","public_title":"GL10107 \/ BLACK \/ XL","options":["GL10107","BLACK","XL"],"price":31500,"weight":0,"compare_at_price":45000,"inventory_quantity":1,"inventory_management":"shopify","inventory_policy":"deny","barcode":"4550207027707","featured_media":{"alt":"COACH JACKET BLACK","id":6201903251518,"position":5,"preview_image":{"aspect_ratio":1.0,"height":1500,"width":1500,"src":"https:\/\/cdn.shopify.com\/s\/files\/1\/1645\/3613\/products\/GL10107_BK.jpg?v=1579658162"}}},{"id":31776950812734,"title":"GL10107 \/ ECLIPSE NAVY \/ S","option1":"GL10107","option2":"ECLIPSE NAVY","option3":"S","sku":"GL10107-EN-S","requires_shipping":true,"taxable":true,"featured_image":{"id":14032176775230,"product_id":4423843479614,"position":6,"created_at":"2020-01-21T17:56:02-08:00","updated_at":"2020-08-30T22:46:28-07:00","alt":"COACH JACKET ECLIPSE NAVY","width":1500,"height":1500,"src":"https:\/\/cdn.shopify.com\/s\/files\/1\/1645\/3613\/products\/GL10107_EN.jpg?v=1598852788","variant_ids":[31776950812734,31776950845502,31776950878270,31776950911038]},"available":false,"name":"Coach Jacket - GL10107 \/ ECLIPSE NAVY \/ S","public_title":"GL10107 \/ ECLIPSE NAVY \/ S","options":["GL10107","ECLIPSE NAVY","S"],"price":31500,"weight":0,"compare_at_price":45000,"inventory_quantity":0,"inventory_management":"shopify","inventory_policy":"deny","barcode":"4550207027622","featured_media":{"alt":"COACH JACKET ECLIPSE NAVY","id":6201903218750,"position":6,"preview_image":{"aspect_ratio":1.0,"height":1500,"width":1500,"src":"https:\/\/cdn.shopify.com\/s\/files\/1\/1645\/3613\/products\/GL10107_EN.jpg?v=1579658162"}}},{"id":31776950845502,"title":"GL10107 \/ ECLIPSE NAVY \/ M","option1":"GL10107","option2":"ECLIPSE NAVY","option3":"M","sku":"GL10107-EN-M","requires_shipping":true,"taxable":true,"featured_image":{"id":14032176775230,"product_id":4423843479614,"position":6,"created_at":"2020-01-21T17:56:02-08:00","updated_at":"2020-08-30T22:46:28-07:00","alt":"COACH JACKET ECLIPSE NAVY","width":1500,"height":1500,"src":"https:\/\/cdn.shopify.com\/s\/files\/1\/1645\/3613\/products\/GL10107_EN.jpg?v=1598852788","variant_ids":[31776950812734,31776950845502,31776950878270,31776950911038]},"available":false,"name":"Coach Jacket - GL10107 \/ ECLIPSE NAVY \/ M","public_title":"GL10107 \/ ECLIPSE NAVY \/ M","options":["GL10107","ECLIPSE NAVY","M"],"price":31500,"weight":0,"compare_at_price":45000,"inventory_quantity":0,"inventory_management":"shopify","inventory_policy":"deny","barcode":"4550207027639","featured_media":{"alt":"COACH JACKET ECLIPSE NAVY","id":6201903218750,"position":6,"preview_image":{"aspect_ratio":1.0,"height":1500,"width":1500,"src":"https:\/\/cdn.shopify.com\/s\/files\/1\/1645\/3613\/products\/GL10107_EN.jpg?v=1579658162"}}},{"id":31776950878270,"title":"GL10107 \/ ECLIPSE NAVY \/ L","option1":"GL10107","option2":"ECLIPSE NAVY","option3":"L","sku":"GL10107-EN-L","requires_shipping":true,"taxable":true,"featured_image":{"id":14032176775230,"product_id":4423843479614,"position":6,"created_at":"2020-01-21T17:56:02-08:00","updated_at":"2020-08-30T22:46:28-07:00","alt":"COACH JACKET ECLIPSE NAVY","width":1500,"height":1500,"src":"https:\/\/cdn.shopify.com\/s\/files\/1\/1645\/3613\/products\/GL10107_EN.jpg?v=1598852788","variant_ids":[31776950812734,31776950845502,31776950878270,31776950911038]},"available":false,"name":"Coach Jacket - GL10107 \/ ECLIPSE NAVY \/ L","public_title":"GL10107 \/ ECLIPSE NAVY \/ L","options":["GL10107","ECLIPSE NAVY","L"],"price":31500,"weight":0,"compare_at_price":45000,"inventory_quantity":0,"inventory_management":"shopify","inventory_policy":"deny","barcode":"4550207027646","featured_media":{"alt":"COACH JACKET ECLIPSE NAVY","id":6201903218750,"position":6,"preview_image":{"aspect_ratio":1.0,"height":1500,"width":1500,"src":"https:\/\/cdn.shopify.com\/s\/files\/1\/1645\/3613\/products\/GL10107_EN.jpg?v=1579658162"}}},{"id":31776950911038,"title":"GL10107 \/ ECLIPSE NAVY \/ XL","option1":"GL10107","option2":"ECLIPSE NAVY","option3":"XL","sku":"GL10107-EN-XL","requires_shipping":true,"taxable":true,"featured_image":{"id":14032176775230,"product_id":4423843479614,"position":6,"created_at":"2020-01-21T17:56:02-08:00","updated_at":"2020-08-30T22:46:28-07:00","alt":"COACH JACKET ECLIPSE NAVY","width":1500,"height":1500,"src":"https:\/\/cdn.shopify.com\/s\/files\/1\/1645\/3613\/products\/GL10107_EN.jpg?v=1598852788","variant_ids":[31776950812734,31776950845502,31776950878270,31776950911038]},"available":false,"name":"Coach Jacket - GL10107 \/ ECLIPSE NAVY \/ XL","public_title":"GL10107 \/ ECLIPSE NAVY \/ XL","options":["GL10107","ECLIPSE NAVY","XL"],"price":31500,"weight":0,"compare_at_price":45000,"inventory_quantity":0,"inventory_management":"shopify","inventory_policy":"deny","barcode":"4550207027653","featured_media":{"alt":"COACH JACKET ECLIPSE NAVY","id":6201903218750,"position":6,"preview_image":{"aspect_ratio":1.0,"height":1500,"width":1500,"src":"https:\/\/cdn.shopify.com\/s\/files\/1\/1645\/3613\/products\/GL10107_EN.jpg?v=1579658162"}}}],"images":["\/\/cdn.shopify.com\/s\/files\/1\/1645\/3613\/products\/GL10107_O.jpg?v=1599050616","\/\/cdn.shopify.com\/s\/files\/1\/1645\/3613\/products\/GL10107_BK-b2_gl.jpg?v=1598852792","\/\/cdn.shopify.com\/s\/files\/1\/1645\/3613\/products\/GL10107_BK-b3_gl.jpg?v=1598852792","\/\/cdn.shopify.com\/s\/files\/1\/1645\/3613\/products\/GL10107_BK-b5_gl.jpg?v=1598852792","\/\/cdn.shopify.com\/s\/files\/1\/1645\/3613\/products\/GL10107_BK.jpg?v=1598852792","\/\/cdn.shopify.com\/s\/files\/1\/1645\/3613\/products\/GL10107_EN.jpg?v=1598852788","\/\/cdn.shopify.com\/s\/files\/1\/1645\/3613\/products\/GL10107_BK-b1.jpg?v=1598852788","\/\/cdn.shopify.com\/s\/files\/1\/1645\/3613\/products\/GL10107_BK-b2.jpg?v=1598852788","\/\/cdn.shopify.com\/s\/files\/1\/1645\/3613\/products\/GL10107_BK-b6_gl.jpg?v=1598852788","\/\/cdn.shopify.com\/s\/files\/1\/1645\/3613\/products\/GL10107_BK-b5.jpg?v=1598852788","\/\/cdn.shopify.com\/s\/files\/1\/1645\/3613\/products\/GL10107_BK-b4_gl.jpg?v=1598852788","\/\/cdn.shopify.com\/s\/files\/1\/1645\/3613\/products\/GL10107_BK-b4.jpg?v=1598852788"],"featured_image":"\/\/cdn.shopify.com\/s\/files\/1\/1645\/3613\/products\/GL10107_O.jpg?v=1599050616","options":["Style#","Color","Size"],"media":[{"alt":null,"id":8363709857854,"position":1,"preview_image":{"aspect_ratio":1.0,"height":1500,"width":1500,"src":"https:\/\/cdn.shopify.com\/s\/files\/1\/1645\/3613\/products\/GL10107_O.jpg?v=1598852782"},"aspect_ratio":1.0,"height":1500,"media_type":"image","src":"https:\/\/cdn.shopify.com\/s\/files\/1\/1645\/3613\/products\/GL10107_O.jpg?v=1598852782","width":1500},{"alt":"COACH JACKET BLACK","id":6627329867838,"position":2,"preview_image":{"aspect_ratio":1.0,"height":1500,"width":1500,"src":"https:\/\/cdn.shopify.com\/s\/files\/1\/1645\/3613\/products\/GL10107_BK-b2_gl.jpg?v=1586137952"},"aspect_ratio":1.0,"height":1500,"media_type":"image","src":"https:\/\/cdn.shopify.com\/s\/files\/1\/1645\/3613\/products\/GL10107_BK-b2_gl.jpg?v=1586137952","width":1500},{"alt":"COACH JACKET BLACK","id":6627329900606,"position":3,"preview_image":{"aspect_ratio":1.0,"height":1500,"width":1500,"src":"https:\/\/cdn.shopify.com\/s\/files\/1\/1645\/3613\/products\/GL10107_BK-b3_gl.jpg?v=1586137951"},"aspect_ratio":1.0,"height":1500,"media_type":"image","src":"https:\/\/cdn.shopify.com\/s\/files\/1\/1645\/3613\/products\/GL10107_BK-b3_gl.jpg?v=1586137951","width":1500},{"alt":"COACH JACKET BLACK","id":6627329802302,"position":4,"preview_image":{"aspect_ratio":1.0,"height":1500,"width":1500,"src":"https:\/\/cdn.shopify.com\/s\/files\/1\/1645\/3613\/products\/GL10107_BK-b5_gl.jpg?v=1586137952"},"aspect_ratio":1.0,"height":1500,"media_type":"image","src":"https:\/\/cdn.shopify.com\/s\/files\/1\/1645\/3613\/products\/GL10107_BK-b5_gl.jpg?v=1586137952","width":1500},{"alt":"COACH JACKET BLACK","id":6201903251518,"position":5,"preview_image":{"aspect_ratio":1.0,"height":1500,"width":1500,"src":"https:\/\/cdn.shopify.com\/s\/files\/1\/1645\/3613\/products\/GL10107_BK.jpg?v=1579658162"},"aspect_ratio":1.0,"height":1500,"media_type":"image","src":"https:\/\/cdn.shopify.com\/s\/files\/1\/1645\/3613\/products\/GL10107_BK.jpg?v=1579658162","width":1500},{"alt":"COACH JACKET ECLIPSE NAVY","id":6201903218750,"position":6,"preview_image":{"aspect_ratio":1.0,"height":1500,"width":1500,"src":"https:\/\/cdn.shopify.com\/s\/files\/1\/1645\/3613\/products\/GL10107_EN.jpg?v=1579658162"},"aspect_ratio":1.0,"height":1500,"media_type":"image","src":"https:\/\/cdn.shopify.com\/s\/files\/1\/1645\/3613\/products\/GL10107_EN.jpg?v=1579658162","width":1500},{"alt":"COACH JACKET ECLIPSE NAVY","id":6201903284286,"position":7,"preview_image":{"aspect_ratio":1.0,"height":1500,"width":1500,"src":"https:\/\/cdn.shopify.com\/s\/files\/1\/1645\/3613\/products\/GL10107_BK-b1.jpg?v=1579658162"},"aspect_ratio":1.0,"height":1500,"media_type":"image","src":"https:\/\/cdn.shopify.com\/s\/files\/1\/1645\/3613\/products\/GL10107_BK-b1.jpg?v=1579658162","width":1500},{"alt":"COACH JACKET ECLIPSE NAVY","id":6201903317054,"position":8,"preview_image":{"aspect_ratio":1.0,"height":1500,"width":1500,"src":"https:\/\/cdn.shopify.com\/s\/files\/1\/1645\/3613\/products\/GL10107_BK-b2.jpg?v=1579658162"},"aspect_ratio":1.0,"height":1500,"media_type":"image","src":"https:\/\/cdn.shopify.com\/s\/files\/1\/1645\/3613\/products\/GL10107_BK-b2.jpg?v=1579658162","width":1500},{"alt":"COACH JACKET ECLIPSE NAVY","id":6627329835070,"position":9,"preview_image":{"aspect_ratio":1.0,"height":1500,"width":1500,"src":"https:\/\/cdn.shopify.com\/s\/files\/1\/1645\/3613\/products\/GL10107_BK-b6_gl.jpg?v=1586137952"},"aspect_ratio":1.0,"height":1500,"media_type":"image","src":"https:\/\/cdn.shopify.com\/s\/files\/1\/1645\/3613\/products\/GL10107_BK-b6_gl.jpg?v=1586137952","width":1500},{"alt":"COACH JACKET ","id":6201902989374,"position":10,"preview_image":{"aspect_ratio":1.0,"height":1500,"width":1500,"src":"https:\/\/cdn.shopify.com\/s\/files\/1\/1645\/3613\/products\/GL10107_BK-b5.jpg?v=1579658162"},"aspect_ratio":1.0,"height":1500,"media_type":"image","src":"https:\/\/cdn.shopify.com\/s\/files\/1\/1645\/3613\/products\/GL10107_BK-b5.jpg?v=1579658162","width":1500},{"alt":"COACH JACKET ","id":6627329933374,"position":11,"preview_image":{"aspect_ratio":1.0,"height":1500,"width":1500,"src":"https:\/\/cdn.shopify.com\/s\/files\/1\/1645\/3613\/products\/GL10107_BK-b4_gl.jpg?v=1586137952"},"aspect_ratio":1.0,"height":1500,"media_type":"image","src":"https:\/\/cdn.shopify.com\/s\/files\/1\/1645\/3613\/products\/GL10107_BK-b4_gl.jpg?v=1586137952","width":1500},{"alt":"COACH JACKET ","id":6201903382590,"position":12,"preview_image":{"aspect_ratio":1.0,"height":1500,"width":1500,"src":"https:\/\/cdn.shopify.com\/s\/files\/1\/1645\/3613\/products\/GL10107_BK-b4.jpg?v=1579658162"},"aspect_ratio":1.0,"height":1500,"media_type":"image","src":"https:\/\/cdn.shopify.com\/s\/files\/1\/1645\/3613\/products\/GL10107_BK-b4.jpg?v=1579658162","width":1500}],"content":"\u003ch4 class=\"subtitileDt\"\u003eFeatures\u003c\/h4\u003e\n\u003cul\u003e\n\u003cli\u003eA classic coach jacket with distinctive materials on its front and back sides.\u003c\/li\u003e\n\u003cli\u003eHighly versatile garment that can be worn comfortably in a variety of scenarios.\u003c\/li\u003e\n\u003cli\u003eThe front side is made with PERTEX® UNLIMITED, which has a soft, natural-feeling texture.\u003c\/li\u003e\n\u003cli\u003eThe back side is made with DOT AIR, a lightweight and supple mesh-like material that prevents heat from getting trapped at the wearer's back.\u003c\/li\u003e\n\u003cli\u003eTwo pockets at the hips.\u003c\/li\u003e\n\u003cli\u003eEasy-open dot buttons at the top of the placket.\u003c\/li\u003e\n\u003cli\u003eLining features a striking gun club check pattern.\u003c\/li\u003e\n\u003c\/ul\u003e\u003cbr\u003e\u003ch4 class=\"subtitileDt\"\u003eMaterial\u003c\/h4\u003e\n\u003cp\u003eFabric:100%nylon\u003c\/p\u003e\n\u003cp\u003eLining:100%Polyester\u003c\/p\u003e"}