HUNTING 3B JACKET
GL10110
Despite its technical pedigree, this function-focused jacket features a natural hand feel and a smart silhouette that won't look out of place in more formal settings.
Features
Despite its technical specifications, this classic silhouette won't look out of place in formal settings.
Yoke is lined with an elegant, lustrous curpo material.
Action pleats on the back and zippered vents at the sides allow for increased airflow.
Flap pockets on both hips.
Interior zippered pocket on right breast.
Interior pen pocket on left breast.
Material
Fabric: Vintage Nylon Oxford (100% nylon)
Lining: Taffeta (100% cupro)
Shipping Policy
Goldwin orders are shipped Monday-Friday (excluding holidays).
Shipping options:
Ground Shipping (5-7 business days)
Free for orders of $100 or more
$8 for orders of less than $100
Standard Shipping (3-4 business days)
$12 for all orders
Express Shipping (2-3 business days)
$20 for all orders
Store Pick Up
Free
For further information, please visit our shipping policy.
*Due to the current status of Covid-19, please bear with us as delivery times may be slightly longer than normal.
HUNTING 3B JACKET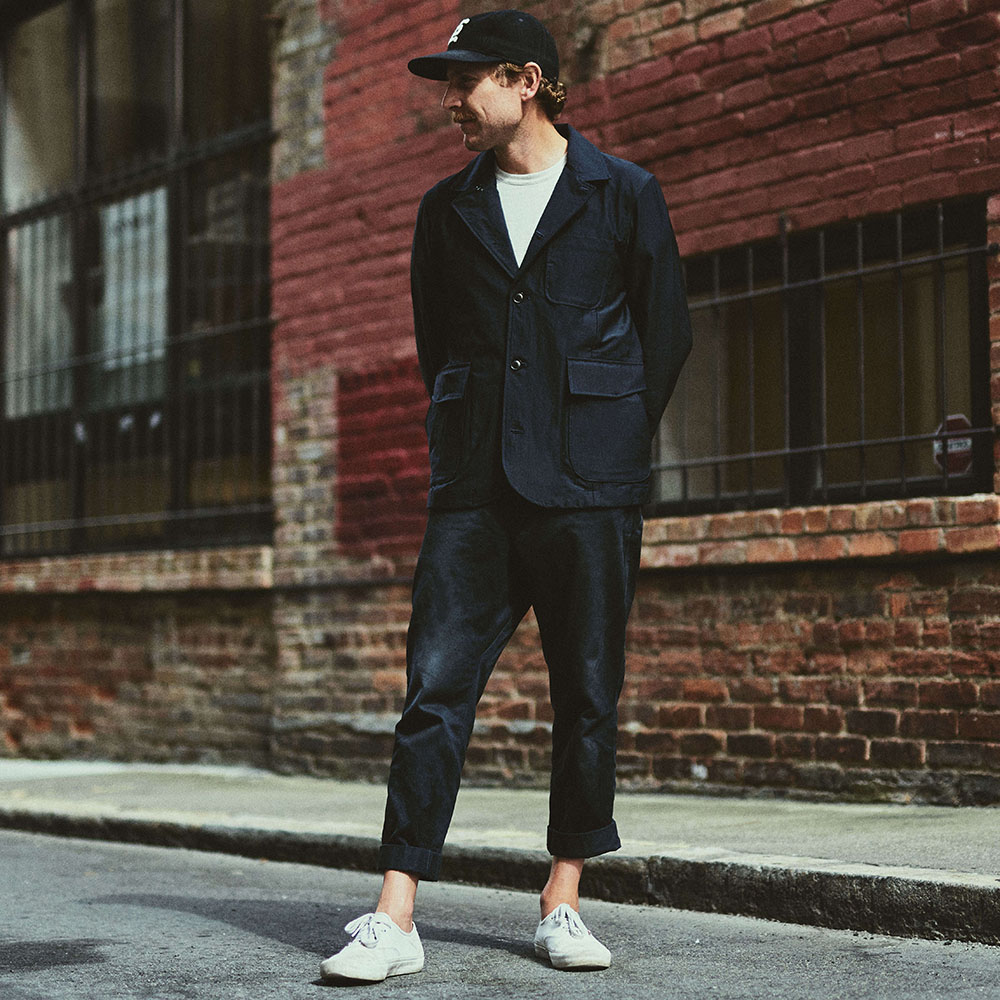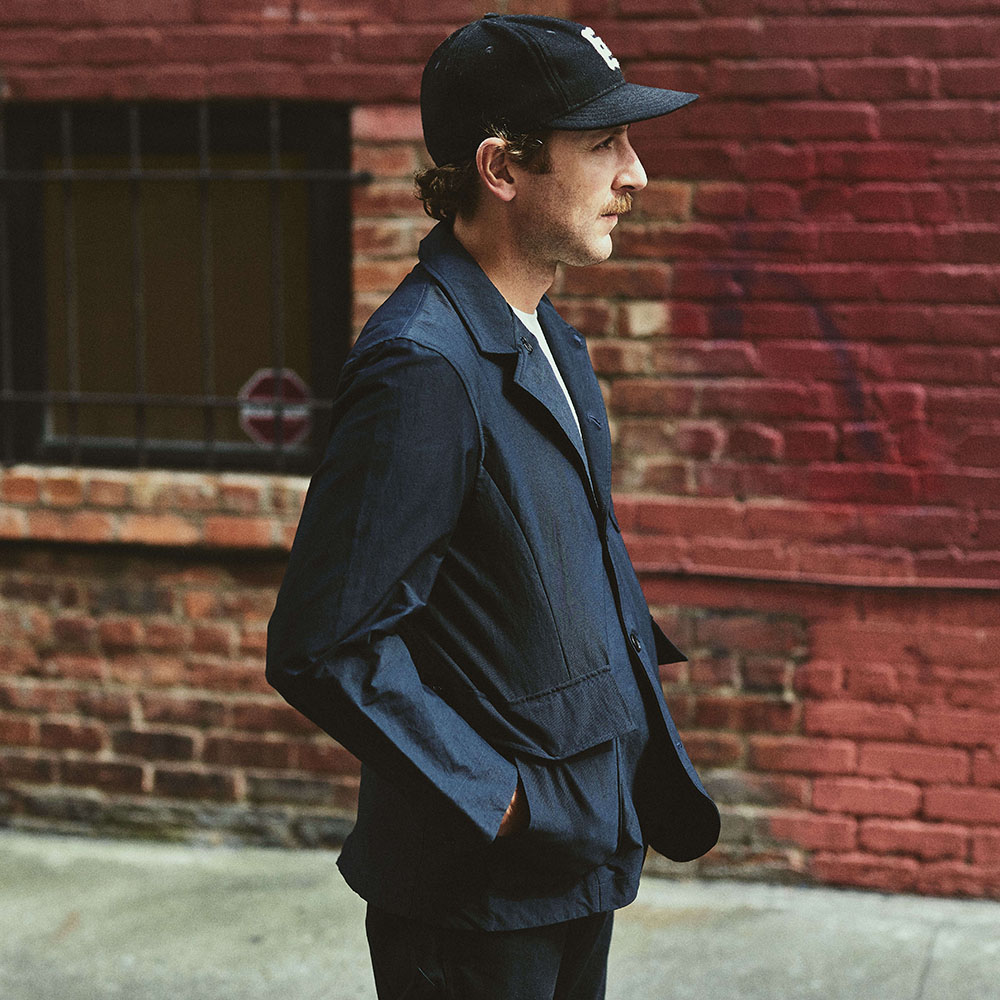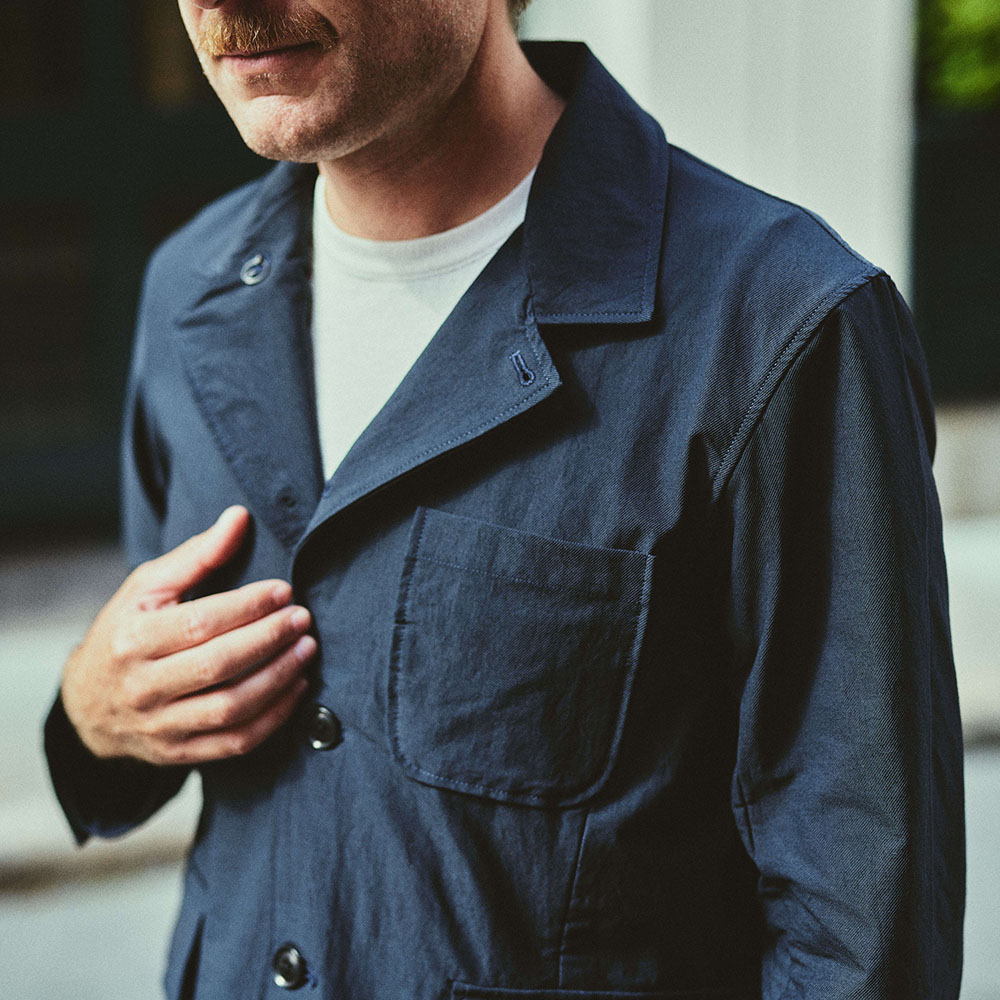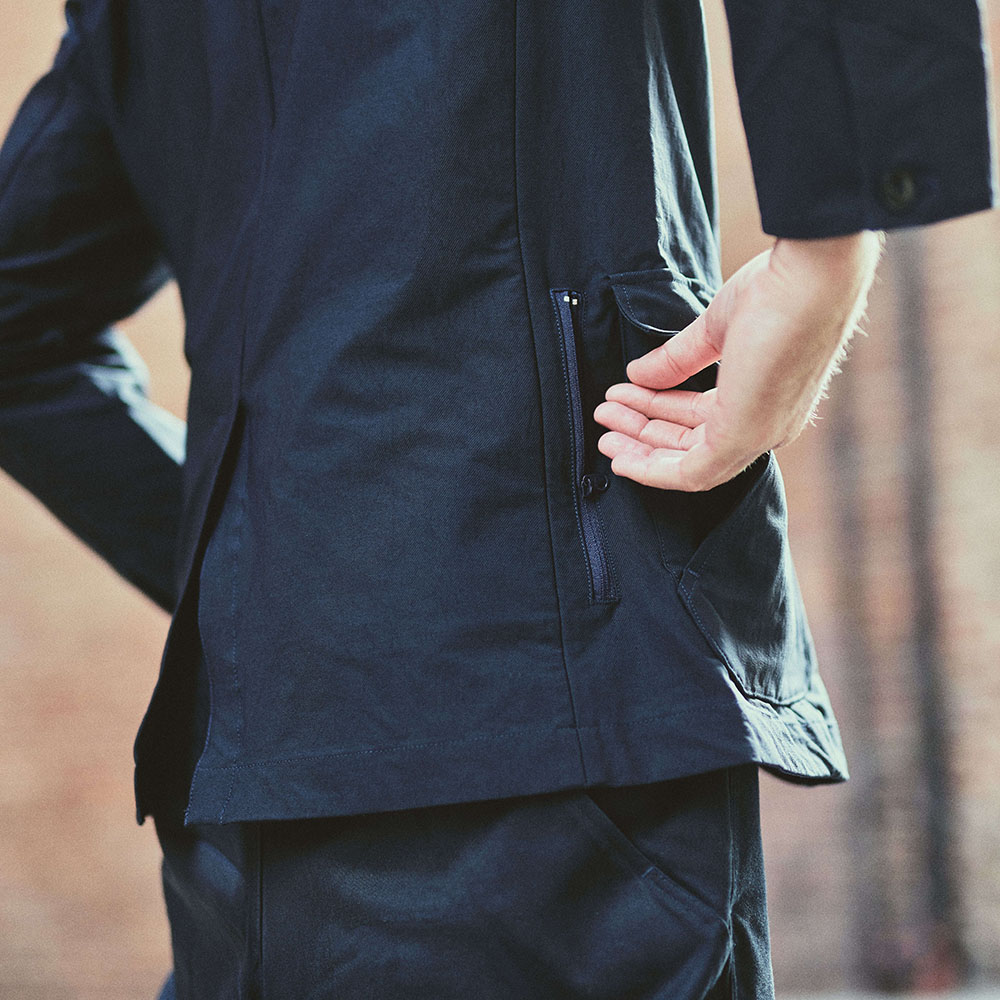 {"id":4423843545150,"title":"HUNTING 3B JACKET","handle":"gl10110","description":"\u003cp\u003eDespite its technical pedigree, this function-focused jacket features a natural hand feel and a smart silhouette that won't look out of place in more formal settings.\u003c\/p\u003e\n\u003cp\u003e \u003c\/p\u003e\n\u003ch4 class=\"subtitileDt\"\u003eFeatures\u003c\/h4\u003e\n\u003cul\u003e\n\u003cli\u003eDespite its technical specifications, this classic silhouette won't look out of place in formal settings. \u003c\/li\u003e\n\u003cli\u003eYoke is lined with an elegant, lustrous curpo material. \u003c\/li\u003e\n\u003cli\u003eAction pleats on the back and zippered vents at the sides allow for increased airflow.\u003c\/li\u003e\n\u003cli\u003eFlap pockets on both hips.\u003c\/li\u003e\n\u003cli\u003eInterior zippered pocket on right breast. \u003c\/li\u003e\n\u003cli\u003eInterior pen pocket on left breast. \u003c\/li\u003e\n\u003c\/ul\u003e\n\u003cp\u003e \u003c\/p\u003e\n\u003ch4 class=\"subtitileDt\"\u003eMaterial\u003c\/h4\u003e\n\u003cp\u003eFabric: Vintage Nylon Oxford (100% nylon)\u003c\/p\u003e\n\u003cp\u003eLining: Taffeta (100% cupro)\u003c\/p\u003e","published_at":"2020-02-20T21:51:58-08:00","created_at":"2020-01-16T22:21:45-08:00","vendor":"Goldwin","type":"lifestyle","tags":["2\/end","2020 SPRING\/SUMMER","clearance0623","lifestyle","men","outer","proper"],"price":22500,"price_min":22500,"price_max":22500,"available":true,"price_varies":false,"compare_at_price":45000,"compare_at_price_min":45000,"compare_at_price_max":45000,"compare_at_price_varies":false,"variants":[{"id":31776951074878,"title":"GL10110 \/ BLACK \/ S","option1":"GL10110","option2":"BLACK","option3":"S","sku":"GL10110-BK-S","requires_shipping":true,"taxable":true,"featured_image":{"id":14198303686718,"product_id":4423843545150,"position":2,"created_at":"2020-02-20T22:16:33-08:00","updated_at":"2020-07-14T22:11:23-07:00","alt":"HUNTING 3B JACKET BLACK","width":1500,"height":1500,"src":"https:\/\/cdn.shopify.com\/s\/files\/1\/1645\/3613\/products\/GL10110_BK.jpg?v=1594789883","variant_ids":[31776951074878,31776951107646,31776951140414,31776951173182]},"available":false,"name":"HUNTING 3B JACKET - GL10110 \/ BLACK \/ S","public_title":"GL10110 \/ BLACK \/ S","options":["GL10110","BLACK","S"],"price":22500,"weight":0,"compare_at_price":45000,"inventory_quantity":0,"inventory_management":"shopify","inventory_policy":"deny","barcode":"4.55021E+12","featured_media":{"alt":"HUNTING 3B JACKET BLACK","id":6368031768638,"position":2,"preview_image":{"aspect_ratio":1.0,"height":1500,"width":1500,"src":"https:\/\/cdn.shopify.com\/s\/files\/1\/1645\/3613\/products\/GL10110_BK.jpg?v=1582265793"}}},{"id":31776951107646,"title":"GL10110 \/ BLACK \/ M","option1":"GL10110","option2":"BLACK","option3":"M","sku":"GL10110-BK-M","requires_shipping":true,"taxable":true,"featured_image":{"id":14198303686718,"product_id":4423843545150,"position":2,"created_at":"2020-02-20T22:16:33-08:00","updated_at":"2020-07-14T22:11:23-07:00","alt":"HUNTING 3B JACKET BLACK","width":1500,"height":1500,"src":"https:\/\/cdn.shopify.com\/s\/files\/1\/1645\/3613\/products\/GL10110_BK.jpg?v=1594789883","variant_ids":[31776951074878,31776951107646,31776951140414,31776951173182]},"available":true,"name":"HUNTING 3B JACKET - GL10110 \/ BLACK \/ M","public_title":"GL10110 \/ BLACK \/ M","options":["GL10110","BLACK","M"],"price":22500,"weight":0,"compare_at_price":45000,"inventory_quantity":1,"inventory_management":"shopify","inventory_policy":"deny","barcode":"4.55021E+12","featured_media":{"alt":"HUNTING 3B JACKET BLACK","id":6368031768638,"position":2,"preview_image":{"aspect_ratio":1.0,"height":1500,"width":1500,"src":"https:\/\/cdn.shopify.com\/s\/files\/1\/1645\/3613\/products\/GL10110_BK.jpg?v=1582265793"}}},{"id":31776951140414,"title":"GL10110 \/ BLACK \/ L","option1":"GL10110","option2":"BLACK","option3":"L","sku":"GL10110-BK-L","requires_shipping":true,"taxable":true,"featured_image":{"id":14198303686718,"product_id":4423843545150,"position":2,"created_at":"2020-02-20T22:16:33-08:00","updated_at":"2020-07-14T22:11:23-07:00","alt":"HUNTING 3B JACKET BLACK","width":1500,"height":1500,"src":"https:\/\/cdn.shopify.com\/s\/files\/1\/1645\/3613\/products\/GL10110_BK.jpg?v=1594789883","variant_ids":[31776951074878,31776951107646,31776951140414,31776951173182]},"available":false,"name":"HUNTING 3B JACKET - GL10110 \/ BLACK \/ L","public_title":"GL10110 \/ BLACK \/ L","options":["GL10110","BLACK","L"],"price":22500,"weight":0,"compare_at_price":45000,"inventory_quantity":0,"inventory_management":"shopify","inventory_policy":"deny","barcode":"4.55021E+12","featured_media":{"alt":"HUNTING 3B JACKET BLACK","id":6368031768638,"position":2,"preview_image":{"aspect_ratio":1.0,"height":1500,"width":1500,"src":"https:\/\/cdn.shopify.com\/s\/files\/1\/1645\/3613\/products\/GL10110_BK.jpg?v=1582265793"}}},{"id":31776951173182,"title":"GL10110 \/ BLACK \/ XL","option1":"GL10110","option2":"BLACK","option3":"XL","sku":"GL10110-BK-XL","requires_shipping":true,"taxable":true,"featured_image":{"id":14198303686718,"product_id":4423843545150,"position":2,"created_at":"2020-02-20T22:16:33-08:00","updated_at":"2020-07-14T22:11:23-07:00","alt":"HUNTING 3B JACKET BLACK","width":1500,"height":1500,"src":"https:\/\/cdn.shopify.com\/s\/files\/1\/1645\/3613\/products\/GL10110_BK.jpg?v=1594789883","variant_ids":[31776951074878,31776951107646,31776951140414,31776951173182]},"available":true,"name":"HUNTING 3B JACKET - GL10110 \/ BLACK \/ XL","public_title":"GL10110 \/ BLACK \/ XL","options":["GL10110","BLACK","XL"],"price":22500,"weight":0,"compare_at_price":45000,"inventory_quantity":1,"inventory_management":"shopify","inventory_policy":"deny","barcode":"4.55021E+12","featured_media":{"alt":"HUNTING 3B JACKET BLACK","id":6368031768638,"position":2,"preview_image":{"aspect_ratio":1.0,"height":1500,"width":1500,"src":"https:\/\/cdn.shopify.com\/s\/files\/1\/1645\/3613\/products\/GL10110_BK.jpg?v=1582265793"}}},{"id":31776951205950,"title":"GL10110 \/ DARK NAVY \/ S","option1":"GL10110","option2":"DARK NAVY","option3":"S","sku":"GL10110-DN-S","requires_shipping":true,"taxable":true,"featured_image":{"id":14198303719486,"product_id":4423843545150,"position":1,"created_at":"2020-02-20T22:16:33-08:00","updated_at":"2020-07-14T22:11:23-07:00","alt":"HUNTING 3B JACKET BLACK","width":1500,"height":1500,"src":"https:\/\/cdn.shopify.com\/s\/files\/1\/1645\/3613\/products\/GL10110_DN.jpg?v=1594789883","variant_ids":[31776951205950,31776951238718,31776951271486,31776951337022]},"available":false,"name":"HUNTING 3B JACKET - GL10110 \/ DARK NAVY \/ S","public_title":"GL10110 \/ DARK NAVY \/ S","options":["GL10110","DARK NAVY","S"],"price":22500,"weight":0,"compare_at_price":45000,"inventory_quantity":0,"inventory_management":"shopify","inventory_policy":"deny","barcode":"4.55021E+12","featured_media":{"alt":"HUNTING 3B JACKET BLACK","id":6368031801406,"position":1,"preview_image":{"aspect_ratio":1.0,"height":1500,"width":1500,"src":"https:\/\/cdn.shopify.com\/s\/files\/1\/1645\/3613\/products\/GL10110_DN.jpg?v=1582265793"}}},{"id":31776951238718,"title":"GL10110 \/ DARK NAVY \/ M","option1":"GL10110","option2":"DARK NAVY","option3":"M","sku":"GL10110-DN-M","requires_shipping":true,"taxable":true,"featured_image":{"id":14198303719486,"product_id":4423843545150,"position":1,"created_at":"2020-02-20T22:16:33-08:00","updated_at":"2020-07-14T22:11:23-07:00","alt":"HUNTING 3B JACKET BLACK","width":1500,"height":1500,"src":"https:\/\/cdn.shopify.com\/s\/files\/1\/1645\/3613\/products\/GL10110_DN.jpg?v=1594789883","variant_ids":[31776951205950,31776951238718,31776951271486,31776951337022]},"available":false,"name":"HUNTING 3B JACKET - GL10110 \/ DARK NAVY \/ M","public_title":"GL10110 \/ DARK NAVY \/ M","options":["GL10110","DARK NAVY","M"],"price":22500,"weight":0,"compare_at_price":45000,"inventory_quantity":0,"inventory_management":"shopify","inventory_policy":"deny","barcode":"4.55021E+12","featured_media":{"alt":"HUNTING 3B JACKET BLACK","id":6368031801406,"position":1,"preview_image":{"aspect_ratio":1.0,"height":1500,"width":1500,"src":"https:\/\/cdn.shopify.com\/s\/files\/1\/1645\/3613\/products\/GL10110_DN.jpg?v=1582265793"}}},{"id":31776951271486,"title":"GL10110 \/ DARK NAVY \/ L","option1":"GL10110","option2":"DARK NAVY","option3":"L","sku":"GL10110-DN-L","requires_shipping":true,"taxable":true,"featured_image":{"id":14198303719486,"product_id":4423843545150,"position":1,"created_at":"2020-02-20T22:16:33-08:00","updated_at":"2020-07-14T22:11:23-07:00","alt":"HUNTING 3B JACKET BLACK","width":1500,"height":1500,"src":"https:\/\/cdn.shopify.com\/s\/files\/1\/1645\/3613\/products\/GL10110_DN.jpg?v=1594789883","variant_ids":[31776951205950,31776951238718,31776951271486,31776951337022]},"available":false,"name":"HUNTING 3B JACKET - GL10110 \/ DARK NAVY \/ L","public_title":"GL10110 \/ DARK NAVY \/ L","options":["GL10110","DARK NAVY","L"],"price":22500,"weight":0,"compare_at_price":45000,"inventory_quantity":0,"inventory_management":"shopify","inventory_policy":"deny","barcode":"4.55021E+12","featured_media":{"alt":"HUNTING 3B JACKET BLACK","id":6368031801406,"position":1,"preview_image":{"aspect_ratio":1.0,"height":1500,"width":1500,"src":"https:\/\/cdn.shopify.com\/s\/files\/1\/1645\/3613\/products\/GL10110_DN.jpg?v=1582265793"}}},{"id":31776951337022,"title":"GL10110 \/ DARK NAVY \/ XL","option1":"GL10110","option2":"DARK NAVY","option3":"XL","sku":"GL10110-DN-XL","requires_shipping":true,"taxable":true,"featured_image":{"id":14198303719486,"product_id":4423843545150,"position":1,"created_at":"2020-02-20T22:16:33-08:00","updated_at":"2020-07-14T22:11:23-07:00","alt":"HUNTING 3B JACKET BLACK","width":1500,"height":1500,"src":"https:\/\/cdn.shopify.com\/s\/files\/1\/1645\/3613\/products\/GL10110_DN.jpg?v=1594789883","variant_ids":[31776951205950,31776951238718,31776951271486,31776951337022]},"available":true,"name":"HUNTING 3B JACKET - GL10110 \/ DARK NAVY \/ XL","public_title":"GL10110 \/ DARK NAVY \/ XL","options":["GL10110","DARK NAVY","XL"],"price":22500,"weight":0,"compare_at_price":45000,"inventory_quantity":1,"inventory_management":"shopify","inventory_policy":"deny","barcode":"4.55021E+12","featured_media":{"alt":"HUNTING 3B JACKET BLACK","id":6368031801406,"position":1,"preview_image":{"aspect_ratio":1.0,"height":1500,"width":1500,"src":"https:\/\/cdn.shopify.com\/s\/files\/1\/1645\/3613\/products\/GL10110_DN.jpg?v=1582265793"}}}],"images":["\/\/cdn.shopify.com\/s\/files\/1\/1645\/3613\/products\/GL10110_DN.jpg?v=1594789883","\/\/cdn.shopify.com\/s\/files\/1\/1645\/3613\/products\/GL10110_BK.jpg?v=1594789883","\/\/cdn.shopify.com\/s\/files\/1\/1645\/3613\/products\/GL10110_DN-b1.jpg?v=1594789883","\/\/cdn.shopify.com\/s\/files\/1\/1645\/3613\/products\/GL10110_DN-b7.jpg?v=1594789884","\/\/cdn.shopify.com\/s\/files\/1\/1645\/3613\/products\/GL10110_DN-b4.jpg?v=1594789884","\/\/cdn.shopify.com\/s\/files\/1\/1645\/3613\/products\/GL10110_DN-b6.jpg?v=1594789884","\/\/cdn.shopify.com\/s\/files\/1\/1645\/3613\/products\/GL10110_DN-b5.jpg?v=1594789884","\/\/cdn.shopify.com\/s\/files\/1\/1645\/3613\/products\/GL10110_DN-b2.jpg?v=1594789884","\/\/cdn.shopify.com\/s\/files\/1\/1645\/3613\/products\/GL10110_DN-b3.jpg?v=1594789884"],"featured_image":"\/\/cdn.shopify.com\/s\/files\/1\/1645\/3613\/products\/GL10110_DN.jpg?v=1594789883","options":["Style#","Color","Size"],"media":[{"alt":"HUNTING 3B JACKET BLACK","id":6368031801406,"position":1,"preview_image":{"aspect_ratio":1.0,"height":1500,"width":1500,"src":"https:\/\/cdn.shopify.com\/s\/files\/1\/1645\/3613\/products\/GL10110_DN.jpg?v=1582265793"},"aspect_ratio":1.0,"height":1500,"media_type":"image","src":"https:\/\/cdn.shopify.com\/s\/files\/1\/1645\/3613\/products\/GL10110_DN.jpg?v=1582265793","width":1500},{"alt":"HUNTING 3B JACKET BLACK","id":6368031768638,"position":2,"preview_image":{"aspect_ratio":1.0,"height":1500,"width":1500,"src":"https:\/\/cdn.shopify.com\/s\/files\/1\/1645\/3613\/products\/GL10110_BK.jpg?v=1582265793"},"aspect_ratio":1.0,"height":1500,"media_type":"image","src":"https:\/\/cdn.shopify.com\/s\/files\/1\/1645\/3613\/products\/GL10110_BK.jpg?v=1582265793","width":1500},{"alt":"HUNTING 3B JACKET BLACK","id":6368031834174,"position":3,"preview_image":{"aspect_ratio":1.0,"height":1500,"width":1500,"src":"https:\/\/cdn.shopify.com\/s\/files\/1\/1645\/3613\/products\/GL10110_DN-b1.jpg?v=1582265793"},"aspect_ratio":1.0,"height":1500,"media_type":"image","src":"https:\/\/cdn.shopify.com\/s\/files\/1\/1645\/3613\/products\/GL10110_DN-b1.jpg?v=1582265793","width":1500},{"alt":"HUNTING 3B JACKET BLACK","id":6368031735870,"position":4,"preview_image":{"aspect_ratio":1.0,"height":1500,"width":1500,"src":"https:\/\/cdn.shopify.com\/s\/files\/1\/1645\/3613\/products\/GL10110_DN-b7.jpg?v=1582265793"},"aspect_ratio":1.0,"height":1500,"media_type":"image","src":"https:\/\/cdn.shopify.com\/s\/files\/1\/1645\/3613\/products\/GL10110_DN-b7.jpg?v=1582265793","width":1500},{"alt":"HUNTING 3B JACKET DARK NAVY","id":6368031637566,"position":5,"preview_image":{"aspect_ratio":1.0,"height":1500,"width":1500,"src":"https:\/\/cdn.shopify.com\/s\/files\/1\/1645\/3613\/products\/GL10110_DN-b4.jpg?v=1582265793"},"aspect_ratio":1.0,"height":1500,"media_type":"image","src":"https:\/\/cdn.shopify.com\/s\/files\/1\/1645\/3613\/products\/GL10110_DN-b4.jpg?v=1582265793","width":1500},{"alt":"HUNTING 3B JACKET DARK NAVY","id":6368031703102,"position":6,"preview_image":{"aspect_ratio":1.0,"height":1500,"width":1500,"src":"https:\/\/cdn.shopify.com\/s\/files\/1\/1645\/3613\/products\/GL10110_DN-b6.jpg?v=1582265793"},"aspect_ratio":1.0,"height":1500,"media_type":"image","src":"https:\/\/cdn.shopify.com\/s\/files\/1\/1645\/3613\/products\/GL10110_DN-b6.jpg?v=1582265793","width":1500},{"alt":"HUNTING 3B JACKET DARK NAVY","id":6368031670334,"position":7,"preview_image":{"aspect_ratio":1.0,"height":1500,"width":1500,"src":"https:\/\/cdn.shopify.com\/s\/files\/1\/1645\/3613\/products\/GL10110_DN-b5.jpg?v=1582265793"},"aspect_ratio":1.0,"height":1500,"media_type":"image","src":"https:\/\/cdn.shopify.com\/s\/files\/1\/1645\/3613\/products\/GL10110_DN-b5.jpg?v=1582265793","width":1500},{"alt":"HUNTING 3B JACKET DARK NAVY","id":6368031572030,"position":8,"preview_image":{"aspect_ratio":1.0,"height":1500,"width":1500,"src":"https:\/\/cdn.shopify.com\/s\/files\/1\/1645\/3613\/products\/GL10110_DN-b2.jpg?v=1582265793"},"aspect_ratio":1.0,"height":1500,"media_type":"image","src":"https:\/\/cdn.shopify.com\/s\/files\/1\/1645\/3613\/products\/GL10110_DN-b2.jpg?v=1582265793","width":1500},{"alt":"HUNTING 3B JACKET ","id":6368031604798,"position":9,"preview_image":{"aspect_ratio":1.0,"height":1500,"width":1500,"src":"https:\/\/cdn.shopify.com\/s\/files\/1\/1645\/3613\/products\/GL10110_DN-b3.jpg?v=1582265793"},"aspect_ratio":1.0,"height":1500,"media_type":"image","src":"https:\/\/cdn.shopify.com\/s\/files\/1\/1645\/3613\/products\/GL10110_DN-b3.jpg?v=1582265793","width":1500}],"content":"\u003cp\u003eDespite its technical pedigree, this function-focused jacket features a natural hand feel and a smart silhouette that won't look out of place in more formal settings.\u003c\/p\u003e\n\u003cp\u003e \u003c\/p\u003e\n\u003ch4 class=\"subtitileDt\"\u003eFeatures\u003c\/h4\u003e\n\u003cul\u003e\n\u003cli\u003eDespite its technical specifications, this classic silhouette won't look out of place in formal settings. \u003c\/li\u003e\n\u003cli\u003eYoke is lined with an elegant, lustrous curpo material. \u003c\/li\u003e\n\u003cli\u003eAction pleats on the back and zippered vents at the sides allow for increased airflow.\u003c\/li\u003e\n\u003cli\u003eFlap pockets on both hips.\u003c\/li\u003e\n\u003cli\u003eInterior zippered pocket on right breast. \u003c\/li\u003e\n\u003cli\u003eInterior pen pocket on left breast. \u003c\/li\u003e\n\u003c\/ul\u003e\n\u003cp\u003e \u003c\/p\u003e\n\u003ch4 class=\"subtitileDt\"\u003eMaterial\u003c\/h4\u003e\n\u003cp\u003eFabric: Vintage Nylon Oxford (100% nylon)\u003c\/p\u003e\n\u003cp\u003eLining: Taffeta (100% cupro)\u003c\/p\u003e"}