Despite its crisp texture, our Vintage Stretch Twill is—true to its name—very supple, which allows for comfortable movement. We offer matching pants to complete the look.
Features
Jacket made with stretch nylon twill.
Equipped with convenient storage for eyeglasses, pens, etc.
Pairs with GM79354 Regular Stretch Chino Trousers or GM79355 One Tuck Tapered Stretch Trousers.
Hidden security pocket on the right side of the lower back.
Zippered pocket on the back of the left hip.
Material
Fabric : Vintage stretch twill (95% nylon, 5% polyurethane)
Lining : Taffeta (100% cupra)
Shipping Policy
Goldwin orders are shipped Monday-Friday (excluding holidays).
Shipping options:
Ground Shipping (5-7 business days)
Free for orders of $100 or more
$8 for orders of less than $100
Standard Shipping (3-4 business days)
$12 for all orders
Express Shipping (2-3 business days)
$20 for all orders
Store Pick Up
Free
For further information, please visit our shipping policy.
*Due to the current status of Covid-19, please bear with us as delivery times may be slightly longer than normal.
STRETCH JACKET
Model: Height 6'0" | Wearing: OLIVE GREEN / M
Model: Height 6'0" | Wearing: OLIVE GREEN / M
Model: Height 6'0" | Wearing: OLIVE GREEN / M
Model: Height 6'0" | Wearing: OLIVE GREEN / M
Model: Height 6'0" | Wearing: OLIVE GREEN / M
Model: Height 6'0" | Wearing: OLIVE GREEN / M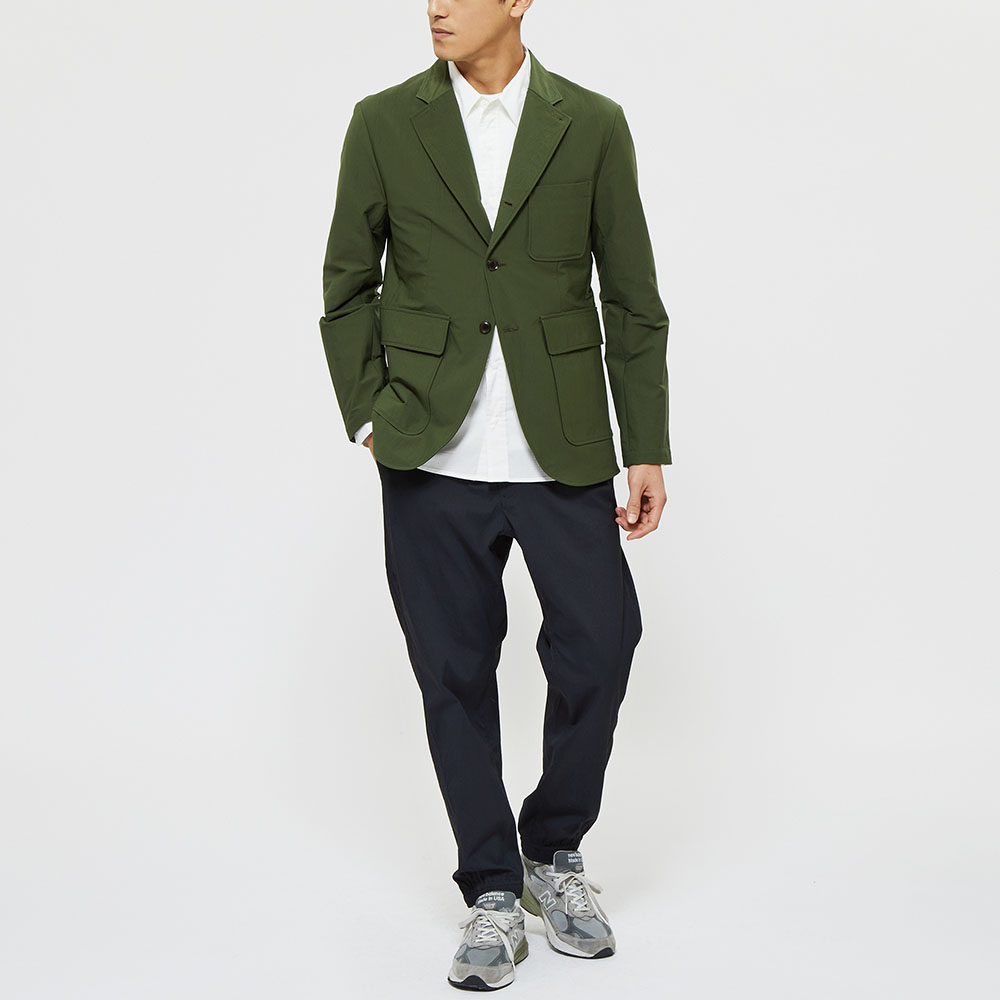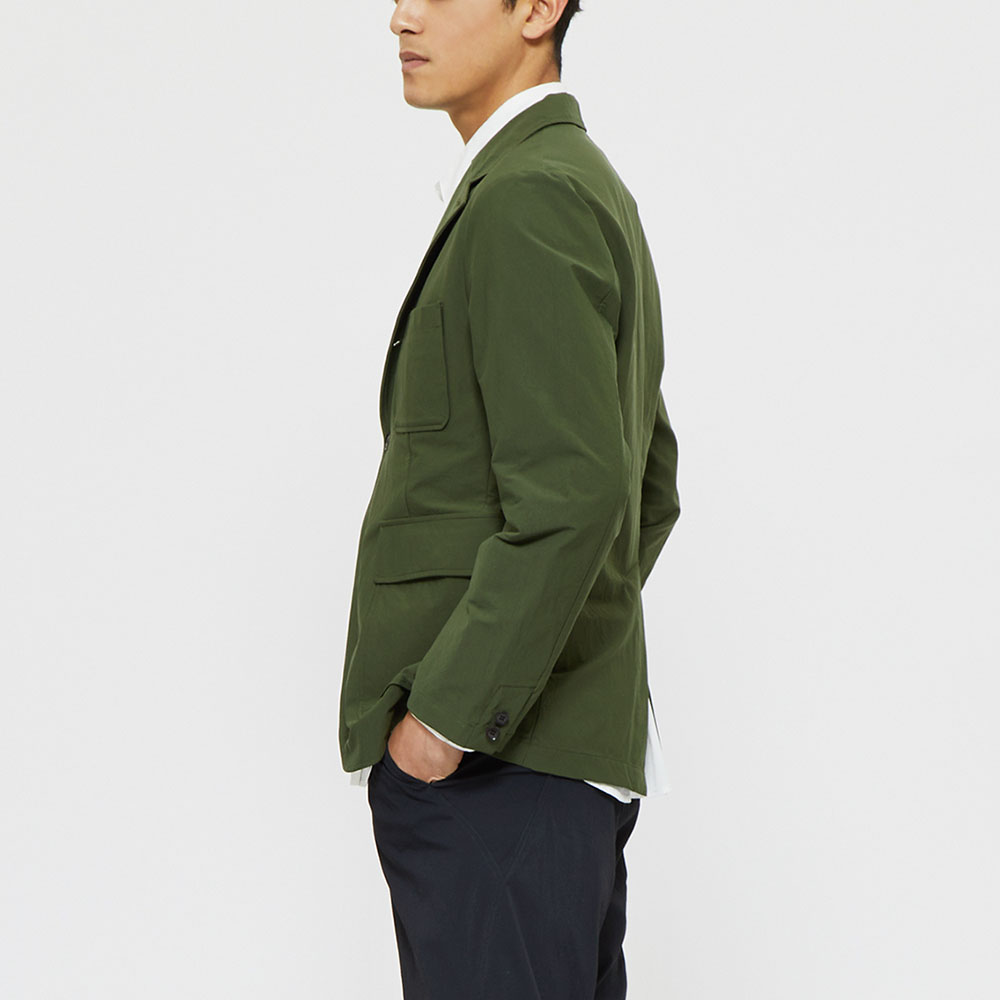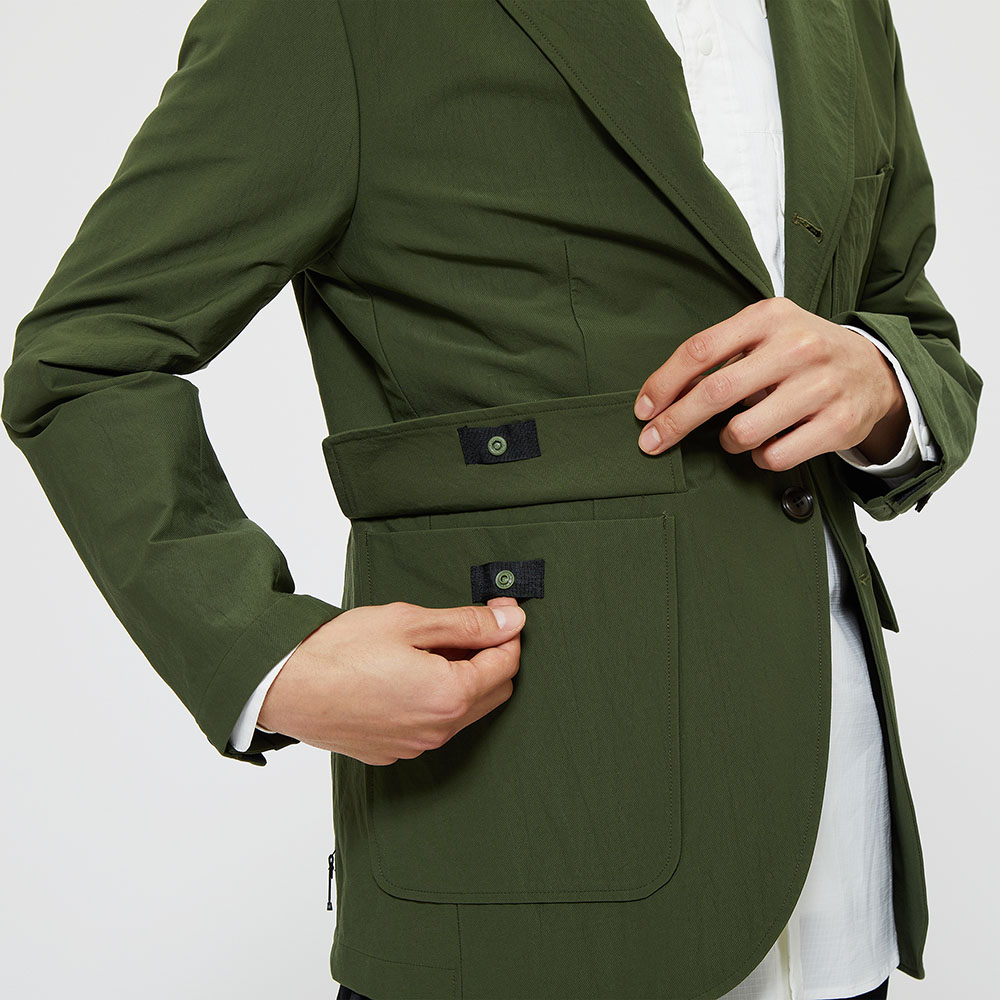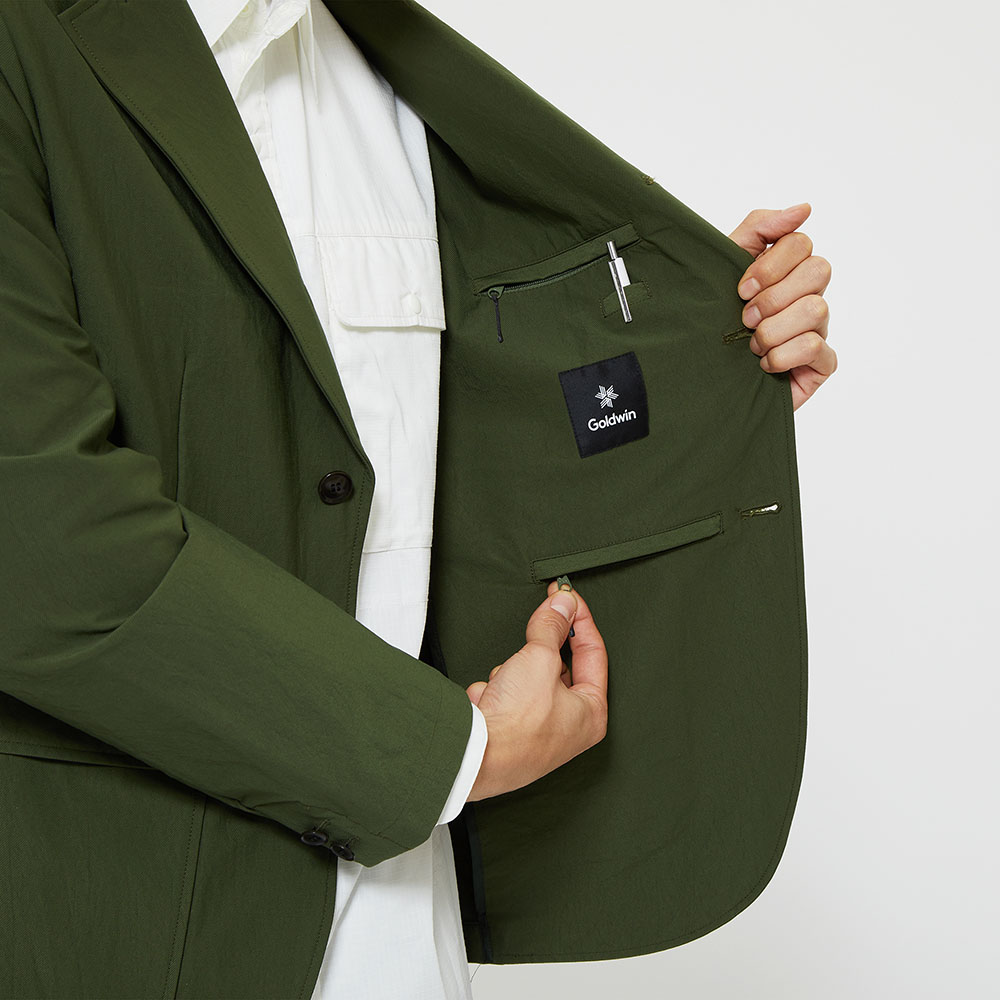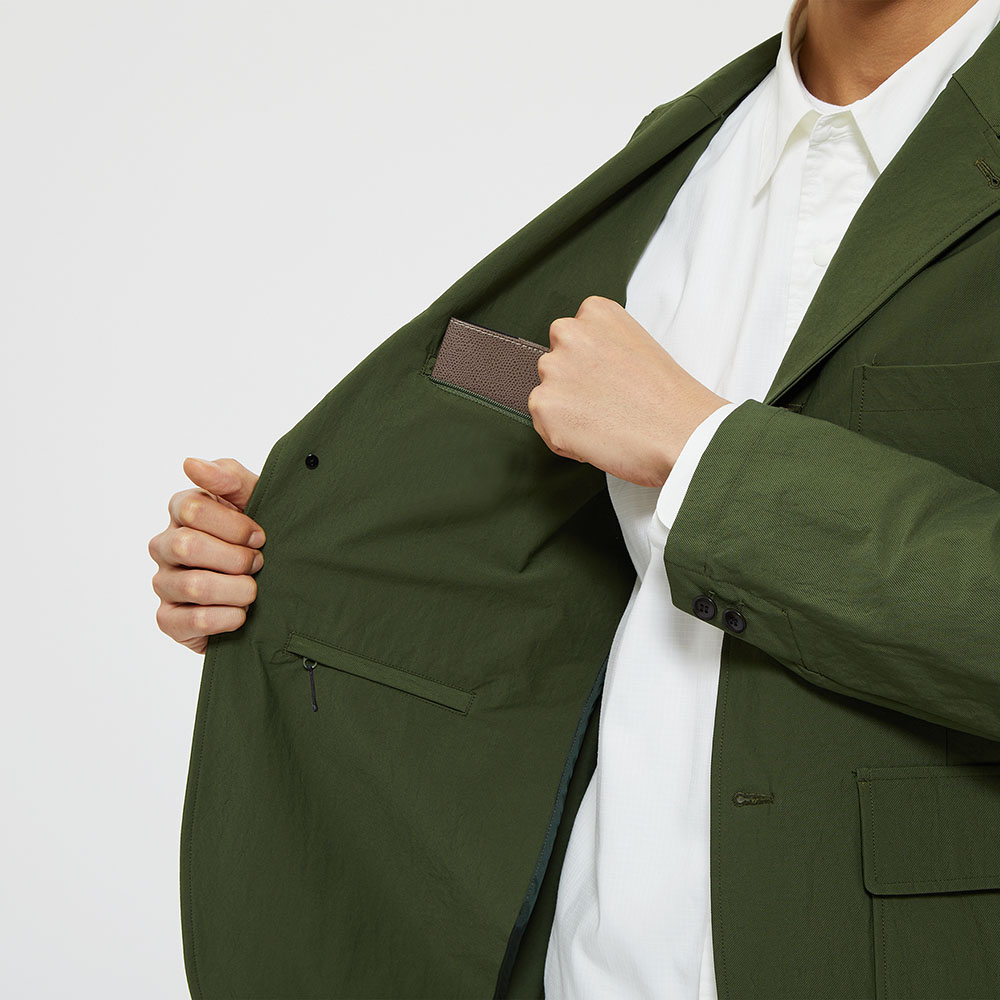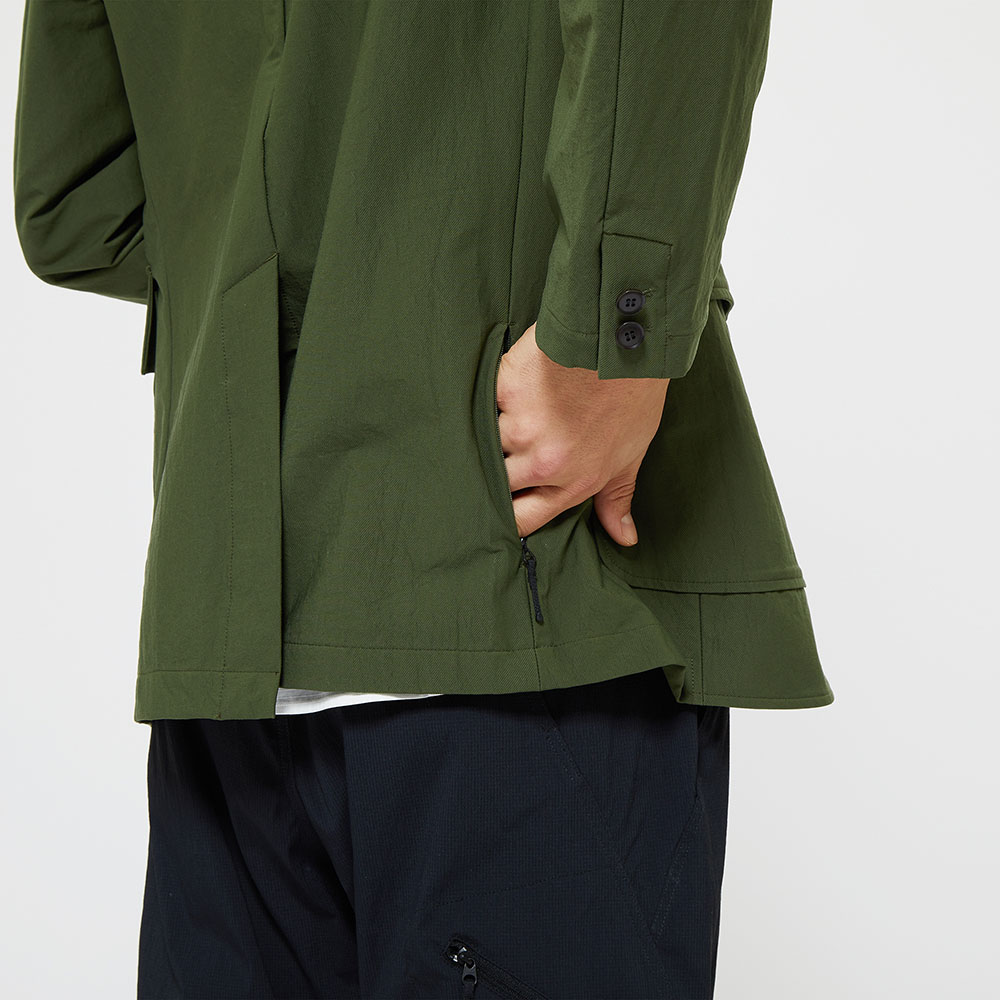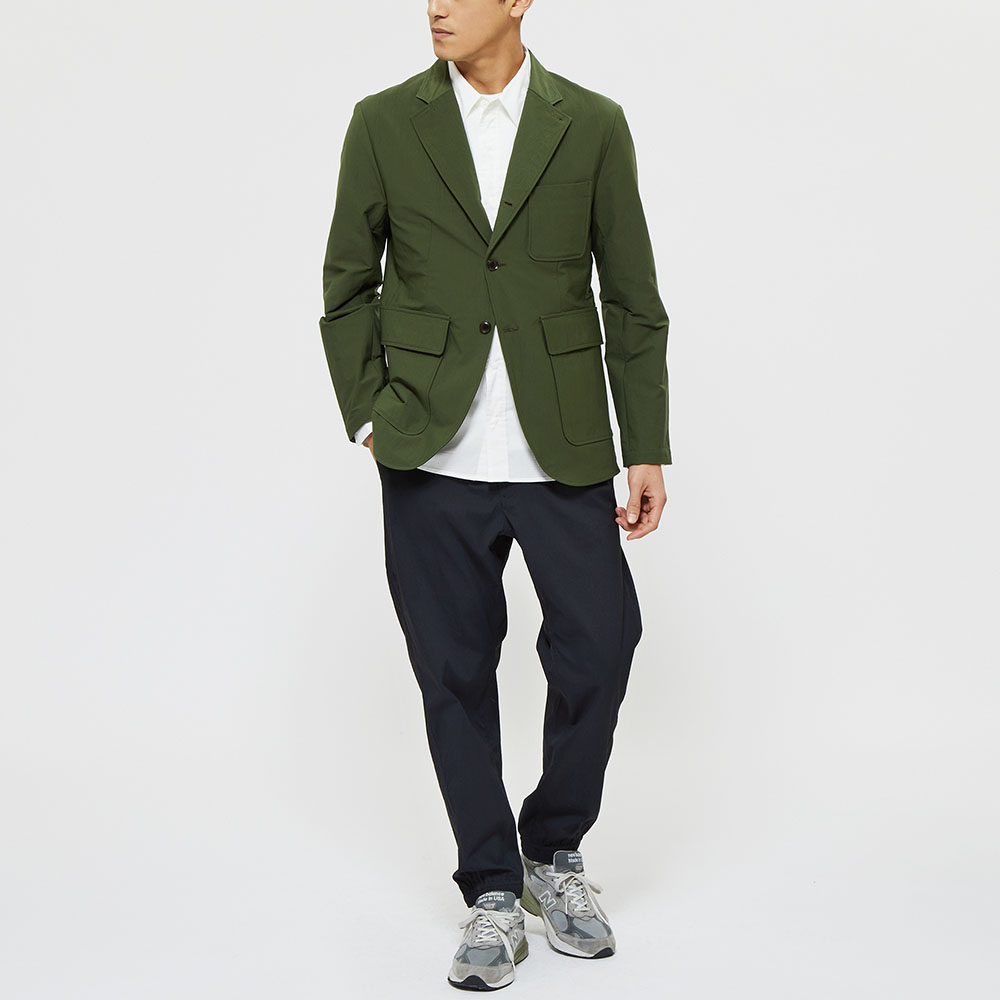 Model: Height 6'0" | Wearing: OLIVE GREEN / M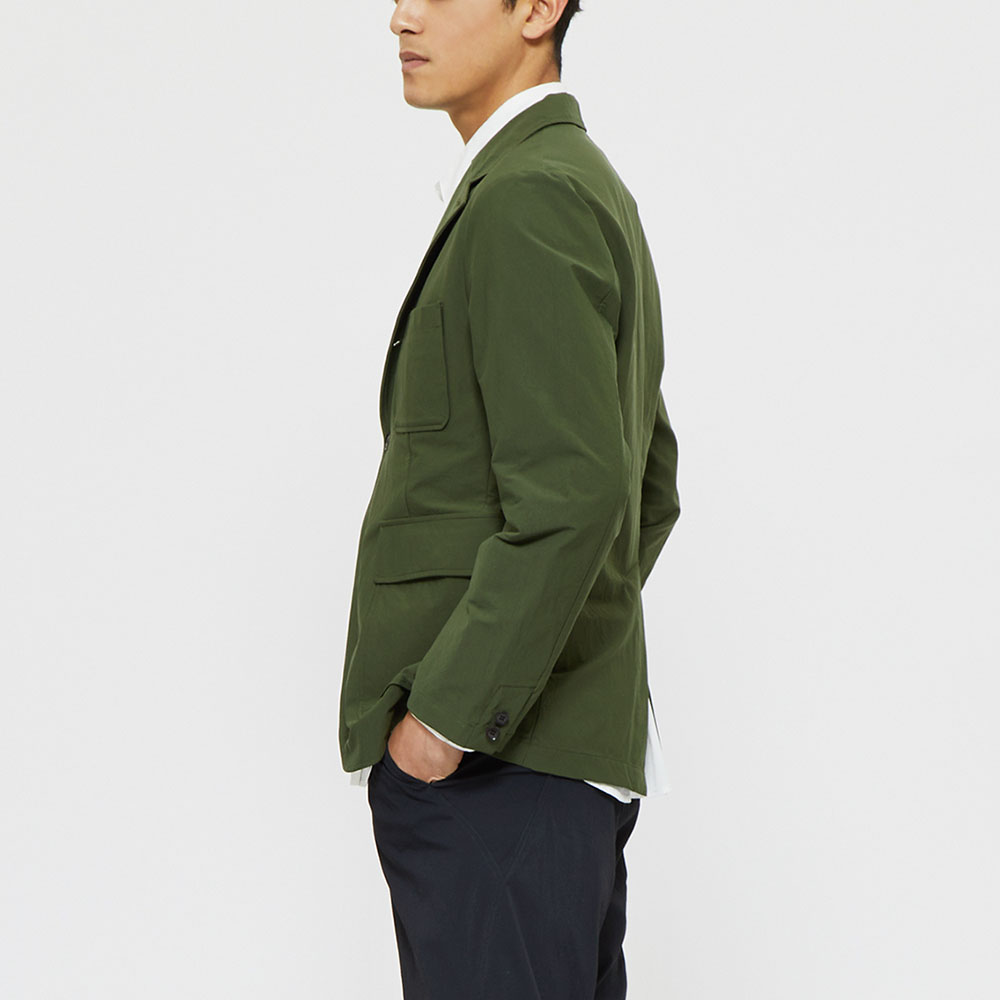 Model: Height 6'0" | Wearing: OLIVE GREEN / M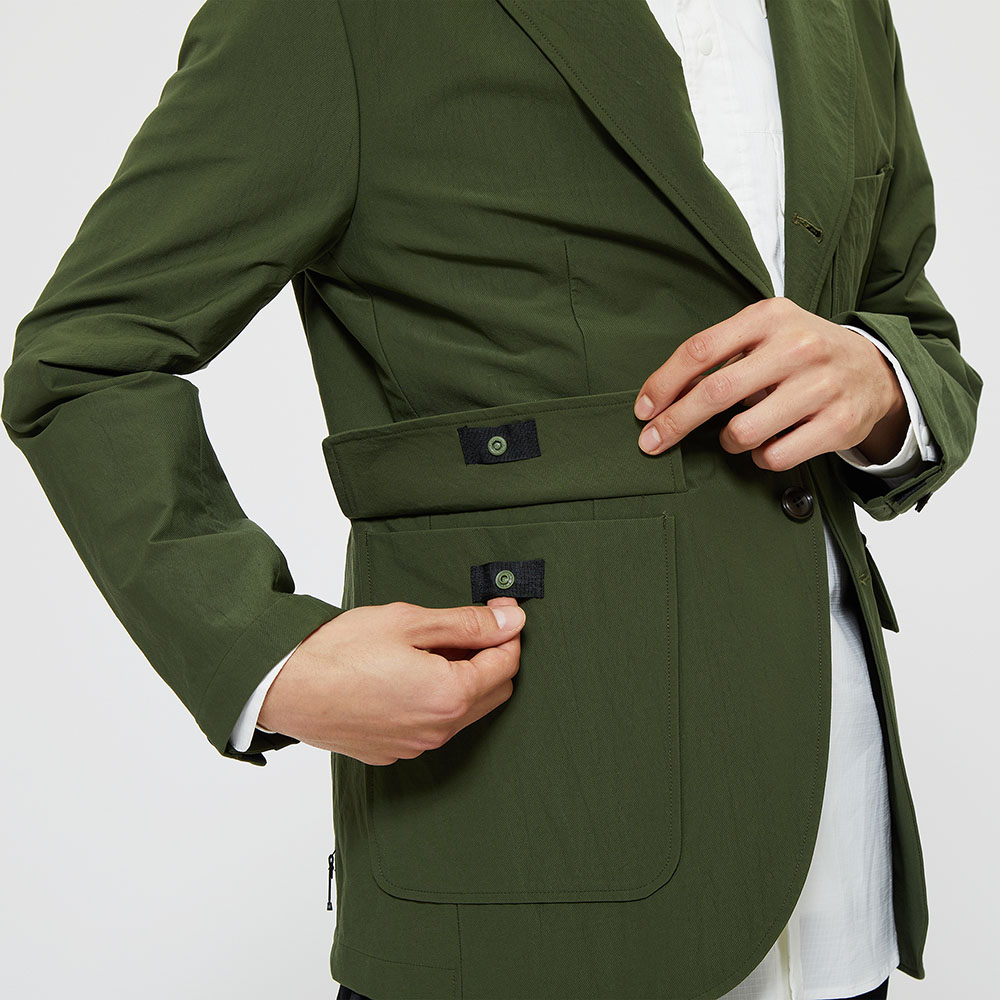 Model: Height 6'0" | Wearing: OLIVE GREEN / M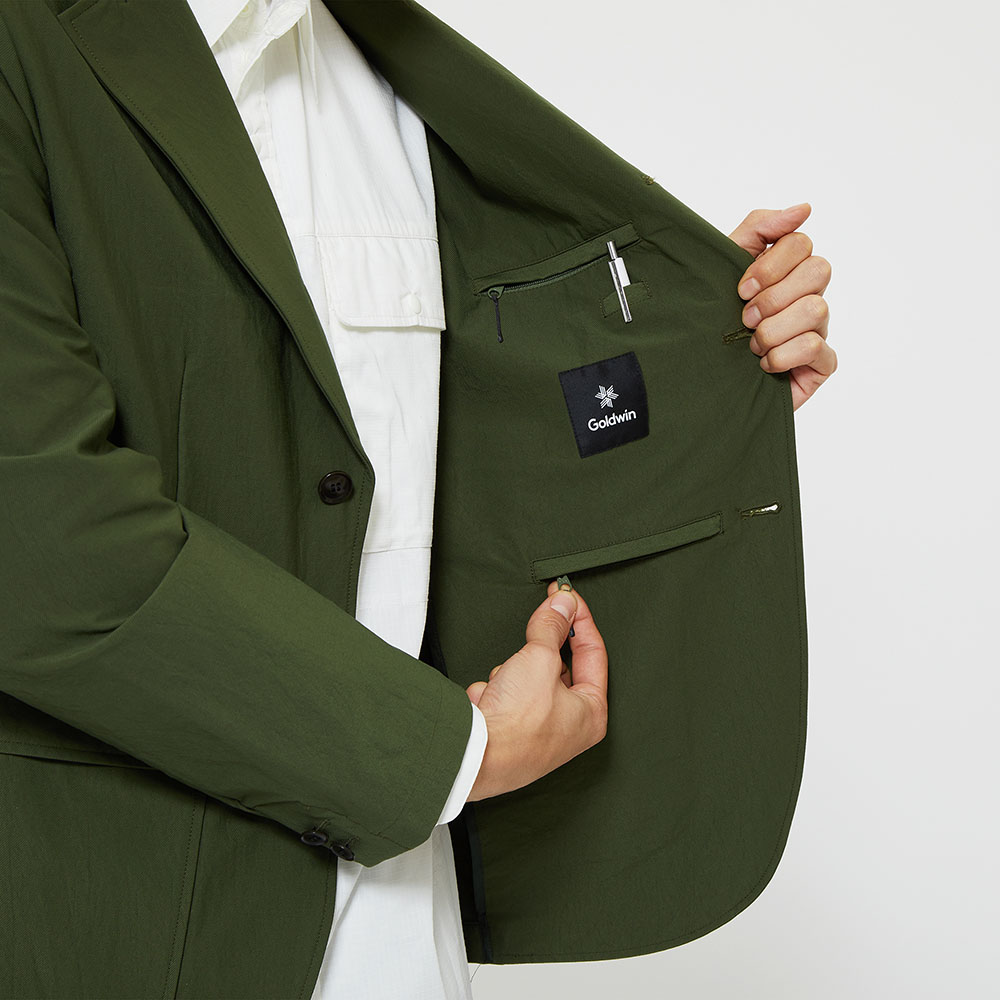 Model: Height 6'0" | Wearing: OLIVE GREEN / M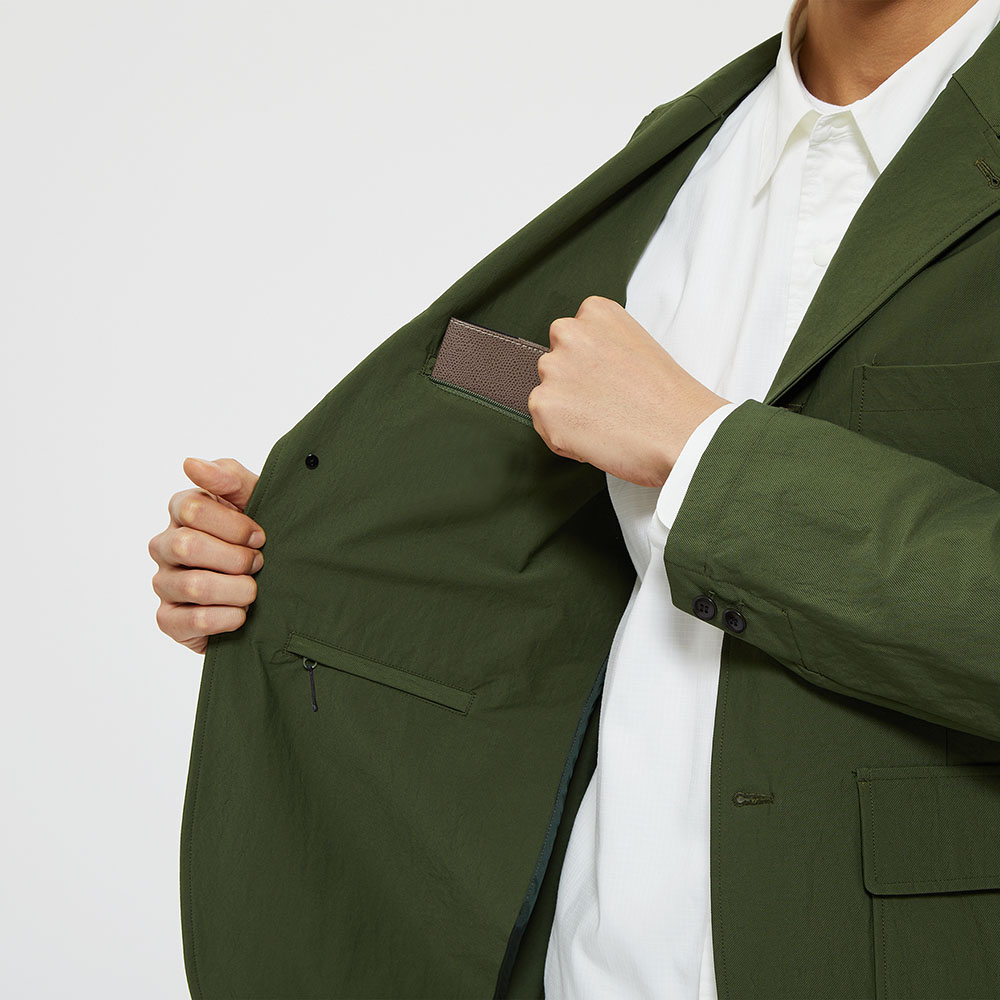 Model: Height 6'0" | Wearing: OLIVE GREEN / M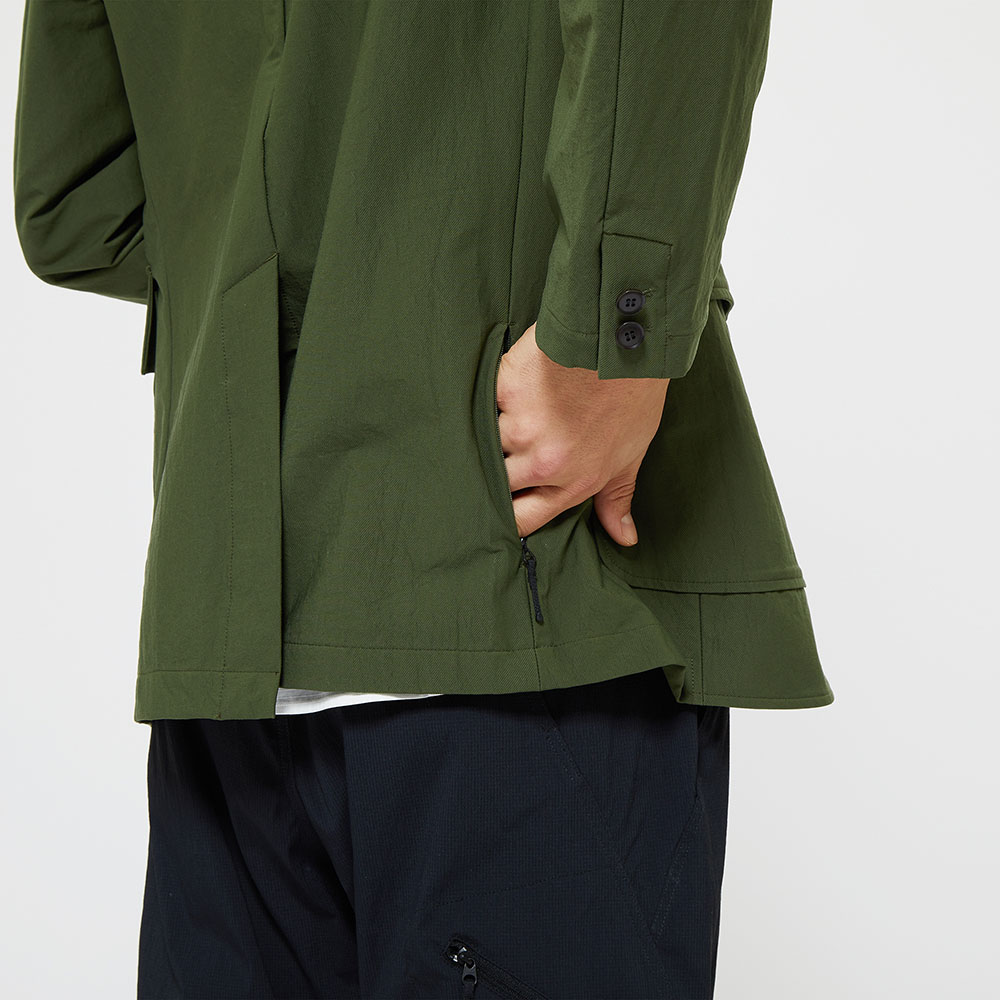 Model: Height 6'0" | Wearing: OLIVE GREEN / M
{"id":4656277094462,"title":"STRETCH JACKET","handle":"gl10302","description":"\u003cp\u003eDespite its crisp texture, our Vintage Stretch Twill is—true to its name—very supple, which allows for comfortable movement. We offer matching pants to complete the look.\u003c\/p\u003e \u003cp\u003e \u003c\/p\u003e\u003ch4 class=\"subtitileDt\"\u003eFeatures\u003c\/h4\u003e\u003cul\u003e\n\u003cli\u003eJacket made with stretch nylon twill.\u003c\/li\u003e\n\u003cli\u003eEquipped with convenient storage for eyeglasses, pens, etc.\u003c\/li\u003e\n\u003cli\u003ePairs with GM79354 Regular Stretch Chino Trousers or GM79355 One Tuck Tapered Stretch Trousers.\u003c\/li\u003e\n\u003cli\u003eHidden security pocket on the right side of the lower back.\u003c\/li\u003e\n\u003cli\u003eZippered pocket on the back of the left hip.\u003c\/li\u003e\n\u003c\/ul\u003e\u003ch4 class=\"subtitileDt\"\u003eMaterial\u003c\/h4\u003e\u003cp\u003eFabric : Vintage stretch twill (95% nylon, 5% polyurethane)\u003c\/p\u003eLining : Taffeta (100% cupra)","published_at":"2020-07-22T03:13:24-07:00","created_at":"2020-07-22T03:13:24-07:00","vendor":"Goldwin","type":"lifestyle","tags":["2703-F20","8\/27","9\/3","lifestyle","men","outer"],"price":43000,"price_min":43000,"price_max":43000,"available":true,"price_varies":false,"compare_at_price":null,"compare_at_price_min":0,"compare_at_price_max":0,"compare_at_price_varies":false,"variants":[{"id":32257786839102,"title":"GL10302 \/ BLACK \/ XS","option1":"GL10302","option2":"BLACK","option3":"XS","sku":"GL10302-BK-XS","requires_shipping":true,"taxable":true,"featured_image":{"id":16150413541438,"product_id":4656277094462,"position":9,"created_at":"2020-08-25T21:17:44-07:00","updated_at":"2020-08-26T19:56:04-07:00","alt":"STRETCH JACKET","width":1000,"height":1000,"src":"https:\/\/cdn.shopify.com\/s\/files\/1\/1645\/3613\/products\/GL10302_bk.jpg?v=1598496964","variant_ids":[32257786839102,32257786871870,32257786904638,32257786937406,32257786970174]},"available":false,"name":"STRETCH JACKET - GL10302 \/ BLACK \/ XS","public_title":"GL10302 \/ BLACK \/ XS","options":["GL10302","BLACK","XS"],"price":43000,"weight":0,"compare_at_price":null,"inventory_quantity":0,"inventory_management":"shopify","inventory_policy":"deny","barcode":"4550207343531","featured_media":{"alt":"STRETCH JACKET","id":8320603914302,"position":9,"preview_image":{"aspect_ratio":1.0,"height":1000,"width":1000,"src":"https:\/\/cdn.shopify.com\/s\/files\/1\/1645\/3613\/products\/GL10302_bk.jpg?v=1598415464"}}},{"id":32257786871870,"title":"GL10302 \/ BLACK \/ S","option1":"GL10302","option2":"BLACK","option3":"S","sku":"GL10302-BK-S","requires_shipping":true,"taxable":true,"featured_image":{"id":16150413541438,"product_id":4656277094462,"position":9,"created_at":"2020-08-25T21:17:44-07:00","updated_at":"2020-08-26T19:56:04-07:00","alt":"STRETCH JACKET","width":1000,"height":1000,"src":"https:\/\/cdn.shopify.com\/s\/files\/1\/1645\/3613\/products\/GL10302_bk.jpg?v=1598496964","variant_ids":[32257786839102,32257786871870,32257786904638,32257786937406,32257786970174]},"available":true,"name":"STRETCH JACKET - GL10302 \/ BLACK \/ S","public_title":"GL10302 \/ BLACK \/ S","options":["GL10302","BLACK","S"],"price":43000,"weight":0,"compare_at_price":null,"inventory_quantity":1,"inventory_management":"shopify","inventory_policy":"deny","barcode":"4550207343548","featured_media":{"alt":"STRETCH JACKET","id":8320603914302,"position":9,"preview_image":{"aspect_ratio":1.0,"height":1000,"width":1000,"src":"https:\/\/cdn.shopify.com\/s\/files\/1\/1645\/3613\/products\/GL10302_bk.jpg?v=1598415464"}}},{"id":32257786904638,"title":"GL10302 \/ BLACK \/ M","option1":"GL10302","option2":"BLACK","option3":"M","sku":"GL10302-BK-M","requires_shipping":true,"taxable":true,"featured_image":{"id":16150413541438,"product_id":4656277094462,"position":9,"created_at":"2020-08-25T21:17:44-07:00","updated_at":"2020-08-26T19:56:04-07:00","alt":"STRETCH JACKET","width":1000,"height":1000,"src":"https:\/\/cdn.shopify.com\/s\/files\/1\/1645\/3613\/products\/GL10302_bk.jpg?v=1598496964","variant_ids":[32257786839102,32257786871870,32257786904638,32257786937406,32257786970174]},"available":true,"name":"STRETCH JACKET - GL10302 \/ BLACK \/ M","public_title":"GL10302 \/ BLACK \/ M","options":["GL10302","BLACK","M"],"price":43000,"weight":0,"compare_at_price":null,"inventory_quantity":1,"inventory_management":"shopify","inventory_policy":"deny","barcode":"4550207343555","featured_media":{"alt":"STRETCH JACKET","id":8320603914302,"position":9,"preview_image":{"aspect_ratio":1.0,"height":1000,"width":1000,"src":"https:\/\/cdn.shopify.com\/s\/files\/1\/1645\/3613\/products\/GL10302_bk.jpg?v=1598415464"}}},{"id":32257786937406,"title":"GL10302 \/ BLACK \/ L","option1":"GL10302","option2":"BLACK","option3":"L","sku":"GL10302-BK-L","requires_shipping":true,"taxable":true,"featured_image":{"id":16150413541438,"product_id":4656277094462,"position":9,"created_at":"2020-08-25T21:17:44-07:00","updated_at":"2020-08-26T19:56:04-07:00","alt":"STRETCH JACKET","width":1000,"height":1000,"src":"https:\/\/cdn.shopify.com\/s\/files\/1\/1645\/3613\/products\/GL10302_bk.jpg?v=1598496964","variant_ids":[32257786839102,32257786871870,32257786904638,32257786937406,32257786970174]},"available":true,"name":"STRETCH JACKET - GL10302 \/ BLACK \/ L","public_title":"GL10302 \/ BLACK \/ L","options":["GL10302","BLACK","L"],"price":43000,"weight":0,"compare_at_price":null,"inventory_quantity":1,"inventory_management":"shopify","inventory_policy":"deny","barcode":"4550207343562","featured_media":{"alt":"STRETCH JACKET","id":8320603914302,"position":9,"preview_image":{"aspect_ratio":1.0,"height":1000,"width":1000,"src":"https:\/\/cdn.shopify.com\/s\/files\/1\/1645\/3613\/products\/GL10302_bk.jpg?v=1598415464"}}},{"id":32257786970174,"title":"GL10302 \/ BLACK \/ XL","option1":"GL10302","option2":"BLACK","option3":"XL","sku":"GL10302-BK-XL","requires_shipping":true,"taxable":true,"featured_image":{"id":16150413541438,"product_id":4656277094462,"position":9,"created_at":"2020-08-25T21:17:44-07:00","updated_at":"2020-08-26T19:56:04-07:00","alt":"STRETCH JACKET","width":1000,"height":1000,"src":"https:\/\/cdn.shopify.com\/s\/files\/1\/1645\/3613\/products\/GL10302_bk.jpg?v=1598496964","variant_ids":[32257786839102,32257786871870,32257786904638,32257786937406,32257786970174]},"available":false,"name":"STRETCH JACKET - GL10302 \/ BLACK \/ XL","public_title":"GL10302 \/ BLACK \/ XL","options":["GL10302","BLACK","XL"],"price":43000,"weight":0,"compare_at_price":null,"inventory_quantity":0,"inventory_management":"shopify","inventory_policy":"deny","barcode":"4550207343579","featured_media":{"alt":"STRETCH JACKET","id":8320603914302,"position":9,"preview_image":{"aspect_ratio":1.0,"height":1000,"width":1000,"src":"https:\/\/cdn.shopify.com\/s\/files\/1\/1645\/3613\/products\/GL10302_bk.jpg?v=1598415464"}}},{"id":32257787002942,"title":"GL10302 \/ DARK NAVY \/ XS","option1":"GL10302","option2":"DARK NAVY","option3":"XS","sku":"GL10302-DN-XS","requires_shipping":true,"taxable":true,"featured_image":{"id":16150416490558,"product_id":4656277094462,"position":10,"created_at":"2020-08-25T21:18:13-07:00","updated_at":"2020-08-26T19:56:04-07:00","alt":"STRETCH JACKET","width":1000,"height":1000,"src":"https:\/\/cdn.shopify.com\/s\/files\/1\/1645\/3613\/products\/GL10302_dn.jpg?v=1598496964","variant_ids":[32257787002942,32257787035710,32257787068478,32257787101246,32257787134014]},"available":false,"name":"STRETCH JACKET - GL10302 \/ DARK NAVY \/ XS","public_title":"GL10302 \/ DARK NAVY \/ XS","options":["GL10302","DARK NAVY","XS"],"price":43000,"weight":0,"compare_at_price":null,"inventory_quantity":0,"inventory_management":"shopify","inventory_policy":"deny","barcode":"4550207343487","featured_media":{"alt":"STRETCH JACKET","id":8320606863422,"position":10,"preview_image":{"aspect_ratio":1.0,"height":1000,"width":1000,"src":"https:\/\/cdn.shopify.com\/s\/files\/1\/1645\/3613\/products\/GL10302_dn.jpg?v=1598415493"}}},{"id":32257787035710,"title":"GL10302 \/ DARK NAVY \/ S","option1":"GL10302","option2":"DARK NAVY","option3":"S","sku":"GL10302-DN-S","requires_shipping":true,"taxable":true,"featured_image":{"id":16150416490558,"product_id":4656277094462,"position":10,"created_at":"2020-08-25T21:18:13-07:00","updated_at":"2020-08-26T19:56:04-07:00","alt":"STRETCH JACKET","width":1000,"height":1000,"src":"https:\/\/cdn.shopify.com\/s\/files\/1\/1645\/3613\/products\/GL10302_dn.jpg?v=1598496964","variant_ids":[32257787002942,32257787035710,32257787068478,32257787101246,32257787134014]},"available":true,"name":"STRETCH JACKET - GL10302 \/ DARK NAVY \/ S","public_title":"GL10302 \/ DARK NAVY \/ S","options":["GL10302","DARK NAVY","S"],"price":43000,"weight":0,"compare_at_price":null,"inventory_quantity":1,"inventory_management":"shopify","inventory_policy":"deny","barcode":"4550207343494","featured_media":{"alt":"STRETCH JACKET","id":8320606863422,"position":10,"preview_image":{"aspect_ratio":1.0,"height":1000,"width":1000,"src":"https:\/\/cdn.shopify.com\/s\/files\/1\/1645\/3613\/products\/GL10302_dn.jpg?v=1598415493"}}},{"id":32257787068478,"title":"GL10302 \/ DARK NAVY \/ M","option1":"GL10302","option2":"DARK NAVY","option3":"M","sku":"GL10302-DN-M","requires_shipping":true,"taxable":true,"featured_image":{"id":16150416490558,"product_id":4656277094462,"position":10,"created_at":"2020-08-25T21:18:13-07:00","updated_at":"2020-08-26T19:56:04-07:00","alt":"STRETCH JACKET","width":1000,"height":1000,"src":"https:\/\/cdn.shopify.com\/s\/files\/1\/1645\/3613\/products\/GL10302_dn.jpg?v=1598496964","variant_ids":[32257787002942,32257787035710,32257787068478,32257787101246,32257787134014]},"available":true,"name":"STRETCH JACKET - GL10302 \/ DARK NAVY \/ M","public_title":"GL10302 \/ DARK NAVY \/ M","options":["GL10302","DARK NAVY","M"],"price":43000,"weight":0,"compare_at_price":null,"inventory_quantity":1,"inventory_management":"shopify","inventory_policy":"deny","barcode":"4550207343500","featured_media":{"alt":"STRETCH JACKET","id":8320606863422,"position":10,"preview_image":{"aspect_ratio":1.0,"height":1000,"width":1000,"src":"https:\/\/cdn.shopify.com\/s\/files\/1\/1645\/3613\/products\/GL10302_dn.jpg?v=1598415493"}}},{"id":32257787101246,"title":"GL10302 \/ DARK NAVY \/ L","option1":"GL10302","option2":"DARK NAVY","option3":"L","sku":"GL10302-DN-L","requires_shipping":true,"taxable":true,"featured_image":{"id":16150416490558,"product_id":4656277094462,"position":10,"created_at":"2020-08-25T21:18:13-07:00","updated_at":"2020-08-26T19:56:04-07:00","alt":"STRETCH JACKET","width":1000,"height":1000,"src":"https:\/\/cdn.shopify.com\/s\/files\/1\/1645\/3613\/products\/GL10302_dn.jpg?v=1598496964","variant_ids":[32257787002942,32257787035710,32257787068478,32257787101246,32257787134014]},"available":false,"name":"STRETCH JACKET - GL10302 \/ DARK NAVY \/ L","public_title":"GL10302 \/ DARK NAVY \/ L","options":["GL10302","DARK NAVY","L"],"price":43000,"weight":0,"compare_at_price":null,"inventory_quantity":-1,"inventory_management":"shopify","inventory_policy":"deny","barcode":"4550207343517","featured_media":{"alt":"STRETCH JACKET","id":8320606863422,"position":10,"preview_image":{"aspect_ratio":1.0,"height":1000,"width":1000,"src":"https:\/\/cdn.shopify.com\/s\/files\/1\/1645\/3613\/products\/GL10302_dn.jpg?v=1598415493"}}},{"id":32257787134014,"title":"GL10302 \/ DARK NAVY \/ XL","option1":"GL10302","option2":"DARK NAVY","option3":"XL","sku":"GL10302-DN-XL","requires_shipping":true,"taxable":true,"featured_image":{"id":16150416490558,"product_id":4656277094462,"position":10,"created_at":"2020-08-25T21:18:13-07:00","updated_at":"2020-08-26T19:56:04-07:00","alt":"STRETCH JACKET","width":1000,"height":1000,"src":"https:\/\/cdn.shopify.com\/s\/files\/1\/1645\/3613\/products\/GL10302_dn.jpg?v=1598496964","variant_ids":[32257787002942,32257787035710,32257787068478,32257787101246,32257787134014]},"available":false,"name":"STRETCH JACKET - GL10302 \/ DARK NAVY \/ XL","public_title":"GL10302 \/ DARK NAVY \/ XL","options":["GL10302","DARK NAVY","XL"],"price":43000,"weight":0,"compare_at_price":null,"inventory_quantity":0,"inventory_management":"shopify","inventory_policy":"deny","barcode":"4550207343524","featured_media":{"alt":"STRETCH JACKET","id":8320606863422,"position":10,"preview_image":{"aspect_ratio":1.0,"height":1000,"width":1000,"src":"https:\/\/cdn.shopify.com\/s\/files\/1\/1645\/3613\/products\/GL10302_dn.jpg?v=1598415493"}}},{"id":32257787166782,"title":"GL10302 \/ OLIVE GREEN \/ XS","option1":"GL10302","option2":"OLIVE GREEN","option3":"XS","sku":"GL10302-OG-XS","requires_shipping":true,"taxable":true,"featured_image":{"id":16150407970878,"product_id":4656277094462,"position":1,"created_at":"2020-08-25T21:17:02-07:00","updated_at":"2020-08-26T19:56:04-07:00","alt":"STRETCH JACKET","width":1000,"height":1000,"src":"https:\/\/cdn.shopify.com\/s\/files\/1\/1645\/3613\/products\/GL10302_1.jpg?v=1598496964","variant_ids":[32257787166782,32257787199550,32257787232318,32257787265086,32257787297854]},"available":false,"name":"STRETCH JACKET - GL10302 \/ OLIVE GREEN \/ XS","public_title":"GL10302 \/ OLIVE GREEN \/ XS","options":["GL10302","OLIVE GREEN","XS"],"price":43000,"weight":0,"compare_at_price":null,"inventory_quantity":0,"inventory_management":"shopify","inventory_policy":"deny","barcode":"4550207343432","featured_media":{"alt":"STRETCH JACKET","id":8320598147134,"position":1,"preview_image":{"aspect_ratio":1.0,"height":1000,"width":1000,"src":"https:\/\/cdn.shopify.com\/s\/files\/1\/1645\/3613\/products\/GL10302_1.jpg?v=1598415422"}}},{"id":32257787199550,"title":"GL10302 \/ OLIVE GREEN \/ S","option1":"GL10302","option2":"OLIVE GREEN","option3":"S","sku":"GL10302-OG-S","requires_shipping":true,"taxable":true,"featured_image":{"id":16150407970878,"product_id":4656277094462,"position":1,"created_at":"2020-08-25T21:17:02-07:00","updated_at":"2020-08-26T19:56:04-07:00","alt":"STRETCH JACKET","width":1000,"height":1000,"src":"https:\/\/cdn.shopify.com\/s\/files\/1\/1645\/3613\/products\/GL10302_1.jpg?v=1598496964","variant_ids":[32257787166782,32257787199550,32257787232318,32257787265086,32257787297854]},"available":true,"name":"STRETCH JACKET - GL10302 \/ OLIVE GREEN \/ S","public_title":"GL10302 \/ OLIVE GREEN \/ S","options":["GL10302","OLIVE GREEN","S"],"price":43000,"weight":0,"compare_at_price":null,"inventory_quantity":1,"inventory_management":"shopify","inventory_policy":"deny","barcode":"4550207343449","featured_media":{"alt":"STRETCH JACKET","id":8320598147134,"position":1,"preview_image":{"aspect_ratio":1.0,"height":1000,"width":1000,"src":"https:\/\/cdn.shopify.com\/s\/files\/1\/1645\/3613\/products\/GL10302_1.jpg?v=1598415422"}}},{"id":32257787232318,"title":"GL10302 \/ OLIVE GREEN \/ M","option1":"GL10302","option2":"OLIVE GREEN","option3":"M","sku":"GL10302-OG-M","requires_shipping":true,"taxable":true,"featured_image":{"id":16150407970878,"product_id":4656277094462,"position":1,"created_at":"2020-08-25T21:17:02-07:00","updated_at":"2020-08-26T19:56:04-07:00","alt":"STRETCH JACKET","width":1000,"height":1000,"src":"https:\/\/cdn.shopify.com\/s\/files\/1\/1645\/3613\/products\/GL10302_1.jpg?v=1598496964","variant_ids":[32257787166782,32257787199550,32257787232318,32257787265086,32257787297854]},"available":true,"name":"STRETCH JACKET - GL10302 \/ OLIVE GREEN \/ M","public_title":"GL10302 \/ OLIVE GREEN \/ M","options":["GL10302","OLIVE GREEN","M"],"price":43000,"weight":0,"compare_at_price":null,"inventory_quantity":1,"inventory_management":"shopify","inventory_policy":"deny","barcode":"4550207343456","featured_media":{"alt":"STRETCH JACKET","id":8320598147134,"position":1,"preview_image":{"aspect_ratio":1.0,"height":1000,"width":1000,"src":"https:\/\/cdn.shopify.com\/s\/files\/1\/1645\/3613\/products\/GL10302_1.jpg?v=1598415422"}}},{"id":32257787265086,"title":"GL10302 \/ OLIVE GREEN \/ L","option1":"GL10302","option2":"OLIVE GREEN","option3":"L","sku":"GL10302-OG-L","requires_shipping":true,"taxable":true,"featured_image":{"id":16150407970878,"product_id":4656277094462,"position":1,"created_at":"2020-08-25T21:17:02-07:00","updated_at":"2020-08-26T19:56:04-07:00","alt":"STRETCH JACKET","width":1000,"height":1000,"src":"https:\/\/cdn.shopify.com\/s\/files\/1\/1645\/3613\/products\/GL10302_1.jpg?v=1598496964","variant_ids":[32257787166782,32257787199550,32257787232318,32257787265086,32257787297854]},"available":true,"name":"STRETCH JACKET - GL10302 \/ OLIVE GREEN \/ L","public_title":"GL10302 \/ OLIVE GREEN \/ L","options":["GL10302","OLIVE GREEN","L"],"price":43000,"weight":0,"compare_at_price":null,"inventory_quantity":1,"inventory_management":"shopify","inventory_policy":"deny","barcode":"4550207343463","featured_media":{"alt":"STRETCH JACKET","id":8320598147134,"position":1,"preview_image":{"aspect_ratio":1.0,"height":1000,"width":1000,"src":"https:\/\/cdn.shopify.com\/s\/files\/1\/1645\/3613\/products\/GL10302_1.jpg?v=1598415422"}}},{"id":32257787297854,"title":"GL10302 \/ OLIVE GREEN \/ XL","option1":"GL10302","option2":"OLIVE GREEN","option3":"XL","sku":"GL10302-OG-XL","requires_shipping":true,"taxable":true,"featured_image":{"id":16150407970878,"product_id":4656277094462,"position":1,"created_at":"2020-08-25T21:17:02-07:00","updated_at":"2020-08-26T19:56:04-07:00","alt":"STRETCH JACKET","width":1000,"height":1000,"src":"https:\/\/cdn.shopify.com\/s\/files\/1\/1645\/3613\/products\/GL10302_1.jpg?v=1598496964","variant_ids":[32257787166782,32257787199550,32257787232318,32257787265086,32257787297854]},"available":false,"name":"STRETCH JACKET - GL10302 \/ OLIVE GREEN \/ XL","public_title":"GL10302 \/ OLIVE GREEN \/ XL","options":["GL10302","OLIVE GREEN","XL"],"price":43000,"weight":0,"compare_at_price":null,"inventory_quantity":0,"inventory_management":"shopify","inventory_policy":"deny","barcode":"4550207343470","featured_media":{"alt":"STRETCH JACKET","id":8320598147134,"position":1,"preview_image":{"aspect_ratio":1.0,"height":1000,"width":1000,"src":"https:\/\/cdn.shopify.com\/s\/files\/1\/1645\/3613\/products\/GL10302_1.jpg?v=1598415422"}}}],"images":["\/\/cdn.shopify.com\/s\/files\/1\/1645\/3613\/products\/GL10302_1.jpg?v=1598496964","\/\/cdn.shopify.com\/s\/files\/1\/1645\/3613\/products\/GL10302_2.jpg?v=1598496964","\/\/cdn.shopify.com\/s\/files\/1\/1645\/3613\/products\/GL10302_3.jpg?v=1598496964","\/\/cdn.shopify.com\/s\/files\/1\/1645\/3613\/products\/GL10302_4.jpg?v=1598496964","\/\/cdn.shopify.com\/s\/files\/1\/1645\/3613\/products\/GL10302_5.jpg?v=1598496964","\/\/cdn.shopify.com\/s\/files\/1\/1645\/3613\/products\/GL10302_6.jpg?v=1598496964","\/\/cdn.shopify.com\/s\/files\/1\/1645\/3613\/products\/GL10302_7.jpg?v=1598496964","\/\/cdn.shopify.com\/s\/files\/1\/1645\/3613\/products\/GL10302_8.jpg?v=1598496964","\/\/cdn.shopify.com\/s\/files\/1\/1645\/3613\/products\/GL10302_bk.jpg?v=1598496964","\/\/cdn.shopify.com\/s\/files\/1\/1645\/3613\/products\/GL10302_dn.jpg?v=1598496964"],"featured_image":"\/\/cdn.shopify.com\/s\/files\/1\/1645\/3613\/products\/GL10302_1.jpg?v=1598496964","options":["Style#","Color","Size"],"media":[{"alt":"STRETCH JACKET","id":8320598147134,"position":1,"preview_image":{"aspect_ratio":1.0,"height":1000,"width":1000,"src":"https:\/\/cdn.shopify.com\/s\/files\/1\/1645\/3613\/products\/GL10302_1.jpg?v=1598415422"},"aspect_ratio":1.0,"height":1000,"media_type":"image","src":"https:\/\/cdn.shopify.com\/s\/files\/1\/1645\/3613\/products\/GL10302_1.jpg?v=1598415422","width":1000},{"alt":"STRETCH JACKET","id":8320599883838,"position":2,"preview_image":{"aspect_ratio":1.0,"height":1000,"width":1000,"src":"https:\/\/cdn.shopify.com\/s\/files\/1\/1645\/3613\/products\/GL10302_2.jpg?v=1598415437"},"aspect_ratio":1.0,"height":1000,"media_type":"image","src":"https:\/\/cdn.shopify.com\/s\/files\/1\/1645\/3613\/products\/GL10302_2.jpg?v=1598415437","width":1000},{"alt":"STRETCH JACKET","id":8320600113214,"position":3,"preview_image":{"aspect_ratio":1.0,"height":1000,"width":1000,"src":"https:\/\/cdn.shopify.com\/s\/files\/1\/1645\/3613\/products\/GL10302_3.jpg?v=1598415440"},"aspect_ratio":1.0,"height":1000,"media_type":"image","src":"https:\/\/cdn.shopify.com\/s\/files\/1\/1645\/3613\/products\/GL10302_3.jpg?v=1598415440","width":1000},{"alt":"STRETCH JACKET","id":8320600277054,"position":4,"preview_image":{"aspect_ratio":1.0,"height":1000,"width":1000,"src":"https:\/\/cdn.shopify.com\/s\/files\/1\/1645\/3613\/products\/GL10302_4.jpg?v=1598415441"},"aspect_ratio":1.0,"height":1000,"media_type":"image","src":"https:\/\/cdn.shopify.com\/s\/files\/1\/1645\/3613\/products\/GL10302_4.jpg?v=1598415441","width":1000},{"alt":"STRETCH JACKET","id":8320600440894,"position":5,"preview_image":{"aspect_ratio":1.0,"height":1000,"width":1000,"src":"https:\/\/cdn.shopify.com\/s\/files\/1\/1645\/3613\/products\/GL10302_5.jpg?v=1598415443"},"aspect_ratio":1.0,"height":1000,"media_type":"image","src":"https:\/\/cdn.shopify.com\/s\/files\/1\/1645\/3613\/products\/GL10302_5.jpg?v=1598415443","width":1000},{"alt":"STRETCH JACKET","id":8320600768574,"position":6,"preview_image":{"aspect_ratio":1.0,"height":1000,"width":1000,"src":"https:\/\/cdn.shopify.com\/s\/files\/1\/1645\/3613\/products\/GL10302_6.jpg?v=1598415446"},"aspect_ratio":1.0,"height":1000,"media_type":"image","src":"https:\/\/cdn.shopify.com\/s\/files\/1\/1645\/3613\/products\/GL10302_6.jpg?v=1598415446","width":1000},{"alt":"STRETCH JACKET","id":8320601096254,"position":7,"preview_image":{"aspect_ratio":1.0,"height":1000,"width":1000,"src":"https:\/\/cdn.shopify.com\/s\/files\/1\/1645\/3613\/products\/GL10302_7.jpg?v=1598415449"},"aspect_ratio":1.0,"height":1000,"media_type":"image","src":"https:\/\/cdn.shopify.com\/s\/files\/1\/1645\/3613\/products\/GL10302_7.jpg?v=1598415449","width":1000},{"alt":"STRETCH JACKET","id":8320601325630,"position":8,"preview_image":{"aspect_ratio":1.0,"height":1000,"width":1000,"src":"https:\/\/cdn.shopify.com\/s\/files\/1\/1645\/3613\/products\/GL10302_8.jpg?v=1598415451"},"aspect_ratio":1.0,"height":1000,"media_type":"image","src":"https:\/\/cdn.shopify.com\/s\/files\/1\/1645\/3613\/products\/GL10302_8.jpg?v=1598415451","width":1000},{"alt":"STRETCH JACKET","id":8320603914302,"position":9,"preview_image":{"aspect_ratio":1.0,"height":1000,"width":1000,"src":"https:\/\/cdn.shopify.com\/s\/files\/1\/1645\/3613\/products\/GL10302_bk.jpg?v=1598415464"},"aspect_ratio":1.0,"height":1000,"media_type":"image","src":"https:\/\/cdn.shopify.com\/s\/files\/1\/1645\/3613\/products\/GL10302_bk.jpg?v=1598415464","width":1000},{"alt":"STRETCH JACKET","id":8320606863422,"position":10,"preview_image":{"aspect_ratio":1.0,"height":1000,"width":1000,"src":"https:\/\/cdn.shopify.com\/s\/files\/1\/1645\/3613\/products\/GL10302_dn.jpg?v=1598415493"},"aspect_ratio":1.0,"height":1000,"media_type":"image","src":"https:\/\/cdn.shopify.com\/s\/files\/1\/1645\/3613\/products\/GL10302_dn.jpg?v=1598415493","width":1000}],"content":"\u003cp\u003eDespite its crisp texture, our Vintage Stretch Twill is—true to its name—very supple, which allows for comfortable movement. We offer matching pants to complete the look.\u003c\/p\u003e \u003cp\u003e \u003c\/p\u003e\u003ch4 class=\"subtitileDt\"\u003eFeatures\u003c\/h4\u003e\u003cul\u003e\n\u003cli\u003eJacket made with stretch nylon twill.\u003c\/li\u003e\n\u003cli\u003eEquipped with convenient storage for eyeglasses, pens, etc.\u003c\/li\u003e\n\u003cli\u003ePairs with GM79354 Regular Stretch Chino Trousers or GM79355 One Tuck Tapered Stretch Trousers.\u003c\/li\u003e\n\u003cli\u003eHidden security pocket on the right side of the lower back.\u003c\/li\u003e\n\u003cli\u003eZippered pocket on the back of the left hip.\u003c\/li\u003e\n\u003c\/ul\u003e\u003ch4 class=\"subtitileDt\"\u003eMaterial\u003c\/h4\u003e\u003cp\u003eFabric : Vintage stretch twill (95% nylon, 5% polyurethane)\u003c\/p\u003eLining : Taffeta (100% cupra)"}