This shirt—made with a resilient ripstop material—features a mesh panel on the back to promote consistent airflow.
Features
A lightweight shirt made from a snag-resistant ripstop material.
Ventilation at the back yoke reduces stuffiness and promotes airflow.
Chest flap pocket features a side-entry security pocket.
Easy-open dot buttons along the front.
Material
Fabric : COOLMAX®Rip-stop stretch (61% cotton, 39% polyester)
Shipping Policy
Goldwin orders are shipped Monday-Friday (excluding holidays).
Shipping options:
Ground Shipping (5-7 business days)
Free for orders of $100 or more
$8 for orders of less than $100
Standard Shipping (3-4 business days)
$12 for all orders
Express Shipping (2-3 business days)
$20 for all orders
Store Pick Up
Free
For further information, please visit our shipping policy.
*Due to the current status of Covid-19, please bear with us as delivery times may be slightly longer than normal.
RIPSTOP SHIRT
Model: Height 6'0" | Wearing: WHITE / M
Model: Height 6'0" | Wearing: WHITE / M
Model: Height 6'0" | Wearing: WHITE / M
Model: Height 6'0" | Wearing: WHITE / M
Model: Height 6'0" | Wearing: WHITE / M
Model: Height 5'8" | Wearing: WHITE / S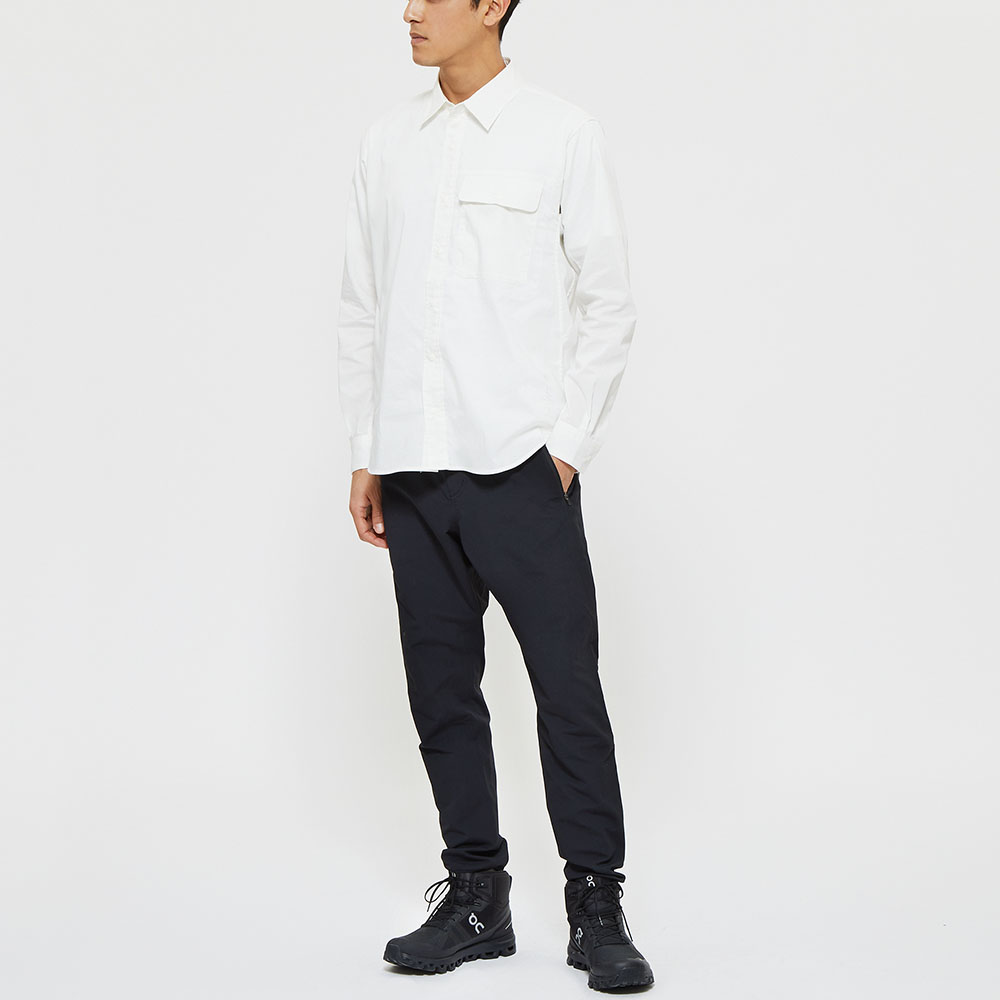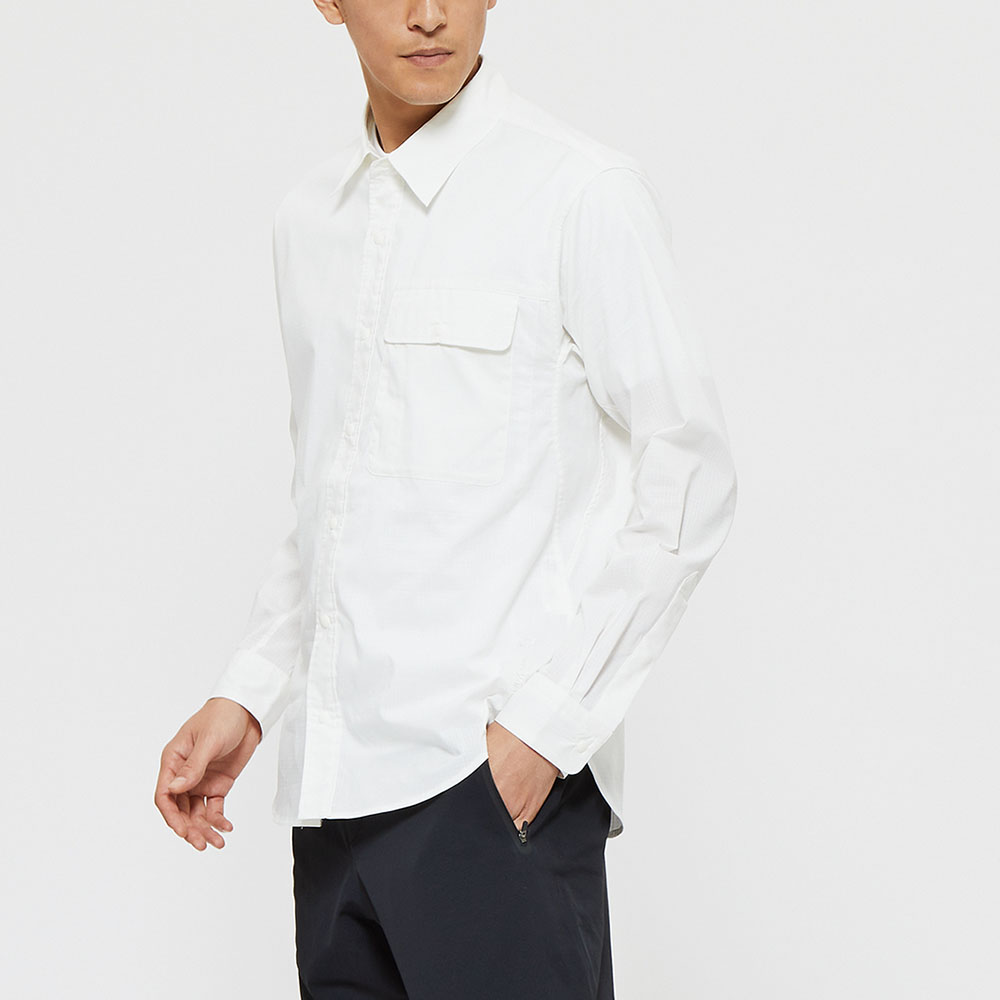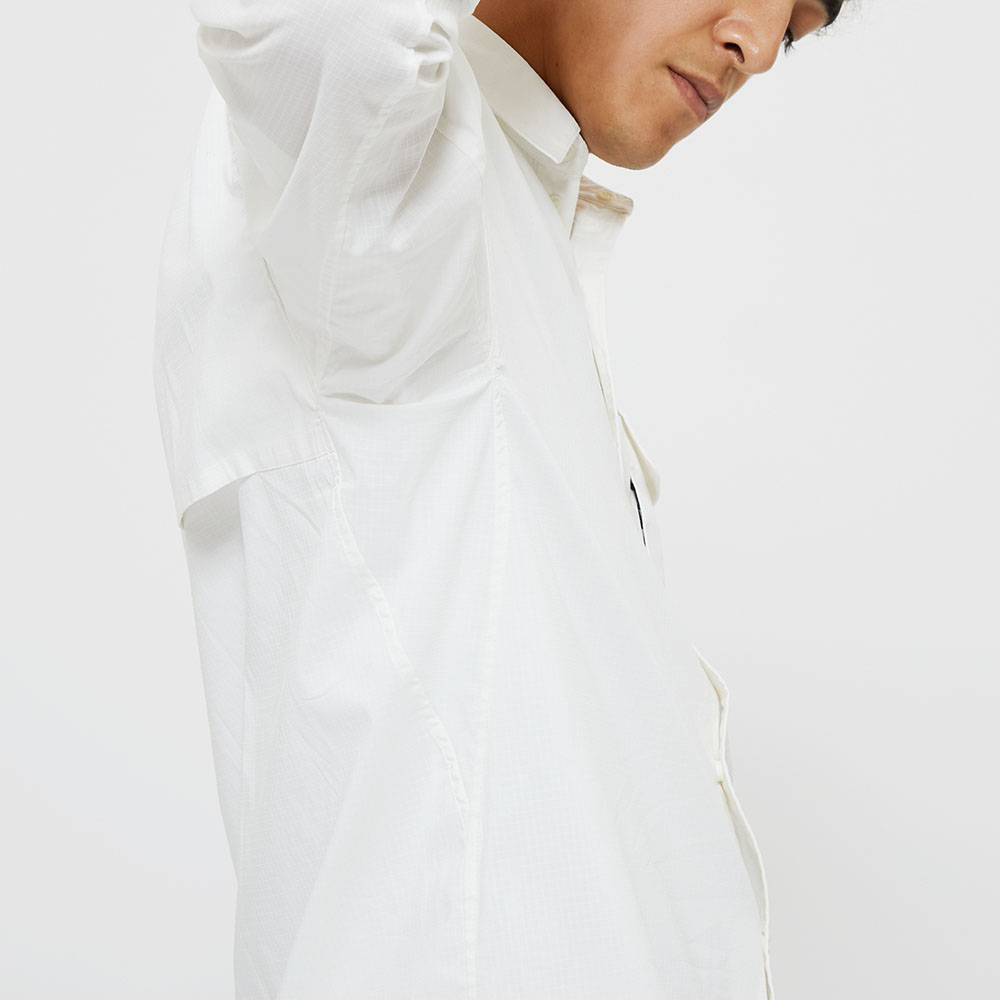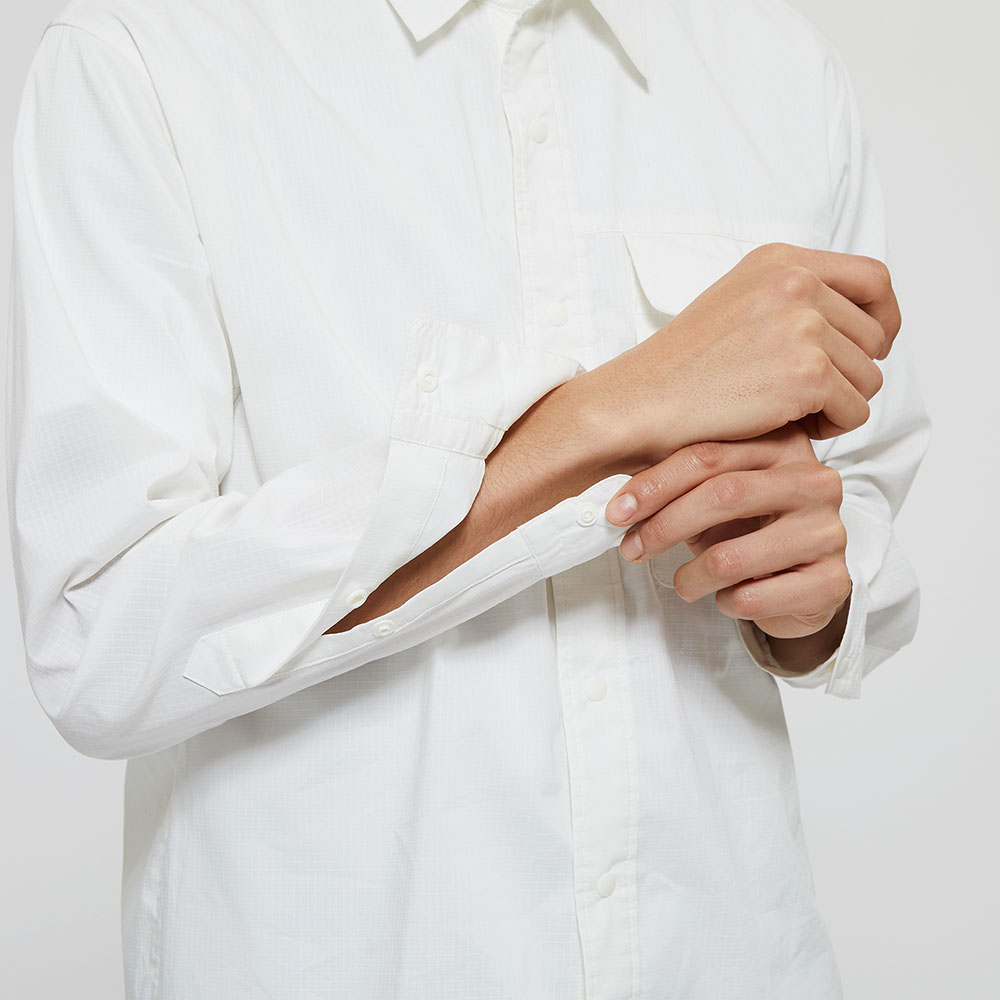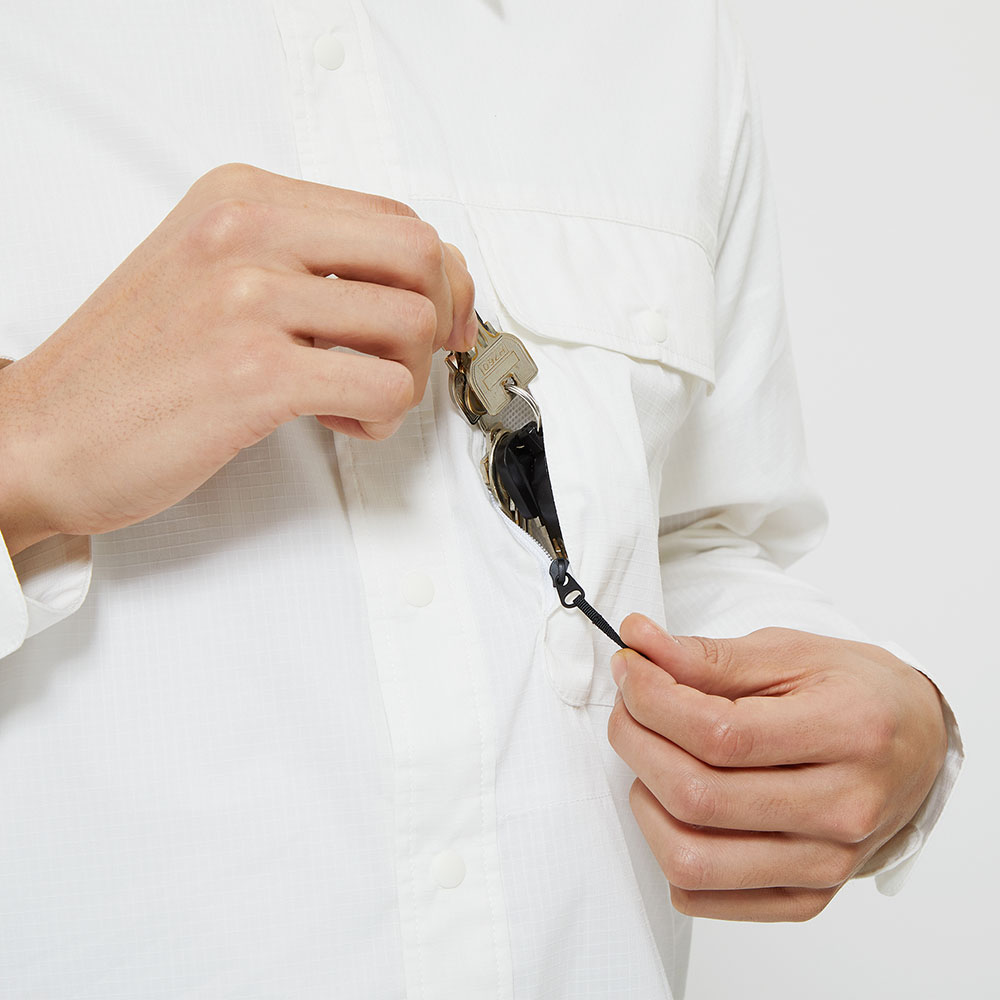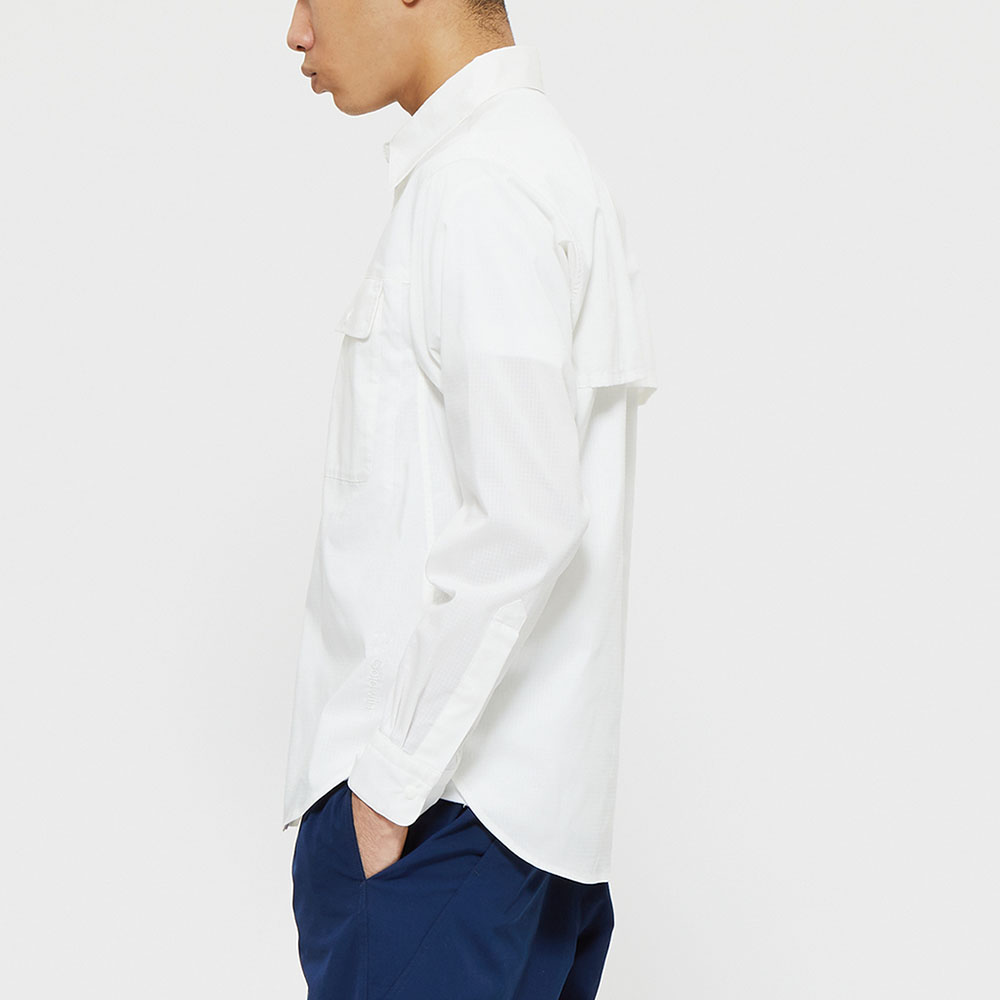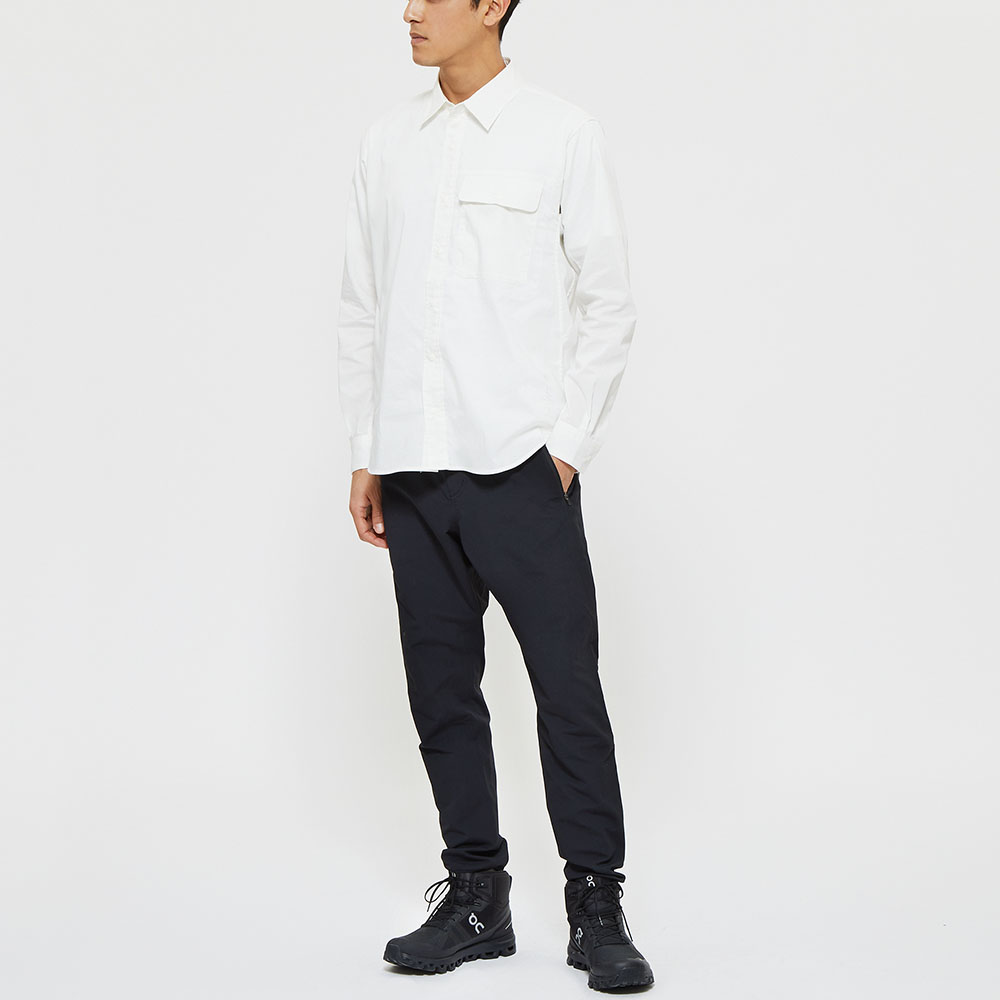 Model: Height 6'0" | Wearing: WHITE / M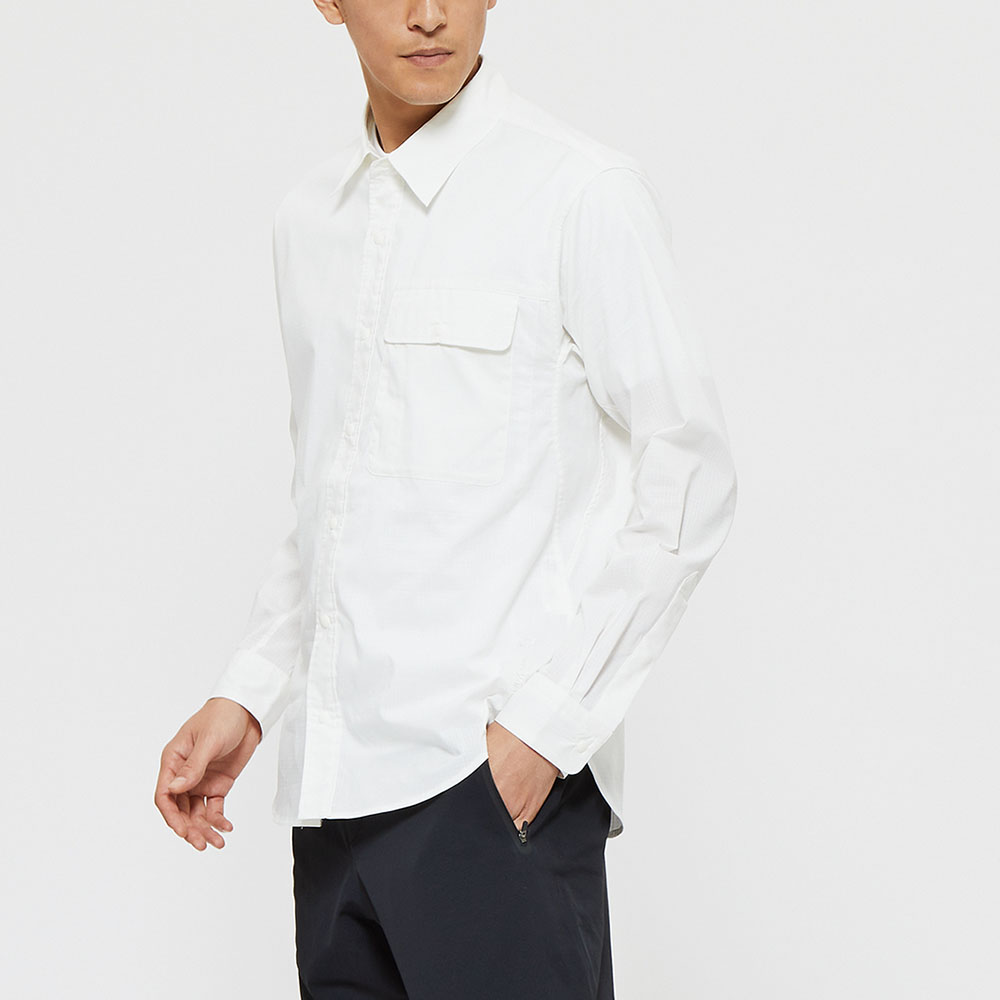 Model: Height 6'0" | Wearing: WHITE / M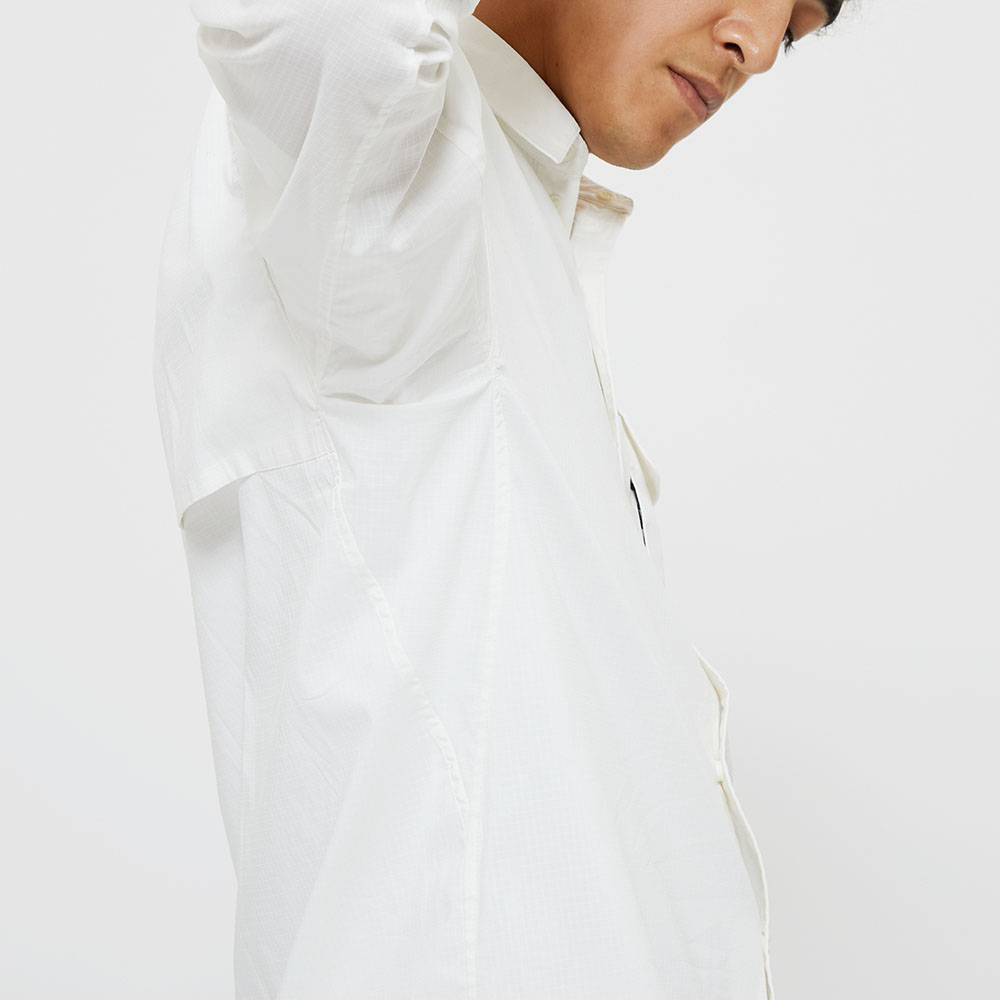 Model: Height 6'0" | Wearing: WHITE / M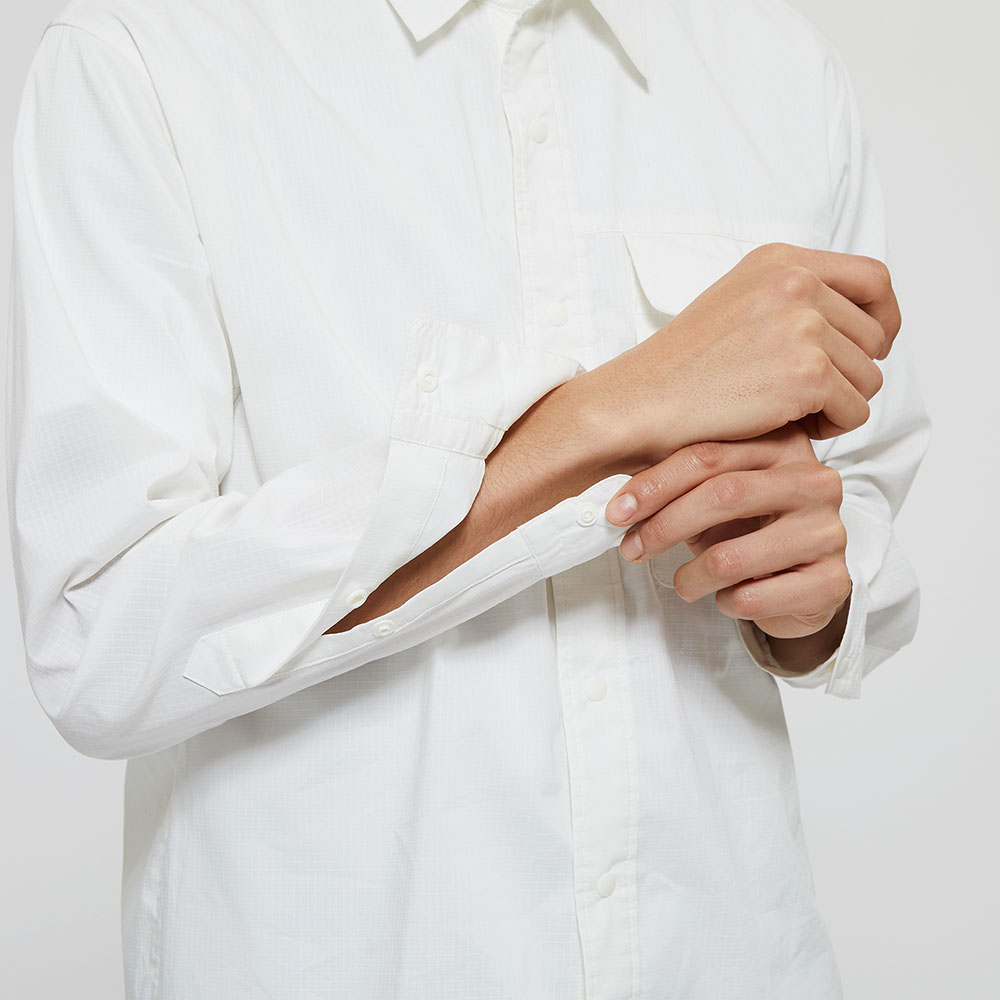 Model: Height 6'0" | Wearing: WHITE / M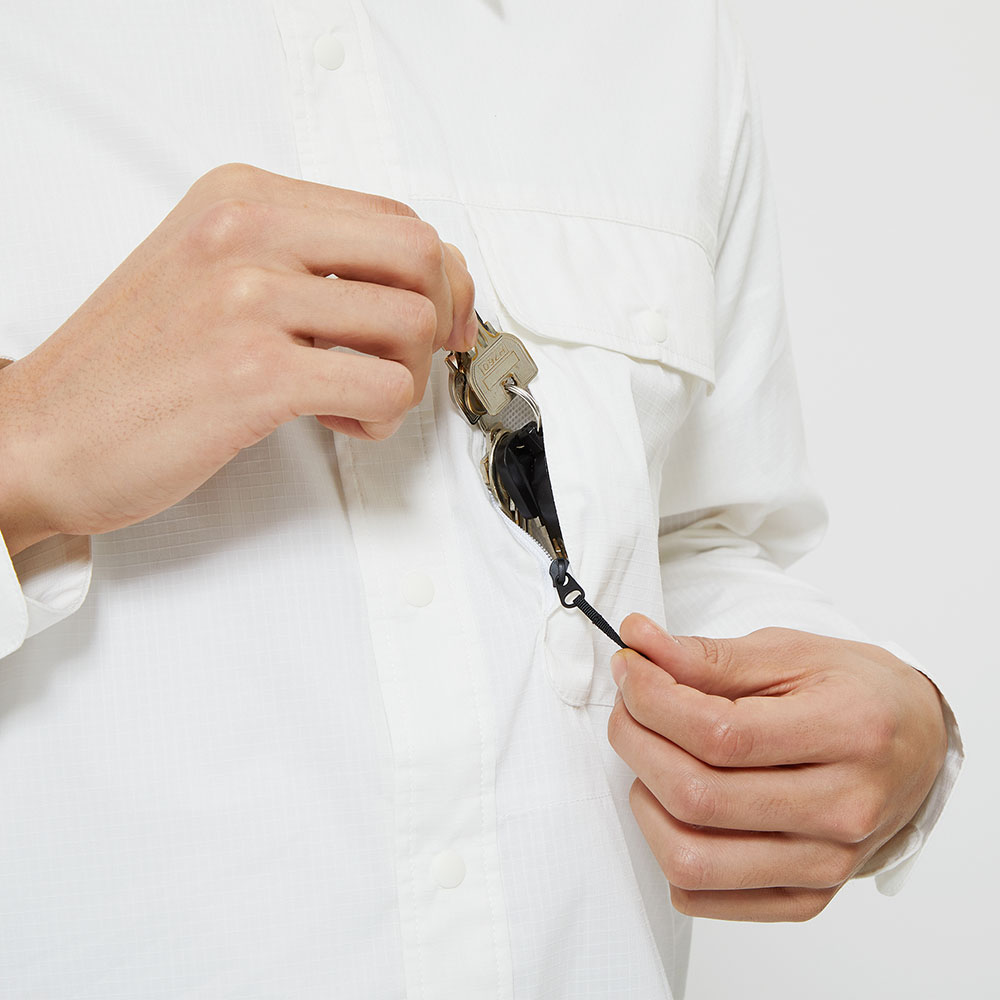 Model: Height 6'0" | Wearing: WHITE / M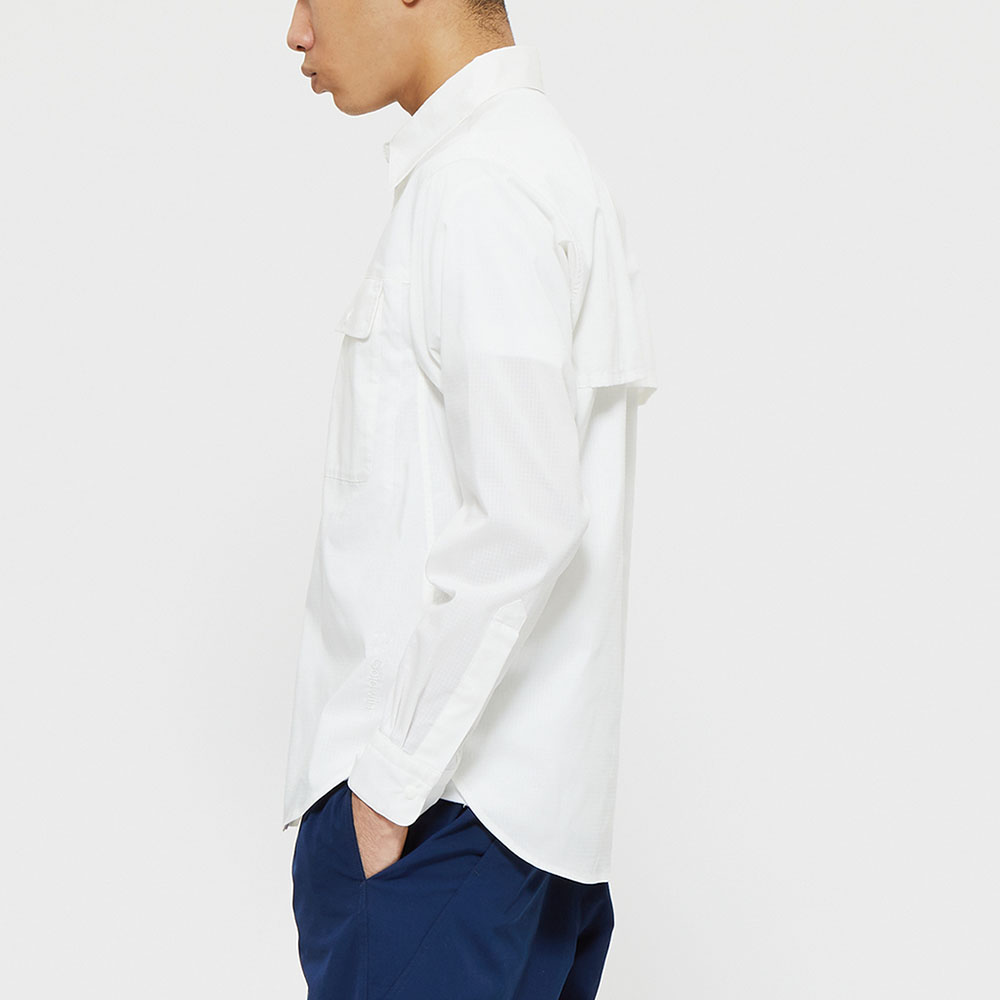 Model: Height 5'8" | Wearing: WHITE / S
{"id":4709684543550,"title":"RIPSTOP SHIRT","handle":"gm50331","description":"\u003cp\u003eThis shirt—made with a resilient ripstop material—features a mesh panel on the back to promote consistent airflow.\u003c\/p\u003e \u003cp\u003e \u003c\/p\u003e\u003ch4 class=\"subtitileDt\"\u003eFeatures\u003c\/h4\u003e\u003cul\u003e\n\u003cli\u003eA lightweight shirt made from a snag-resistant ripstop material.\u003c\/li\u003e\n\u003cli\u003eVentilation at the back yoke reduces stuffiness and promotes airflow.\u003c\/li\u003e\n\u003cli\u003eChest flap pocket features a side-entry security pocket.\u003c\/li\u003e\n\u003cli\u003eEasy-open dot buttons along the front.\u003c\/li\u003e\n\u003c\/ul\u003e\u003ch4 class=\"subtitileDt\"\u003eMaterial\u003c\/h4\u003e\u003cp\u003eFabric : COOLMAX®Rip-stop stretch (61% cotton, 39% polyester)\u003c\/p\u003e","published_at":"2020-08-25T19:21:43-07:00","created_at":"2020-08-25T19:21:43-07:00","vendor":"Goldwin","type":"outdoor","tags":["2701-F20","8\/27","9\/3","lifestyle","men","outdoor","shirts\u0026t-shirts"],"price":26000,"price_min":26000,"price_max":26000,"available":true,"price_varies":false,"compare_at_price":null,"compare_at_price_min":0,"compare_at_price_max":0,"compare_at_price_varies":false,"variants":[{"id":32395728977982,"title":"GM50331 \/ BLACK \/ S","option1":"GM50331","option2":"BLACK","option3":"S","sku":"GM50331-BK-S","requires_shipping":true,"taxable":true,"featured_image":{"id":16150864724030,"product_id":4709684543550,"position":8,"created_at":"2020-08-25T22:37:14-07:00","updated_at":"2020-08-26T19:55:55-07:00","alt":"RIPSTOP SHIRT","width":1000,"height":1000,"src":"https:\/\/cdn.shopify.com\/s\/files\/1\/1645\/3613\/products\/8.jpg?v=1598496955","variant_ids":[32395728977982,32395729010750,32395729043518,32395729076286]},"available":true,"name":"RIPSTOP SHIRT - GM50331 \/ BLACK \/ S","public_title":"GM50331 \/ BLACK \/ S","options":["GM50331","BLACK","S"],"price":26000,"weight":0,"compare_at_price":null,"inventory_quantity":1,"inventory_management":"shopify","inventory_policy":"deny","barcode":"4550207327890","featured_media":{"alt":"RIPSTOP SHIRT","id":8321055129662,"position":8,"preview_image":{"aspect_ratio":1.0,"height":1000,"width":1000,"src":"https:\/\/cdn.shopify.com\/s\/files\/1\/1645\/3613\/products\/8.jpg?v=1598420234"}}},{"id":32395729010750,"title":"GM50331 \/ BLACK \/ M","option1":"GM50331","option2":"BLACK","option3":"M","sku":"GM50331-BK-M","requires_shipping":true,"taxable":true,"featured_image":{"id":16150864724030,"product_id":4709684543550,"position":8,"created_at":"2020-08-25T22:37:14-07:00","updated_at":"2020-08-26T19:55:55-07:00","alt":"RIPSTOP SHIRT","width":1000,"height":1000,"src":"https:\/\/cdn.shopify.com\/s\/files\/1\/1645\/3613\/products\/8.jpg?v=1598496955","variant_ids":[32395728977982,32395729010750,32395729043518,32395729076286]},"available":true,"name":"RIPSTOP SHIRT - GM50331 \/ BLACK \/ M","public_title":"GM50331 \/ BLACK \/ M","options":["GM50331","BLACK","M"],"price":26000,"weight":0,"compare_at_price":null,"inventory_quantity":1,"inventory_management":"shopify","inventory_policy":"deny","barcode":"4550207327906","featured_media":{"alt":"RIPSTOP SHIRT","id":8321055129662,"position":8,"preview_image":{"aspect_ratio":1.0,"height":1000,"width":1000,"src":"https:\/\/cdn.shopify.com\/s\/files\/1\/1645\/3613\/products\/8.jpg?v=1598420234"}}},{"id":32395729043518,"title":"GM50331 \/ BLACK \/ L","option1":"GM50331","option2":"BLACK","option3":"L","sku":"GM50331-BK-L","requires_shipping":true,"taxable":true,"featured_image":{"id":16150864724030,"product_id":4709684543550,"position":8,"created_at":"2020-08-25T22:37:14-07:00","updated_at":"2020-08-26T19:55:55-07:00","alt":"RIPSTOP SHIRT","width":1000,"height":1000,"src":"https:\/\/cdn.shopify.com\/s\/files\/1\/1645\/3613\/products\/8.jpg?v=1598496955","variant_ids":[32395728977982,32395729010750,32395729043518,32395729076286]},"available":true,"name":"RIPSTOP SHIRT - GM50331 \/ BLACK \/ L","public_title":"GM50331 \/ BLACK \/ L","options":["GM50331","BLACK","L"],"price":26000,"weight":0,"compare_at_price":null,"inventory_quantity":1,"inventory_management":"shopify","inventory_policy":"deny","barcode":"4550207327913","featured_media":{"alt":"RIPSTOP SHIRT","id":8321055129662,"position":8,"preview_image":{"aspect_ratio":1.0,"height":1000,"width":1000,"src":"https:\/\/cdn.shopify.com\/s\/files\/1\/1645\/3613\/products\/8.jpg?v=1598420234"}}},{"id":32395729076286,"title":"GM50331 \/ BLACK \/ XL","option1":"GM50331","option2":"BLACK","option3":"XL","sku":"GM50331-BK-XL","requires_shipping":true,"taxable":true,"featured_image":{"id":16150864724030,"product_id":4709684543550,"position":8,"created_at":"2020-08-25T22:37:14-07:00","updated_at":"2020-08-26T19:55:55-07:00","alt":"RIPSTOP SHIRT","width":1000,"height":1000,"src":"https:\/\/cdn.shopify.com\/s\/files\/1\/1645\/3613\/products\/8.jpg?v=1598496955","variant_ids":[32395728977982,32395729010750,32395729043518,32395729076286]},"available":false,"name":"RIPSTOP SHIRT - GM50331 \/ BLACK \/ XL","public_title":"GM50331 \/ BLACK \/ XL","options":["GM50331","BLACK","XL"],"price":26000,"weight":0,"compare_at_price":null,"inventory_quantity":0,"inventory_management":"shopify","inventory_policy":"deny","barcode":"4550207327920","featured_media":{"alt":"RIPSTOP SHIRT","id":8321055129662,"position":8,"preview_image":{"aspect_ratio":1.0,"height":1000,"width":1000,"src":"https:\/\/cdn.shopify.com\/s\/files\/1\/1645\/3613\/products\/8.jpg?v=1598420234"}}},{"id":32395729240126,"title":"GM50331 \/ WHITE \/ S","option1":"GM50331","option2":"WHITE","option3":"S","sku":"GM50331-W-S","requires_shipping":true,"taxable":true,"featured_image":{"id":16150862331966,"product_id":4709684543550,"position":1,"created_at":"2020-08-25T22:36:42-07:00","updated_at":"2020-08-26T19:55:55-07:00","alt":"RIPSTOP SHIRT","width":1000,"height":1000,"src":"https:\/\/cdn.shopify.com\/s\/files\/1\/1645\/3613\/products\/GM50331_1.jpg?v=1598496955","variant_ids":[32395729240126,32395729272894,32395729305662,32395729338430]},"available":true,"name":"RIPSTOP SHIRT - GM50331 \/ WHITE \/ S","public_title":"GM50331 \/ WHITE \/ S","options":["GM50331","WHITE","S"],"price":26000,"weight":0,"compare_at_price":null,"inventory_quantity":1,"inventory_management":"shopify","inventory_policy":"deny","barcode":"4550207327777","featured_media":{"alt":"RIPSTOP SHIRT","id":8321052737598,"position":1,"preview_image":{"aspect_ratio":1.0,"height":1000,"width":1000,"src":"https:\/\/cdn.shopify.com\/s\/files\/1\/1645\/3613\/products\/GM50331_1.jpg?v=1598420202"}}},{"id":32395729272894,"title":"GM50331 \/ WHITE \/ M","option1":"GM50331","option2":"WHITE","option3":"M","sku":"GM50331-W-M","requires_shipping":true,"taxable":true,"featured_image":{"id":16150862331966,"product_id":4709684543550,"position":1,"created_at":"2020-08-25T22:36:42-07:00","updated_at":"2020-08-26T19:55:55-07:00","alt":"RIPSTOP SHIRT","width":1000,"height":1000,"src":"https:\/\/cdn.shopify.com\/s\/files\/1\/1645\/3613\/products\/GM50331_1.jpg?v=1598496955","variant_ids":[32395729240126,32395729272894,32395729305662,32395729338430]},"available":true,"name":"RIPSTOP SHIRT - GM50331 \/ WHITE \/ M","public_title":"GM50331 \/ WHITE \/ M","options":["GM50331","WHITE","M"],"price":26000,"weight":0,"compare_at_price":null,"inventory_quantity":1,"inventory_management":"shopify","inventory_policy":"deny","barcode":"4550207327784","featured_media":{"alt":"RIPSTOP SHIRT","id":8321052737598,"position":1,"preview_image":{"aspect_ratio":1.0,"height":1000,"width":1000,"src":"https:\/\/cdn.shopify.com\/s\/files\/1\/1645\/3613\/products\/GM50331_1.jpg?v=1598420202"}}},{"id":32395729305662,"title":"GM50331 \/ WHITE \/ L","option1":"GM50331","option2":"WHITE","option3":"L","sku":"GM50331-W-L","requires_shipping":true,"taxable":true,"featured_image":{"id":16150862331966,"product_id":4709684543550,"position":1,"created_at":"2020-08-25T22:36:42-07:00","updated_at":"2020-08-26T19:55:55-07:00","alt":"RIPSTOP SHIRT","width":1000,"height":1000,"src":"https:\/\/cdn.shopify.com\/s\/files\/1\/1645\/3613\/products\/GM50331_1.jpg?v=1598496955","variant_ids":[32395729240126,32395729272894,32395729305662,32395729338430]},"available":true,"name":"RIPSTOP SHIRT - GM50331 \/ WHITE \/ L","public_title":"GM50331 \/ WHITE \/ L","options":["GM50331","WHITE","L"],"price":26000,"weight":0,"compare_at_price":null,"inventory_quantity":1,"inventory_management":"shopify","inventory_policy":"deny","barcode":"4550207327791","featured_media":{"alt":"RIPSTOP SHIRT","id":8321052737598,"position":1,"preview_image":{"aspect_ratio":1.0,"height":1000,"width":1000,"src":"https:\/\/cdn.shopify.com\/s\/files\/1\/1645\/3613\/products\/GM50331_1.jpg?v=1598420202"}}},{"id":32395729338430,"title":"GM50331 \/ WHITE \/ XL","option1":"GM50331","option2":"WHITE","option3":"XL","sku":"GM50331-W-XL","requires_shipping":true,"taxable":true,"featured_image":{"id":16150862331966,"product_id":4709684543550,"position":1,"created_at":"2020-08-25T22:36:42-07:00","updated_at":"2020-08-26T19:55:55-07:00","alt":"RIPSTOP SHIRT","width":1000,"height":1000,"src":"https:\/\/cdn.shopify.com\/s\/files\/1\/1645\/3613\/products\/GM50331_1.jpg?v=1598496955","variant_ids":[32395729240126,32395729272894,32395729305662,32395729338430]},"available":false,"name":"RIPSTOP SHIRT - GM50331 \/ WHITE \/ XL","public_title":"GM50331 \/ WHITE \/ XL","options":["GM50331","WHITE","XL"],"price":26000,"weight":0,"compare_at_price":null,"inventory_quantity":0,"inventory_management":"shopify","inventory_policy":"deny","barcode":"4550207327807","featured_media":{"alt":"RIPSTOP SHIRT","id":8321052737598,"position":1,"preview_image":{"aspect_ratio":1.0,"height":1000,"width":1000,"src":"https:\/\/cdn.shopify.com\/s\/files\/1\/1645\/3613\/products\/GM50331_1.jpg?v=1598420202"}}}],"images":["\/\/cdn.shopify.com\/s\/files\/1\/1645\/3613\/products\/GM50331_1.jpg?v=1598496955","\/\/cdn.shopify.com\/s\/files\/1\/1645\/3613\/products\/GM50331_2.jpg?v=1598496955","\/\/cdn.shopify.com\/s\/files\/1\/1645\/3613\/products\/GM50331_3.jpg?v=1598496955","\/\/cdn.shopify.com\/s\/files\/1\/1645\/3613\/products\/GM50331_4.jpg?v=1598496955","\/\/cdn.shopify.com\/s\/files\/1\/1645\/3613\/products\/GM50331_5.jpg?v=1598496955","\/\/cdn.shopify.com\/s\/files\/1\/1645\/3613\/products\/GM50331_6.jpg?v=1598496955","\/\/cdn.shopify.com\/s\/files\/1\/1645\/3613\/products\/GM50331_7.jpg?v=1598496955","\/\/cdn.shopify.com\/s\/files\/1\/1645\/3613\/products\/8.jpg?v=1598496955"],"featured_image":"\/\/cdn.shopify.com\/s\/files\/1\/1645\/3613\/products\/GM50331_1.jpg?v=1598496955","options":["Style#","Color","Size"],"media":[{"alt":"RIPSTOP SHIRT","id":8321052737598,"position":1,"preview_image":{"aspect_ratio":1.0,"height":1000,"width":1000,"src":"https:\/\/cdn.shopify.com\/s\/files\/1\/1645\/3613\/products\/GM50331_1.jpg?v=1598420202"},"aspect_ratio":1.0,"height":1000,"media_type":"image","src":"https:\/\/cdn.shopify.com\/s\/files\/1\/1645\/3613\/products\/GM50331_1.jpg?v=1598420202","width":1000},{"alt":"RIPSTOP SHIRT","id":8321052901438,"position":2,"preview_image":{"aspect_ratio":1.0,"height":1000,"width":1000,"src":"https:\/\/cdn.shopify.com\/s\/files\/1\/1645\/3613\/products\/GM50331_2.jpg?v=1598420203"},"aspect_ratio":1.0,"height":1000,"media_type":"image","src":"https:\/\/cdn.shopify.com\/s\/files\/1\/1645\/3613\/products\/GM50331_2.jpg?v=1598420203","width":1000},{"alt":"RIPSTOP SHIRT","id":8321052934206,"position":3,"preview_image":{"aspect_ratio":1.0,"height":1000,"width":1000,"src":"https:\/\/cdn.shopify.com\/s\/files\/1\/1645\/3613\/products\/GM50331_3.jpg?v=1598420206"},"aspect_ratio":1.0,"height":1000,"media_type":"image","src":"https:\/\/cdn.shopify.com\/s\/files\/1\/1645\/3613\/products\/GM50331_3.jpg?v=1598420206","width":1000},{"alt":"RIPSTOP SHIRT","id":8321053130814,"position":4,"preview_image":{"aspect_ratio":1.0,"height":1000,"width":1000,"src":"https:\/\/cdn.shopify.com\/s\/files\/1\/1645\/3613\/products\/GM50331_4.jpg?v=1598420208"},"aspect_ratio":1.0,"height":1000,"media_type":"image","src":"https:\/\/cdn.shopify.com\/s\/files\/1\/1645\/3613\/products\/GM50331_4.jpg?v=1598420208","width":1000},{"alt":"RIPSTOP SHIRT","id":8321053917246,"position":5,"preview_image":{"aspect_ratio":1.0,"height":1000,"width":1000,"src":"https:\/\/cdn.shopify.com\/s\/files\/1\/1645\/3613\/products\/GM50331_5.jpg?v=1598420219"},"aspect_ratio":1.0,"height":1000,"media_type":"image","src":"https:\/\/cdn.shopify.com\/s\/files\/1\/1645\/3613\/products\/GM50331_5.jpg?v=1598420219","width":1000},{"alt":"RIPSTOP SHIRT","id":8321053950014,"position":6,"preview_image":{"aspect_ratio":1.0,"height":1000,"width":1000,"src":"https:\/\/cdn.shopify.com\/s\/files\/1\/1645\/3613\/products\/GM50331_6.jpg?v=1598420219"},"aspect_ratio":1.0,"height":1000,"media_type":"image","src":"https:\/\/cdn.shopify.com\/s\/files\/1\/1645\/3613\/products\/GM50331_6.jpg?v=1598420219","width":1000},{"alt":"RIPSTOP SHIRT","id":8321053982782,"position":7,"preview_image":{"aspect_ratio":1.0,"height":1000,"width":1000,"src":"https:\/\/cdn.shopify.com\/s\/files\/1\/1645\/3613\/products\/GM50331_7.jpg?v=1598420221"},"aspect_ratio":1.0,"height":1000,"media_type":"image","src":"https:\/\/cdn.shopify.com\/s\/files\/1\/1645\/3613\/products\/GM50331_7.jpg?v=1598420221","width":1000},{"alt":"RIPSTOP SHIRT","id":8321055129662,"position":8,"preview_image":{"aspect_ratio":1.0,"height":1000,"width":1000,"src":"https:\/\/cdn.shopify.com\/s\/files\/1\/1645\/3613\/products\/8.jpg?v=1598420234"},"aspect_ratio":1.0,"height":1000,"media_type":"image","src":"https:\/\/cdn.shopify.com\/s\/files\/1\/1645\/3613\/products\/8.jpg?v=1598420234","width":1000}],"content":"\u003cp\u003eThis shirt—made with a resilient ripstop material—features a mesh panel on the back to promote consistent airflow.\u003c\/p\u003e \u003cp\u003e \u003c\/p\u003e\u003ch4 class=\"subtitileDt\"\u003eFeatures\u003c\/h4\u003e\u003cul\u003e\n\u003cli\u003eA lightweight shirt made from a snag-resistant ripstop material.\u003c\/li\u003e\n\u003cli\u003eVentilation at the back yoke reduces stuffiness and promotes airflow.\u003c\/li\u003e\n\u003cli\u003eChest flap pocket features a side-entry security pocket.\u003c\/li\u003e\n\u003cli\u003eEasy-open dot buttons along the front.\u003c\/li\u003e\n\u003c\/ul\u003e\u003ch4 class=\"subtitileDt\"\u003eMaterial\u003c\/h4\u003e\u003cp\u003eFabric : COOLMAX®Rip-stop stretch (61% cotton, 39% polyester)\u003c\/p\u003e"}