This long-sleeve shirt is quick-drying, moisture-wicking, and resistant to pilling.
Features
Dolman sleeve shirt.
Unique side-panel construction creates a distinctive, roomy silhouette.
Embroidered logo on the front hem.
Material
Fabric : Jersey (100% polyester)
Shipping Policy
Goldwin orders are shipped Monday-Friday (excluding holidays).
Shipping options:
Ground Shipping (5-7 business days)
Free for orders of $100 or more
$8 for orders of less than $100
Standard Shipping (3-4 business days)
$12 for all orders
Express Shipping (2-3 business days)
$20 for all orders
Store Pick Up
Free
For further information, please visit our shipping policy.
*Due to the current status of Covid-19, please bear with us as delivery times may be slightly longer than normal.
L/S T-SHIRT
Model: Height 6'0" | Wearing: BLUE GRAY / M
Model: Height 6'0" | Wearing: BLUE GRAY / M
Model: Height 6'0" | Wearing: BLUE GRAY / M
Model: Height 5'8" | Wearing: WHITE / S
Model: Height 5'8" | Wearing: WHITE / S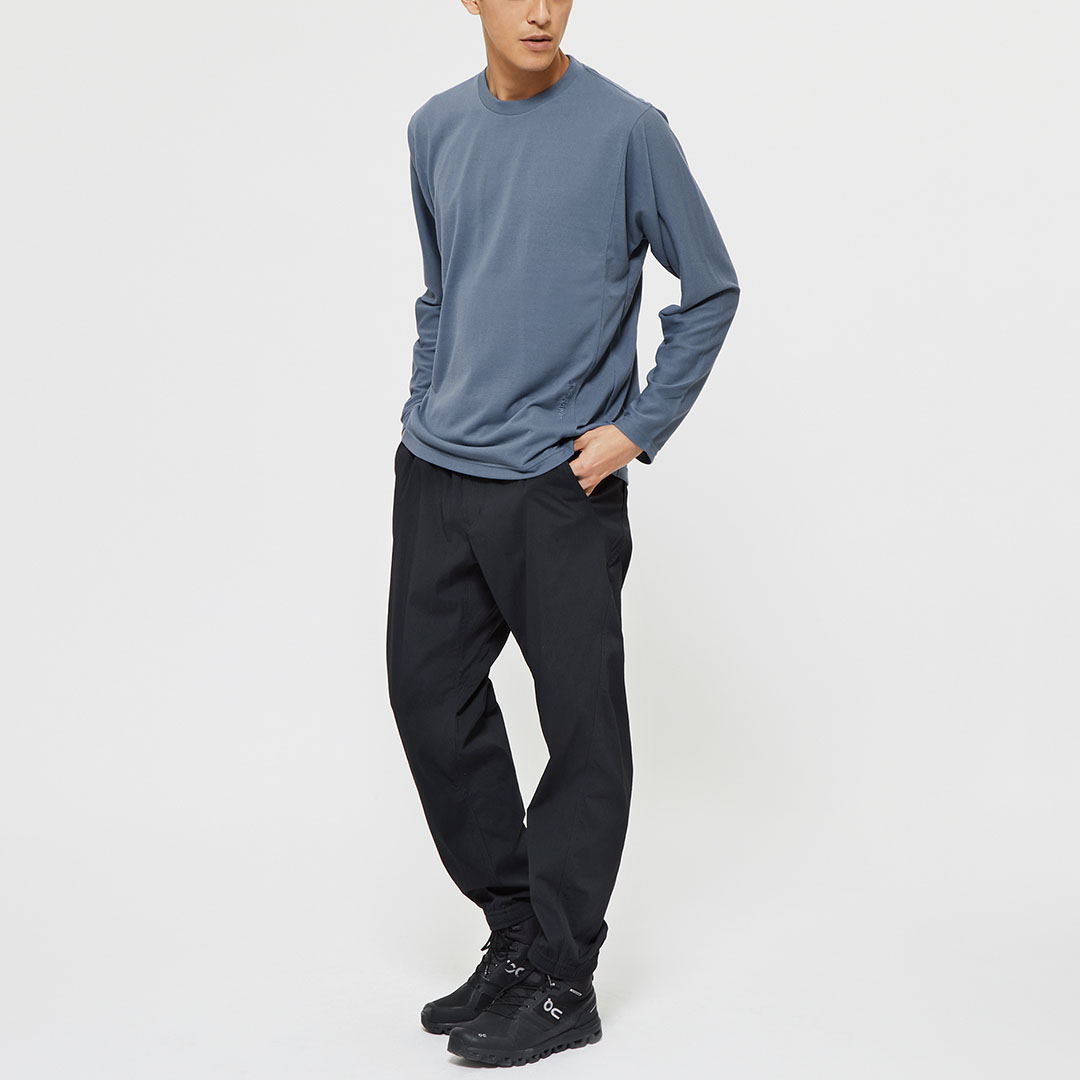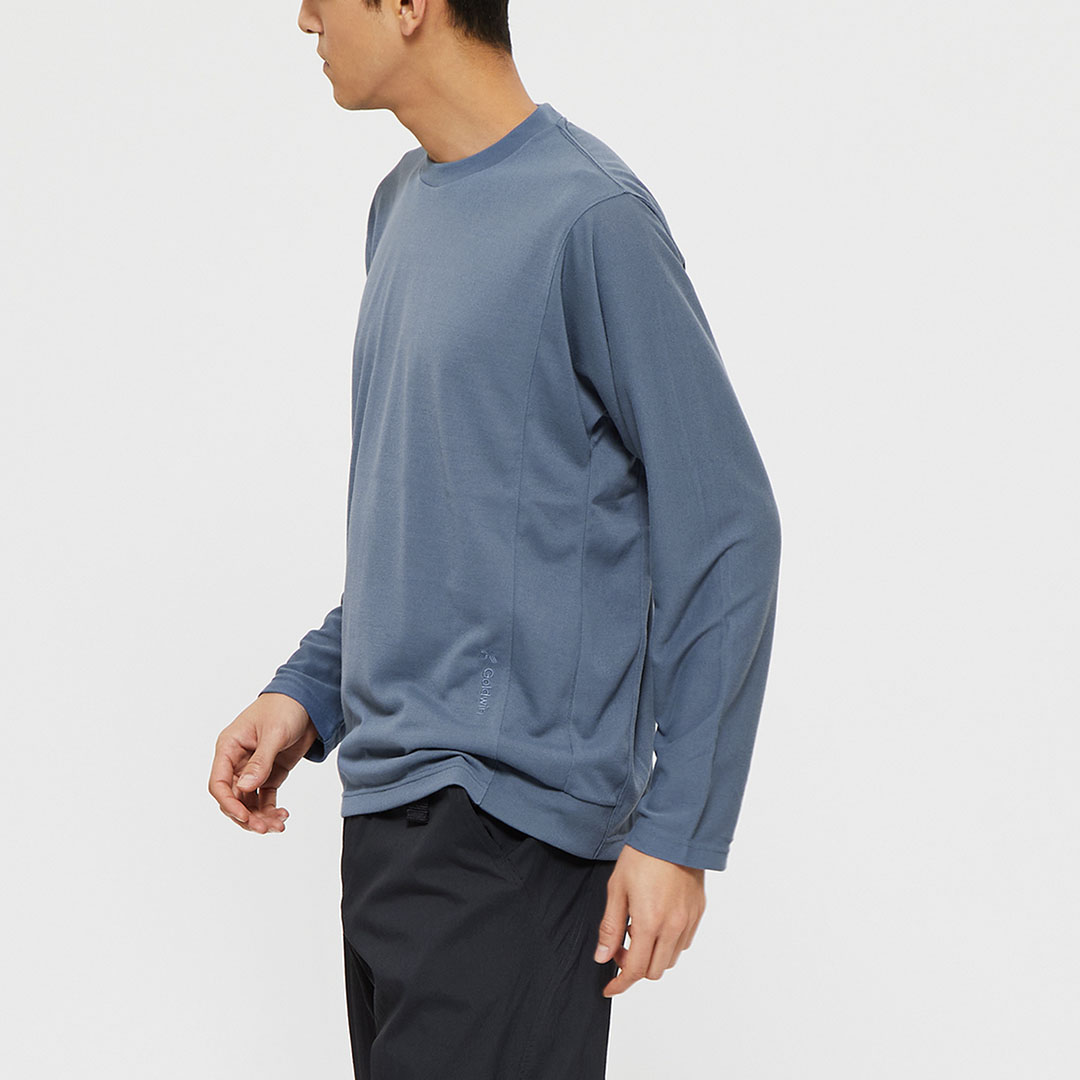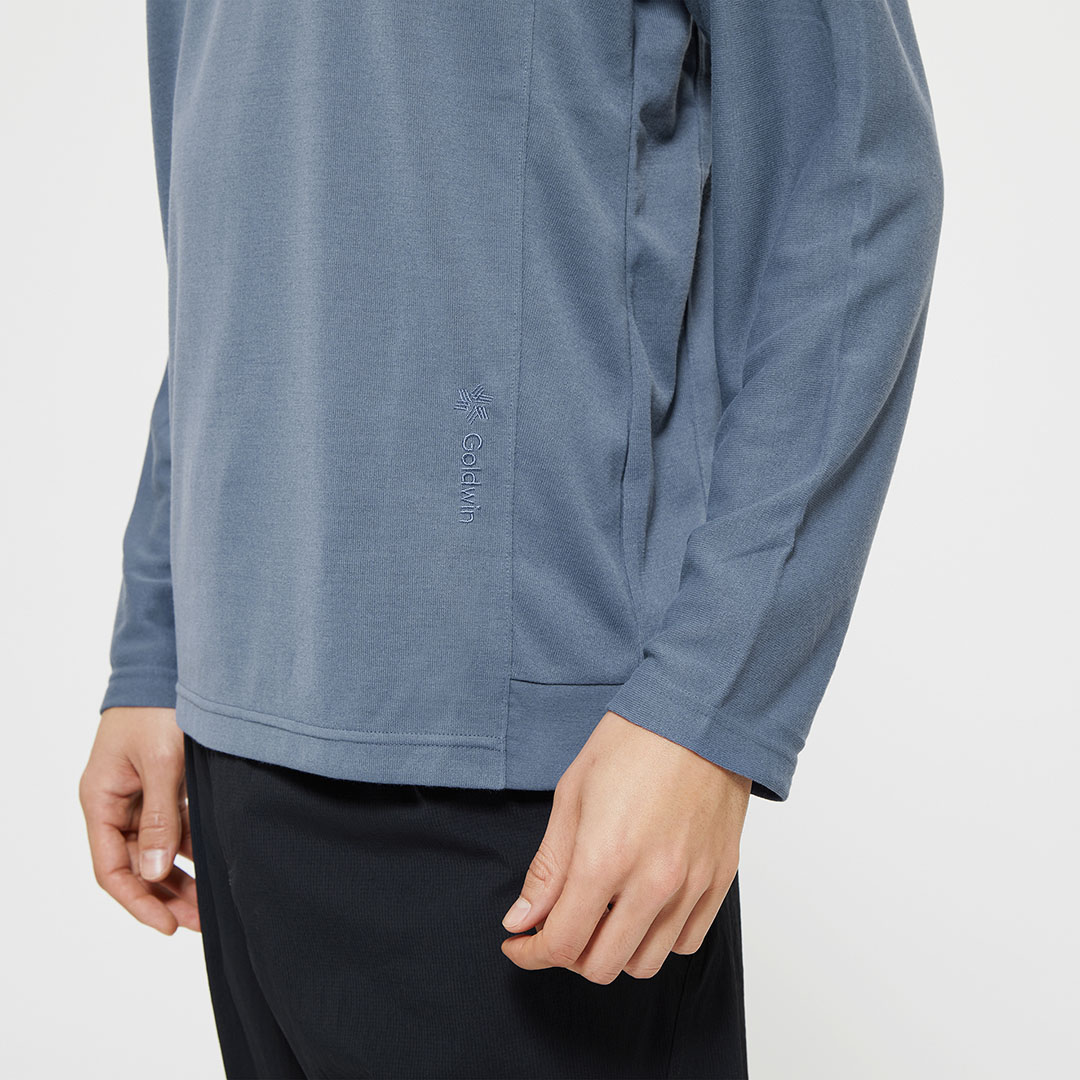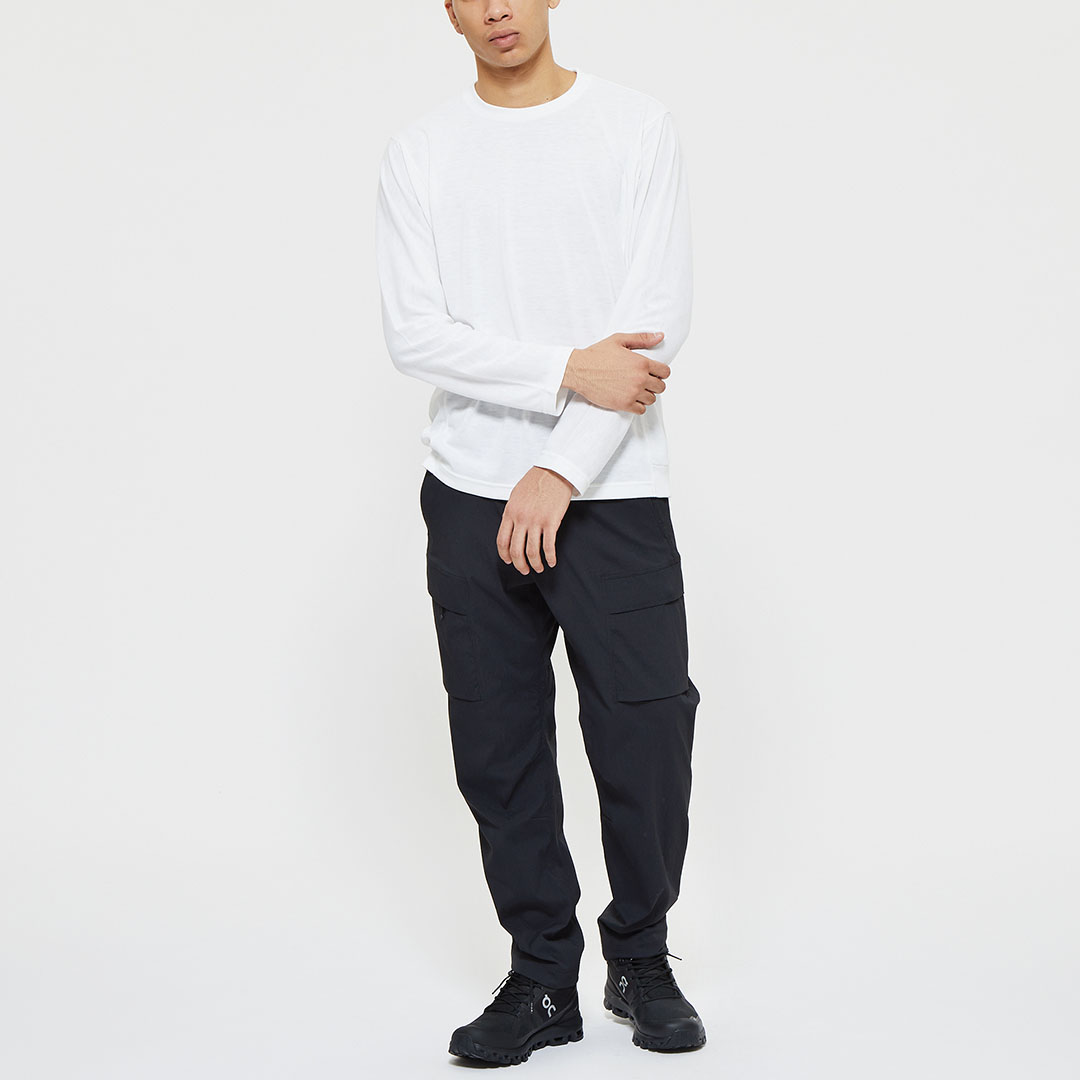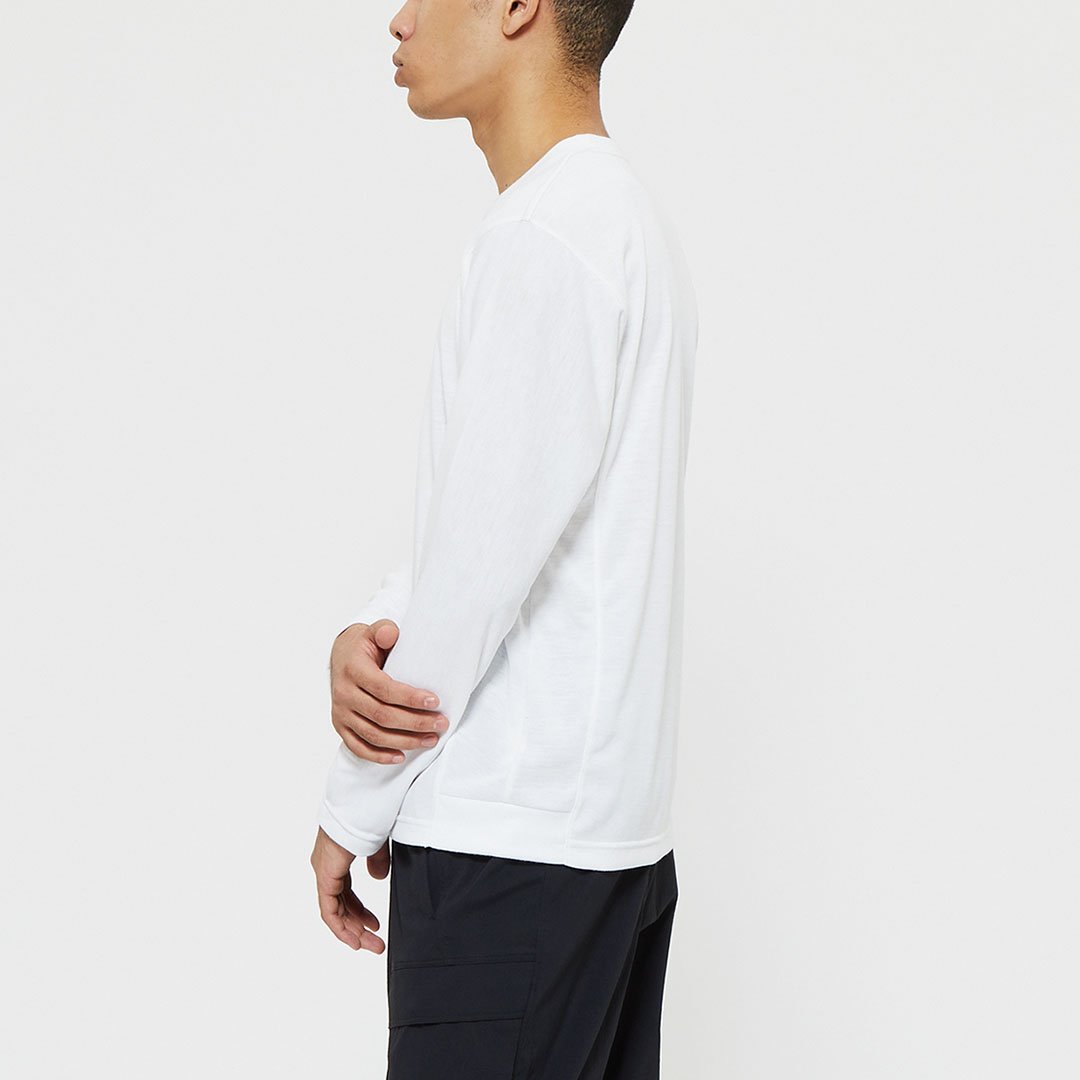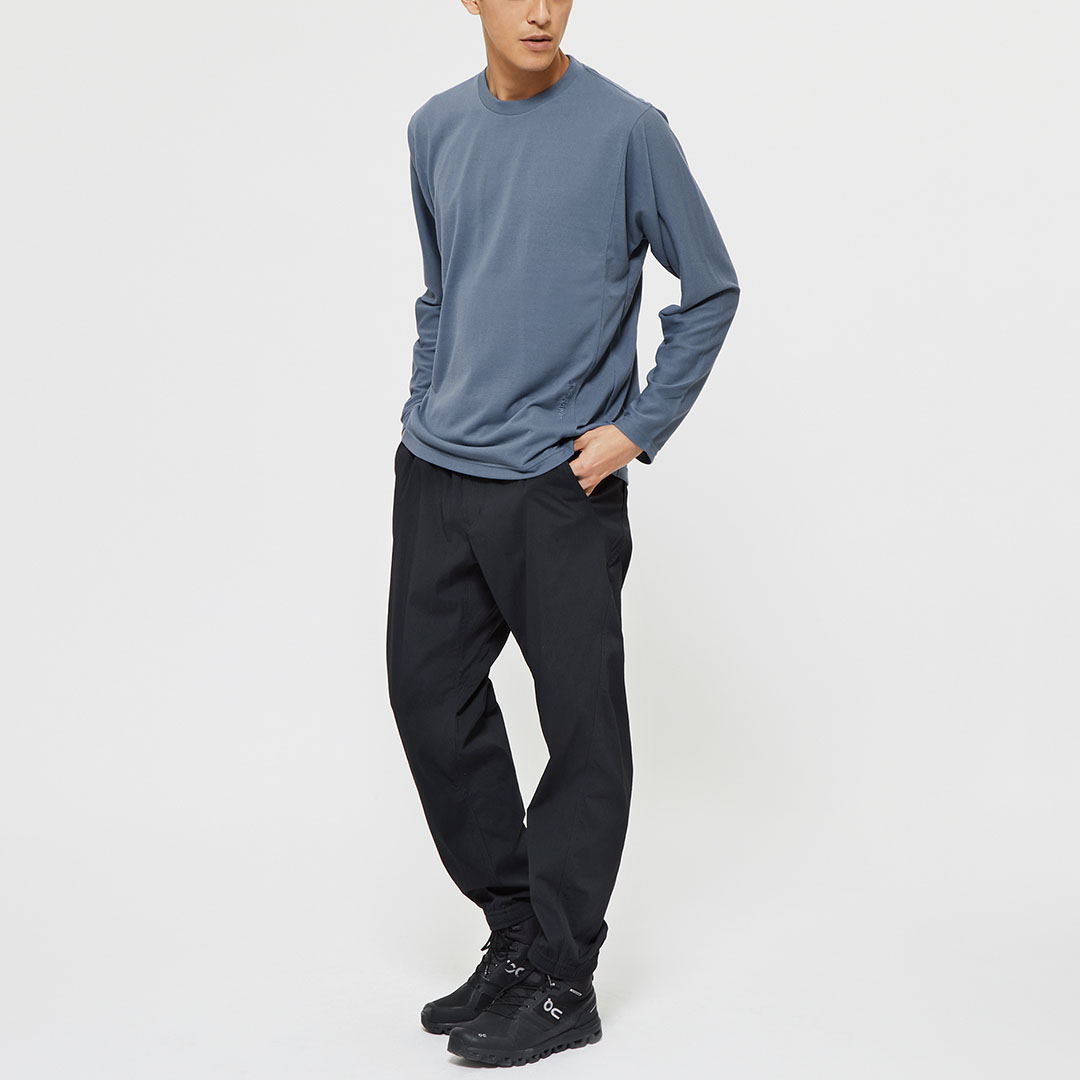 Model: Height 6'0" | Wearing: BLUE GRAY / M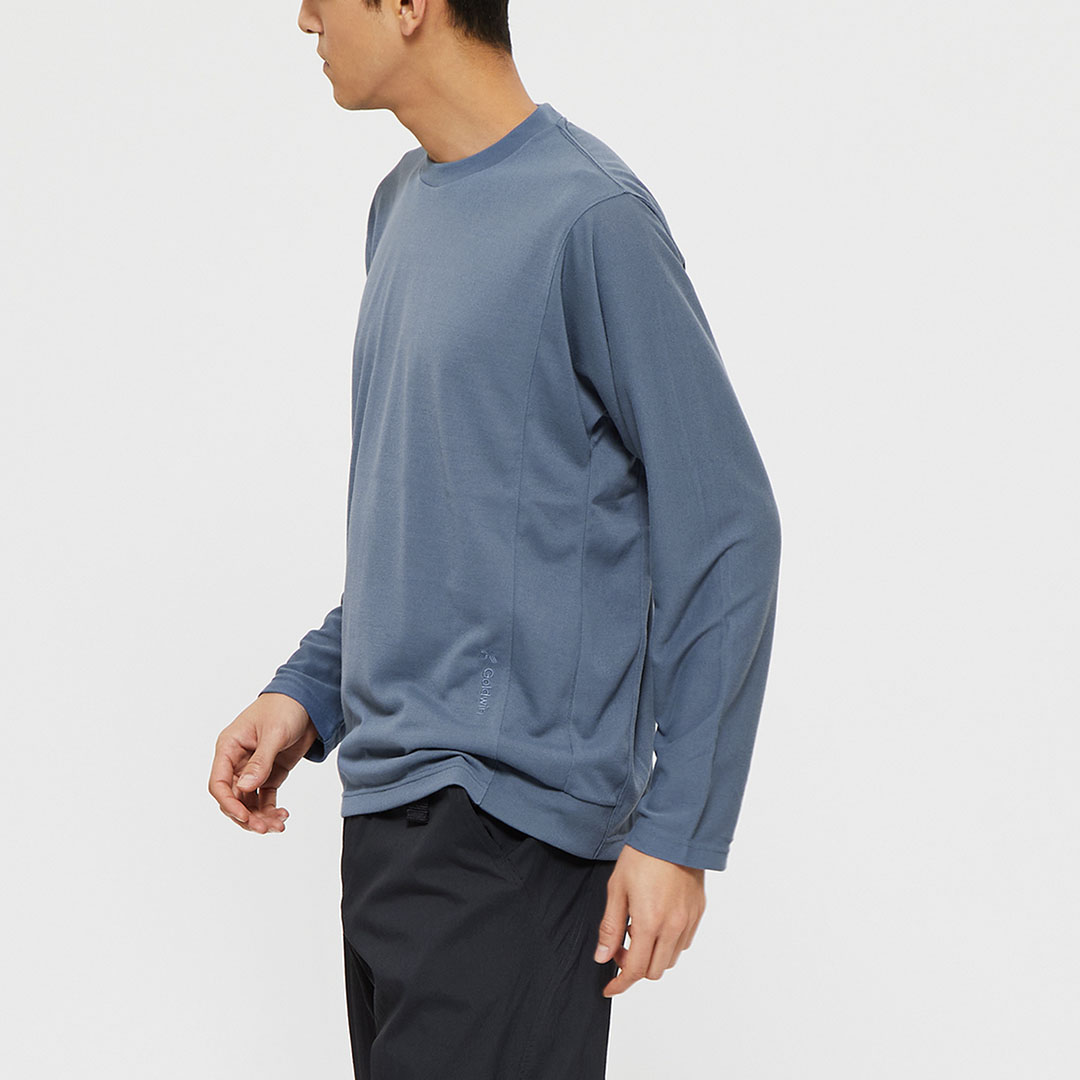 Model: Height 6'0" | Wearing: BLUE GRAY / M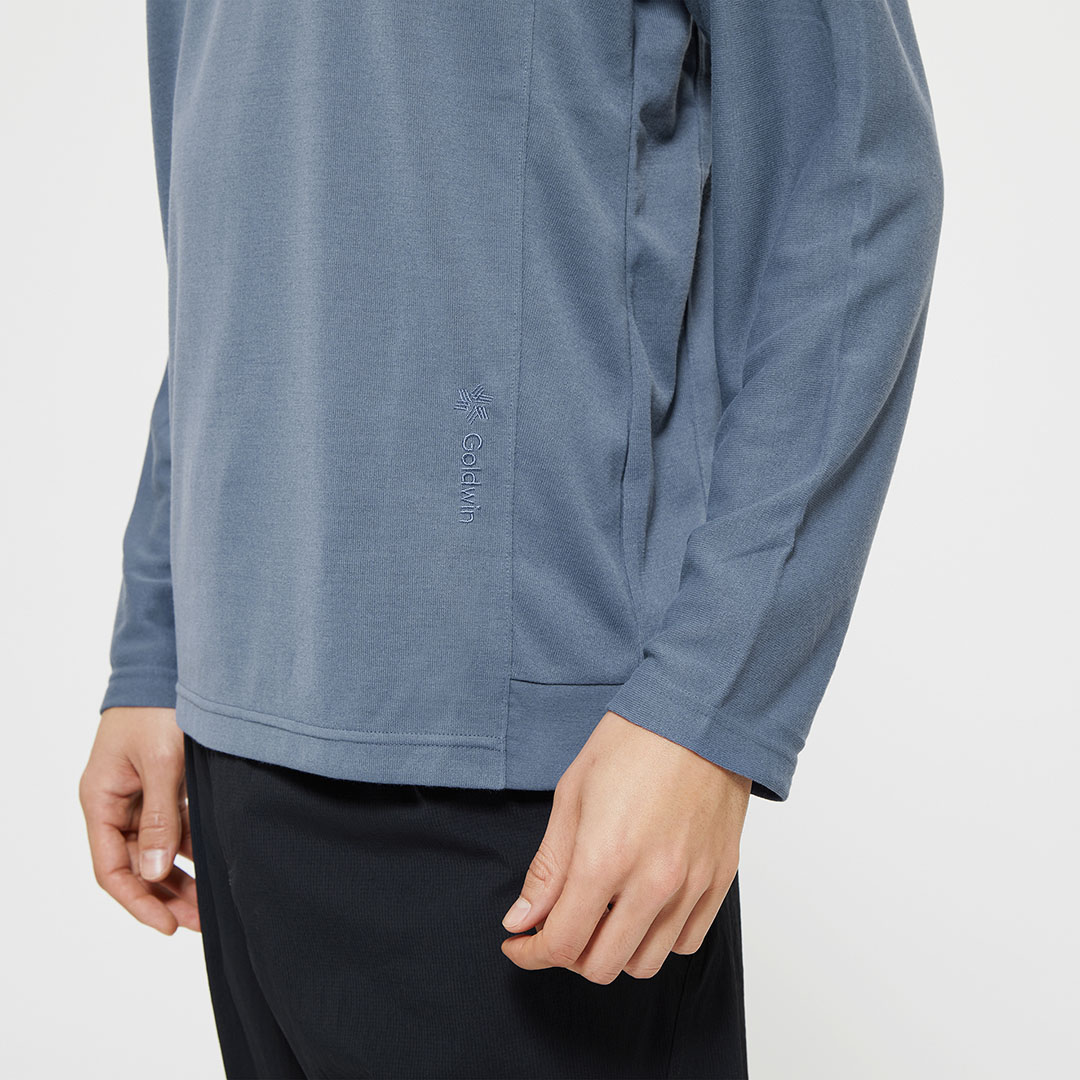 Model: Height 6'0" | Wearing: BLUE GRAY / M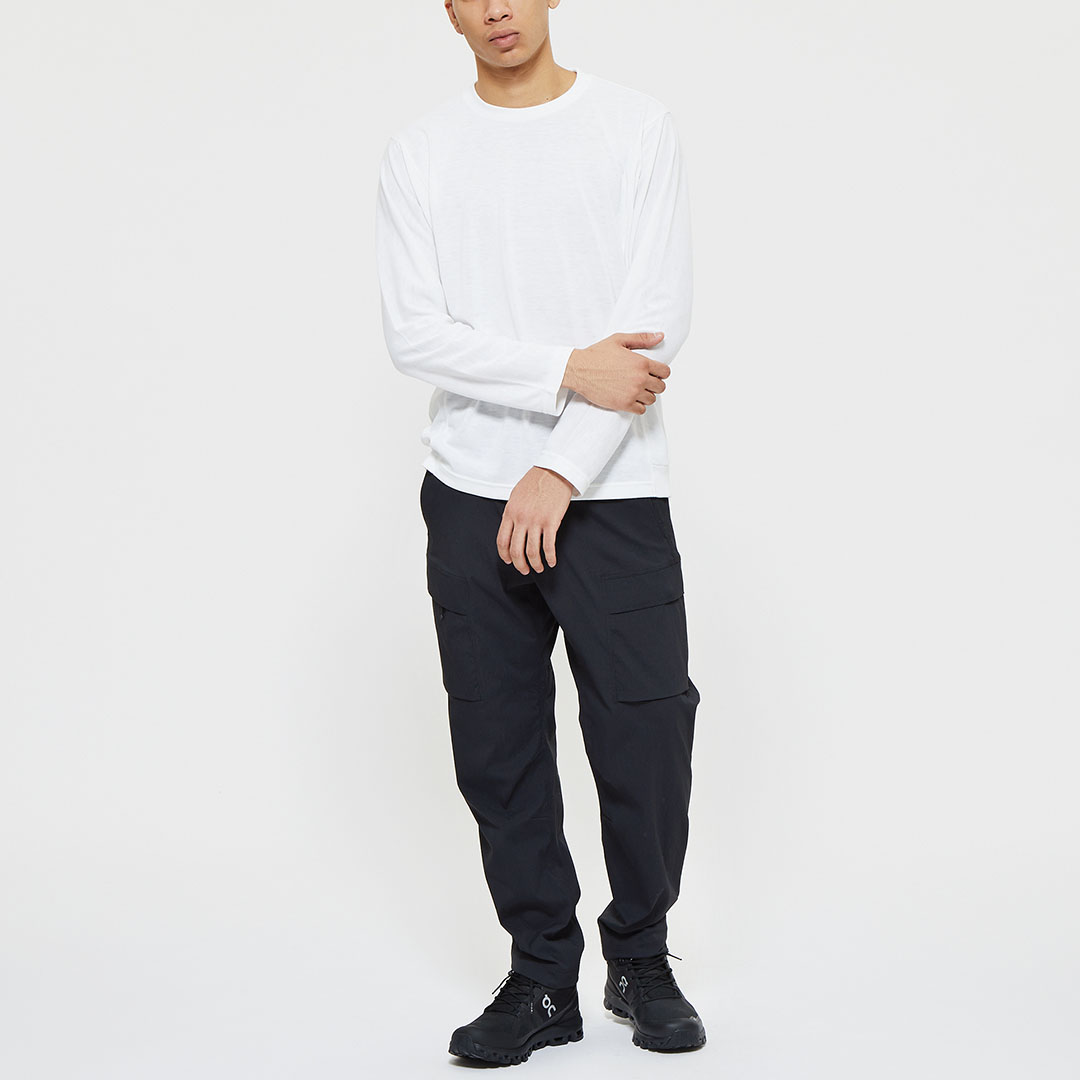 Model: Height 5'8" | Wearing: WHITE / S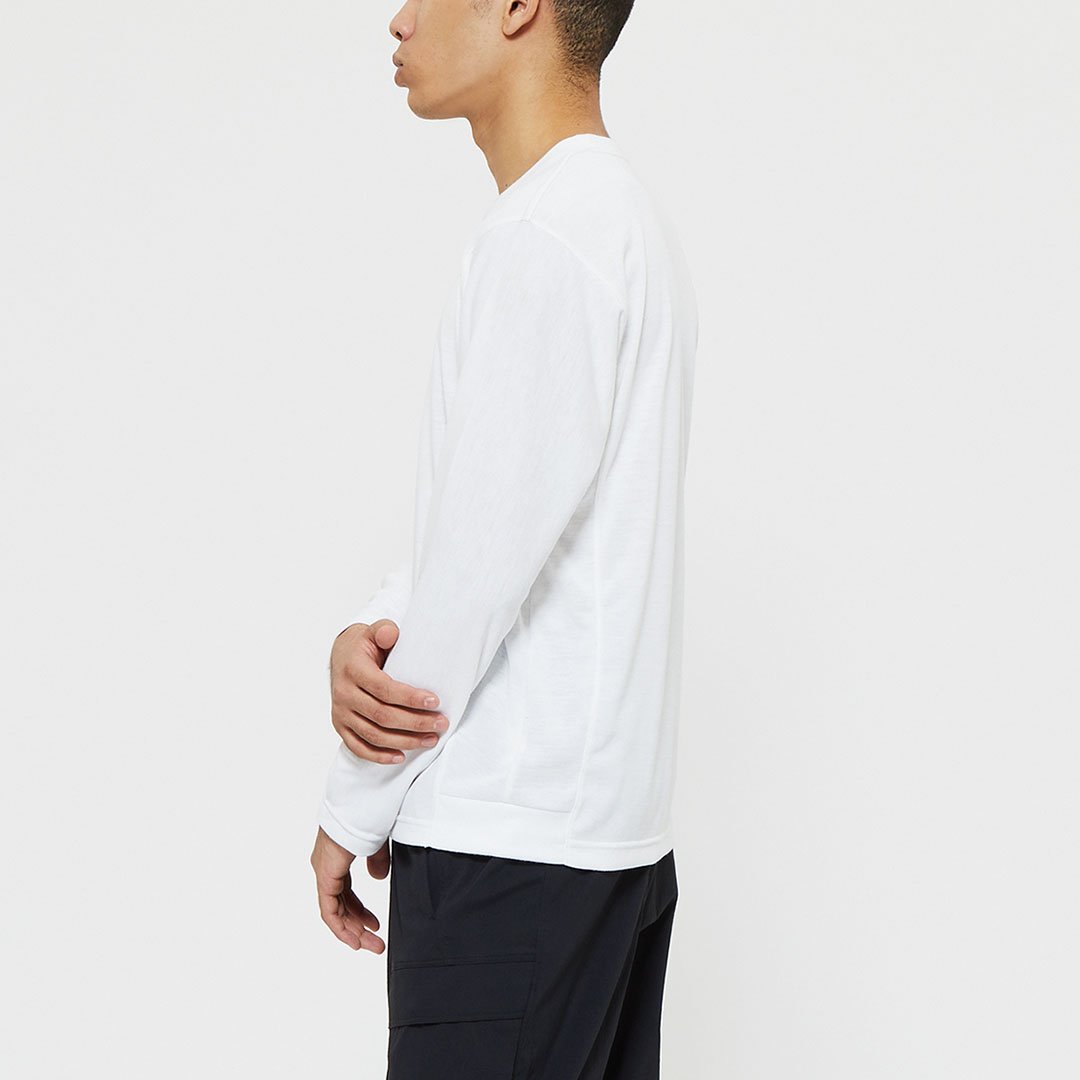 Model: Height 5'8" | Wearing: WHITE / S
{"id":4709675728958,"title":"L\/S T-SHIRT","handle":"gm60304","description":"\u003cp\u003eThis long-sleeve shirt is quick-drying, moisture-wicking, and resistant to pilling.\u003c\/p\u003e \u003cp\u003e \u003c\/p\u003e\u003ch4 class=\"subtitileDt\"\u003eFeatures\u003c\/h4\u003e\u003cul\u003e\n\u003cli\u003eDolman sleeve shirt.\u003c\/li\u003e\n\u003cli\u003eUnique side-panel construction creates a distinctive, roomy silhouette.\u003c\/li\u003e\n\u003cli\u003eEmbroidered logo on the front hem.\u003c\/li\u003e\n\u003c\/ul\u003e\u003ch4 class=\"subtitileDt\"\u003eMaterial\u003c\/h4\u003e\u003cp\u003eFabric : Jersey (100% polyester)\u003c\/p\u003e","published_at":"2020-08-25T19:08:46-07:00","created_at":"2020-08-25T19:08:46-07:00","vendor":"Goldwin","type":"outdoor","tags":["2701-F20","8\/27","9\/3","lifestyle","men","outdoor","shirts\u0026t-shirts"],"price":7900,"price_min":7900,"price_max":7900,"available":true,"price_varies":false,"compare_at_price":null,"compare_at_price_min":0,"compare_at_price_max":0,"compare_at_price_varies":false,"variants":[{"id":32395709153342,"title":"GM60304 \/ BLUE GRAY \/ S","option1":"GM60304","option2":"BLUE GRAY","option3":"S","sku":"GM60304-BG-S","requires_shipping":true,"taxable":true,"featured_image":{"id":16150899687486,"product_id":4709675728958,"position":5,"created_at":"2020-08-25T22:45:40-07:00","updated_at":"2020-08-26T19:55:57-07:00","alt":"L\/S T-SHIRT","width":1080,"height":1080,"src":"https:\/\/cdn.shopify.com\/s\/files\/1\/1645\/3613\/products\/GM60304_bg.jpg?v=1598496957","variant_ids":[32395709153342,32395709186110,32395709218878,32395709251646]},"available":true,"name":"L\/S T-SHIRT - GM60304 \/ BLUE GRAY \/ S","public_title":"GM60304 \/ BLUE GRAY \/ S","options":["GM60304","BLUE GRAY","S"],"price":7900,"weight":0,"compare_at_price":null,"inventory_quantity":1,"inventory_management":"shopify","inventory_policy":"deny","barcode":"4550207328736","featured_media":{"alt":"L\/S T-SHIRT","id":8321090125886,"position":5,"preview_image":{"aspect_ratio":1.0,"height":1080,"width":1080,"src":"https:\/\/cdn.shopify.com\/s\/files\/1\/1645\/3613\/products\/GM60304_bg.jpg?v=1598420740"}}},{"id":32395709186110,"title":"GM60304 \/ BLUE GRAY \/ M","option1":"GM60304","option2":"BLUE GRAY","option3":"M","sku":"GM60304-BG-M","requires_shipping":true,"taxable":true,"featured_image":{"id":16150899687486,"product_id":4709675728958,"position":5,"created_at":"2020-08-25T22:45:40-07:00","updated_at":"2020-08-26T19:55:57-07:00","alt":"L\/S T-SHIRT","width":1080,"height":1080,"src":"https:\/\/cdn.shopify.com\/s\/files\/1\/1645\/3613\/products\/GM60304_bg.jpg?v=1598496957","variant_ids":[32395709153342,32395709186110,32395709218878,32395709251646]},"available":true,"name":"L\/S T-SHIRT - GM60304 \/ BLUE GRAY \/ M","public_title":"GM60304 \/ BLUE GRAY \/ M","options":["GM60304","BLUE GRAY","M"],"price":7900,"weight":0,"compare_at_price":null,"inventory_quantity":1,"inventory_management":"shopify","inventory_policy":"deny","barcode":"4550207328743","featured_media":{"alt":"L\/S T-SHIRT","id":8321090125886,"position":5,"preview_image":{"aspect_ratio":1.0,"height":1080,"width":1080,"src":"https:\/\/cdn.shopify.com\/s\/files\/1\/1645\/3613\/products\/GM60304_bg.jpg?v=1598420740"}}},{"id":32395709218878,"title":"GM60304 \/ BLUE GRAY \/ L","option1":"GM60304","option2":"BLUE GRAY","option3":"L","sku":"GM60304-BG-L","requires_shipping":true,"taxable":true,"featured_image":{"id":16150899687486,"product_id":4709675728958,"position":5,"created_at":"2020-08-25T22:45:40-07:00","updated_at":"2020-08-26T19:55:57-07:00","alt":"L\/S T-SHIRT","width":1080,"height":1080,"src":"https:\/\/cdn.shopify.com\/s\/files\/1\/1645\/3613\/products\/GM60304_bg.jpg?v=1598496957","variant_ids":[32395709153342,32395709186110,32395709218878,32395709251646]},"available":true,"name":"L\/S T-SHIRT - GM60304 \/ BLUE GRAY \/ L","public_title":"GM60304 \/ BLUE GRAY \/ L","options":["GM60304","BLUE GRAY","L"],"price":7900,"weight":0,"compare_at_price":null,"inventory_quantity":1,"inventory_management":"shopify","inventory_policy":"deny","barcode":"4550207328750","featured_media":{"alt":"L\/S T-SHIRT","id":8321090125886,"position":5,"preview_image":{"aspect_ratio":1.0,"height":1080,"width":1080,"src":"https:\/\/cdn.shopify.com\/s\/files\/1\/1645\/3613\/products\/GM60304_bg.jpg?v=1598420740"}}},{"id":32395709251646,"title":"GM60304 \/ BLUE GRAY \/ XL","option1":"GM60304","option2":"BLUE GRAY","option3":"XL","sku":"GM60304-BG-XL","requires_shipping":true,"taxable":true,"featured_image":{"id":16150899687486,"product_id":4709675728958,"position":5,"created_at":"2020-08-25T22:45:40-07:00","updated_at":"2020-08-26T19:55:57-07:00","alt":"L\/S T-SHIRT","width":1080,"height":1080,"src":"https:\/\/cdn.shopify.com\/s\/files\/1\/1645\/3613\/products\/GM60304_bg.jpg?v=1598496957","variant_ids":[32395709153342,32395709186110,32395709218878,32395709251646]},"available":true,"name":"L\/S T-SHIRT - GM60304 \/ BLUE GRAY \/ XL","public_title":"GM60304 \/ BLUE GRAY \/ XL","options":["GM60304","BLUE GRAY","XL"],"price":7900,"weight":0,"compare_at_price":null,"inventory_quantity":1,"inventory_management":"shopify","inventory_policy":"deny","barcode":"4550207328767","featured_media":{"alt":"L\/S T-SHIRT","id":8321090125886,"position":5,"preview_image":{"aspect_ratio":1.0,"height":1080,"width":1080,"src":"https:\/\/cdn.shopify.com\/s\/files\/1\/1645\/3613\/products\/GM60304_bg.jpg?v=1598420740"}}},{"id":32395709284414,"title":"GM60304 \/ HEATHER GRAY \/ S","option1":"GM60304","option2":"HEATHER GRAY","option3":"S","sku":"GM60304-HZ-S","requires_shipping":true,"taxable":true,"featured_image":{"id":16150902636606,"product_id":4709675728958,"position":6,"created_at":"2020-08-25T22:45:57-07:00","updated_at":"2020-08-26T19:55:57-07:00","alt":"L\/S T-SHIRT","width":1080,"height":1080,"src":"https:\/\/cdn.shopify.com\/s\/files\/1\/1645\/3613\/products\/GM60304_hz.jpg?v=1598496957","variant_ids":[32395709284414,32395709317182,32395709349950,32395709382718]},"available":false,"name":"L\/S T-SHIRT - GM60304 \/ HEATHER GRAY \/ S","public_title":"GM60304 \/ HEATHER GRAY \/ S","options":["GM60304","HEATHER GRAY","S"],"price":7900,"weight":0,"compare_at_price":null,"inventory_quantity":-1,"inventory_management":"shopify","inventory_policy":"deny","barcode":"4550207328651","featured_media":{"alt":"L\/S T-SHIRT","id":8321093075006,"position":6,"preview_image":{"aspect_ratio":1.0,"height":1080,"width":1080,"src":"https:\/\/cdn.shopify.com\/s\/files\/1\/1645\/3613\/products\/GM60304_hz.jpg?v=1598420757"}}},{"id":32395709317182,"title":"GM60304 \/ HEATHER GRAY \/ M","option1":"GM60304","option2":"HEATHER GRAY","option3":"M","sku":"GM60304-HZ-M","requires_shipping":true,"taxable":true,"featured_image":{"id":16150902636606,"product_id":4709675728958,"position":6,"created_at":"2020-08-25T22:45:57-07:00","updated_at":"2020-08-26T19:55:57-07:00","alt":"L\/S T-SHIRT","width":1080,"height":1080,"src":"https:\/\/cdn.shopify.com\/s\/files\/1\/1645\/3613\/products\/GM60304_hz.jpg?v=1598496957","variant_ids":[32395709284414,32395709317182,32395709349950,32395709382718]},"available":false,"name":"L\/S T-SHIRT - GM60304 \/ HEATHER GRAY \/ M","public_title":"GM60304 \/ HEATHER GRAY \/ M","options":["GM60304","HEATHER GRAY","M"],"price":7900,"weight":0,"compare_at_price":null,"inventory_quantity":0,"inventory_management":"shopify","inventory_policy":"deny","barcode":"4550207328668","featured_media":{"alt":"L\/S T-SHIRT","id":8321093075006,"position":6,"preview_image":{"aspect_ratio":1.0,"height":1080,"width":1080,"src":"https:\/\/cdn.shopify.com\/s\/files\/1\/1645\/3613\/products\/GM60304_hz.jpg?v=1598420757"}}},{"id":32395709349950,"title":"GM60304 \/ HEATHER GRAY \/ L","option1":"GM60304","option2":"HEATHER GRAY","option3":"L","sku":"GM60304-HZ-L","requires_shipping":true,"taxable":true,"featured_image":{"id":16150902636606,"product_id":4709675728958,"position":6,"created_at":"2020-08-25T22:45:57-07:00","updated_at":"2020-08-26T19:55:57-07:00","alt":"L\/S T-SHIRT","width":1080,"height":1080,"src":"https:\/\/cdn.shopify.com\/s\/files\/1\/1645\/3613\/products\/GM60304_hz.jpg?v=1598496957","variant_ids":[32395709284414,32395709317182,32395709349950,32395709382718]},"available":true,"name":"L\/S T-SHIRT - GM60304 \/ HEATHER GRAY \/ L","public_title":"GM60304 \/ HEATHER GRAY \/ L","options":["GM60304","HEATHER GRAY","L"],"price":7900,"weight":0,"compare_at_price":null,"inventory_quantity":1,"inventory_management":"shopify","inventory_policy":"deny","barcode":"4550207328675","featured_media":{"alt":"L\/S T-SHIRT","id":8321093075006,"position":6,"preview_image":{"aspect_ratio":1.0,"height":1080,"width":1080,"src":"https:\/\/cdn.shopify.com\/s\/files\/1\/1645\/3613\/products\/GM60304_hz.jpg?v=1598420757"}}},{"id":32395709382718,"title":"GM60304 \/ HEATHER GRAY \/ XL","option1":"GM60304","option2":"HEATHER GRAY","option3":"XL","sku":"GM60304-HZ-XL","requires_shipping":true,"taxable":true,"featured_image":{"id":16150902636606,"product_id":4709675728958,"position":6,"created_at":"2020-08-25T22:45:57-07:00","updated_at":"2020-08-26T19:55:57-07:00","alt":"L\/S T-SHIRT","width":1080,"height":1080,"src":"https:\/\/cdn.shopify.com\/s\/files\/1\/1645\/3613\/products\/GM60304_hz.jpg?v=1598496957","variant_ids":[32395709284414,32395709317182,32395709349950,32395709382718]},"available":true,"name":"L\/S T-SHIRT - GM60304 \/ HEATHER GRAY \/ XL","public_title":"GM60304 \/ HEATHER GRAY \/ XL","options":["GM60304","HEATHER GRAY","XL"],"price":7900,"weight":0,"compare_at_price":null,"inventory_quantity":1,"inventory_management":"shopify","inventory_policy":"deny","barcode":"4550207328682","featured_media":{"alt":"L\/S T-SHIRT","id":8321093075006,"position":6,"preview_image":{"aspect_ratio":1.0,"height":1080,"width":1080,"src":"https:\/\/cdn.shopify.com\/s\/files\/1\/1645\/3613\/products\/GM60304_hz.jpg?v=1598420757"}}},{"id":32395709415486,"title":"GM60304 \/ WHITE \/ S","option1":"GM60304","option2":"WHITE","option3":"S","sku":"GM60304-W-S","requires_shipping":true,"taxable":true,"featured_image":{"id":16150896410686,"product_id":4709675728958,"position":1,"created_at":"2020-08-25T22:44:47-07:00","updated_at":"2020-08-26T19:55:57-07:00","alt":"L\/S T-SHIRT","width":1080,"height":1080,"src":"https:\/\/cdn.shopify.com\/s\/files\/1\/1645\/3613\/products\/GM60304_1.jpg?v=1598496957","variant_ids":[32395709415486,32395709448254,32395709481022,32395709513790]},"available":true,"name":"L\/S T-SHIRT - GM60304 \/ WHITE \/ S","public_title":"GM60304 \/ WHITE \/ S","options":["GM60304","WHITE","S"],"price":7900,"weight":0,"compare_at_price":null,"inventory_quantity":1,"inventory_management":"shopify","inventory_policy":"deny","barcode":"4550207328613","featured_media":{"alt":"L\/S T-SHIRT","id":8321086849086,"position":1,"preview_image":{"aspect_ratio":1.0,"height":1080,"width":1080,"src":"https:\/\/cdn.shopify.com\/s\/files\/1\/1645\/3613\/products\/GM60304_1.jpg?v=1598420687"}}},{"id":32395709448254,"title":"GM60304 \/ WHITE \/ M","option1":"GM60304","option2":"WHITE","option3":"M","sku":"GM60304-W-M","requires_shipping":true,"taxable":true,"featured_image":{"id":16150896410686,"product_id":4709675728958,"position":1,"created_at":"2020-08-25T22:44:47-07:00","updated_at":"2020-08-26T19:55:57-07:00","alt":"L\/S T-SHIRT","width":1080,"height":1080,"src":"https:\/\/cdn.shopify.com\/s\/files\/1\/1645\/3613\/products\/GM60304_1.jpg?v=1598496957","variant_ids":[32395709415486,32395709448254,32395709481022,32395709513790]},"available":true,"name":"L\/S T-SHIRT - GM60304 \/ WHITE \/ M","public_title":"GM60304 \/ WHITE \/ M","options":["GM60304","WHITE","M"],"price":7900,"weight":0,"compare_at_price":null,"inventory_quantity":1,"inventory_management":"shopify","inventory_policy":"deny","barcode":"4550207328620","featured_media":{"alt":"L\/S T-SHIRT","id":8321086849086,"position":1,"preview_image":{"aspect_ratio":1.0,"height":1080,"width":1080,"src":"https:\/\/cdn.shopify.com\/s\/files\/1\/1645\/3613\/products\/GM60304_1.jpg?v=1598420687"}}},{"id":32395709481022,"title":"GM60304 \/ WHITE \/ L","option1":"GM60304","option2":"WHITE","option3":"L","sku":"GM60304-W-L","requires_shipping":true,"taxable":true,"featured_image":{"id":16150896410686,"product_id":4709675728958,"position":1,"created_at":"2020-08-25T22:44:47-07:00","updated_at":"2020-08-26T19:55:57-07:00","alt":"L\/S T-SHIRT","width":1080,"height":1080,"src":"https:\/\/cdn.shopify.com\/s\/files\/1\/1645\/3613\/products\/GM60304_1.jpg?v=1598496957","variant_ids":[32395709415486,32395709448254,32395709481022,32395709513790]},"available":true,"name":"L\/S T-SHIRT - GM60304 \/ WHITE \/ L","public_title":"GM60304 \/ WHITE \/ L","options":["GM60304","WHITE","L"],"price":7900,"weight":0,"compare_at_price":null,"inventory_quantity":1,"inventory_management":"shopify","inventory_policy":"deny","barcode":"4550207328637","featured_media":{"alt":"L\/S T-SHIRT","id":8321086849086,"position":1,"preview_image":{"aspect_ratio":1.0,"height":1080,"width":1080,"src":"https:\/\/cdn.shopify.com\/s\/files\/1\/1645\/3613\/products\/GM60304_1.jpg?v=1598420687"}}},{"id":32395709513790,"title":"GM60304 \/ WHITE \/ XL","option1":"GM60304","option2":"WHITE","option3":"XL","sku":"GM60304-W-XL","requires_shipping":true,"taxable":true,"featured_image":{"id":16150896410686,"product_id":4709675728958,"position":1,"created_at":"2020-08-25T22:44:47-07:00","updated_at":"2020-08-26T19:55:57-07:00","alt":"L\/S T-SHIRT","width":1080,"height":1080,"src":"https:\/\/cdn.shopify.com\/s\/files\/1\/1645\/3613\/products\/GM60304_1.jpg?v=1598496957","variant_ids":[32395709415486,32395709448254,32395709481022,32395709513790]},"available":true,"name":"L\/S T-SHIRT - GM60304 \/ WHITE \/ XL","public_title":"GM60304 \/ WHITE \/ XL","options":["GM60304","WHITE","XL"],"price":7900,"weight":0,"compare_at_price":null,"inventory_quantity":1,"inventory_management":"shopify","inventory_policy":"deny","barcode":"4550207328644","featured_media":{"alt":"L\/S T-SHIRT","id":8321086849086,"position":1,"preview_image":{"aspect_ratio":1.0,"height":1080,"width":1080,"src":"https:\/\/cdn.shopify.com\/s\/files\/1\/1645\/3613\/products\/GM60304_1.jpg?v=1598420687"}}}],"images":["\/\/cdn.shopify.com\/s\/files\/1\/1645\/3613\/products\/GM60304_1.jpg?v=1598496957","\/\/cdn.shopify.com\/s\/files\/1\/1645\/3613\/products\/GM60304_2.jpg?v=1598496957","\/\/cdn.shopify.com\/s\/files\/1\/1645\/3613\/products\/GM60304_3.jpg?v=1598496957","\/\/cdn.shopify.com\/s\/files\/1\/1645\/3613\/products\/GM60304_4.jpg?v=1598496957","\/\/cdn.shopify.com\/s\/files\/1\/1645\/3613\/products\/GM60304_bg.jpg?v=1598496957","\/\/cdn.shopify.com\/s\/files\/1\/1645\/3613\/products\/GM60304_hz.jpg?v=1598496957"],"featured_image":"\/\/cdn.shopify.com\/s\/files\/1\/1645\/3613\/products\/GM60304_1.jpg?v=1598496957","options":["Style#","Color","Size"],"media":[{"alt":"L\/S T-SHIRT","id":8321086849086,"position":1,"preview_image":{"aspect_ratio":1.0,"height":1080,"width":1080,"src":"https:\/\/cdn.shopify.com\/s\/files\/1\/1645\/3613\/products\/GM60304_1.jpg?v=1598420687"},"aspect_ratio":1.0,"height":1080,"media_type":"image","src":"https:\/\/cdn.shopify.com\/s\/files\/1\/1645\/3613\/products\/GM60304_1.jpg?v=1598420687","width":1080},{"alt":"L\/S T-SHIRT","id":8321086816318,"position":2,"preview_image":{"aspect_ratio":1.0,"height":1080,"width":1080,"src":"https:\/\/cdn.shopify.com\/s\/files\/1\/1645\/3613\/products\/GM60304_2.jpg?v=1598420687"},"aspect_ratio":1.0,"height":1080,"media_type":"image","src":"https:\/\/cdn.shopify.com\/s\/files\/1\/1645\/3613\/products\/GM60304_2.jpg?v=1598420687","width":1080},{"alt":"L\/S T-SHIRT","id":8321087307838,"position":3,"preview_image":{"aspect_ratio":1.0,"height":1080,"width":1080,"src":"https:\/\/cdn.shopify.com\/s\/files\/1\/1645\/3613\/products\/GM60304_3.jpg?v=1598420697"},"aspect_ratio":1.0,"height":1080,"media_type":"image","src":"https:\/\/cdn.shopify.com\/s\/files\/1\/1645\/3613\/products\/GM60304_3.jpg?v=1598420697","width":1080},{"alt":"L\/S T-SHIRT","id":8321087471678,"position":4,"preview_image":{"aspect_ratio":1.0,"height":1080,"width":1080,"src":"https:\/\/cdn.shopify.com\/s\/files\/1\/1645\/3613\/products\/GM60304_4.jpg?v=1598420697"},"aspect_ratio":1.0,"height":1080,"media_type":"image","src":"https:\/\/cdn.shopify.com\/s\/files\/1\/1645\/3613\/products\/GM60304_4.jpg?v=1598420697","width":1080},{"alt":"L\/S T-SHIRT","id":8321090125886,"position":5,"preview_image":{"aspect_ratio":1.0,"height":1080,"width":1080,"src":"https:\/\/cdn.shopify.com\/s\/files\/1\/1645\/3613\/products\/GM60304_bg.jpg?v=1598420740"},"aspect_ratio":1.0,"height":1080,"media_type":"image","src":"https:\/\/cdn.shopify.com\/s\/files\/1\/1645\/3613\/products\/GM60304_bg.jpg?v=1598420740","width":1080},{"alt":"L\/S T-SHIRT","id":8321093075006,"position":6,"preview_image":{"aspect_ratio":1.0,"height":1080,"width":1080,"src":"https:\/\/cdn.shopify.com\/s\/files\/1\/1645\/3613\/products\/GM60304_hz.jpg?v=1598420757"},"aspect_ratio":1.0,"height":1080,"media_type":"image","src":"https:\/\/cdn.shopify.com\/s\/files\/1\/1645\/3613\/products\/GM60304_hz.jpg?v=1598420757","width":1080}],"content":"\u003cp\u003eThis long-sleeve shirt is quick-drying, moisture-wicking, and resistant to pilling.\u003c\/p\u003e \u003cp\u003e \u003c\/p\u003e\u003ch4 class=\"subtitileDt\"\u003eFeatures\u003c\/h4\u003e\u003cul\u003e\n\u003cli\u003eDolman sleeve shirt.\u003c\/li\u003e\n\u003cli\u003eUnique side-panel construction creates a distinctive, roomy silhouette.\u003c\/li\u003e\n\u003cli\u003eEmbroidered logo on the front hem.\u003c\/li\u003e\n\u003c\/ul\u003e\u003ch4 class=\"subtitileDt\"\u003eMaterial\u003c\/h4\u003e\u003cp\u003eFabric : Jersey (100% polyester)\u003c\/p\u003e"}